We often get asked about the Camino de Santiago distance required to walk in order to receive your Camino Pilgrim Certificate.
If you are considering walking the Camino, regardless of which route you'd like to take, you must walk at least the last 100km into Santiago to receive your pilgrim certificate, which should take 5 to 6 days walking.
On average, you will walk 20km per day if you choose to walk the last 100km into Santiago.
When talking about 'the Camino de Santiago', most people have in mind the Camino Frances or French Way, which is the most popular and well-known of the Camino routes across Europe.
However, there are many other Camino de Santiago routes, increasing in popularity each year.
In this blog post, we will examine the Camino de Santiago Distance of some of the most popular Camino routes.
Camino de Santiago distance for the Camino Frances
The Camino Frances starts in St Jean Pied de Port in France and is nearly 800kms long, or 500 miles.
It would take just over a month or 35 days to walk the Full Camino Frances from St Jean Pied de Port to Santiago de Compostela, considering you are walking an average of 25 km daily.
In August 2020, famous pilgrim Johnny Walker & his friend Stephen Shields undertook the entire Camino Frances route from St. Jean. You can read the day-by-day account of their journey in this post.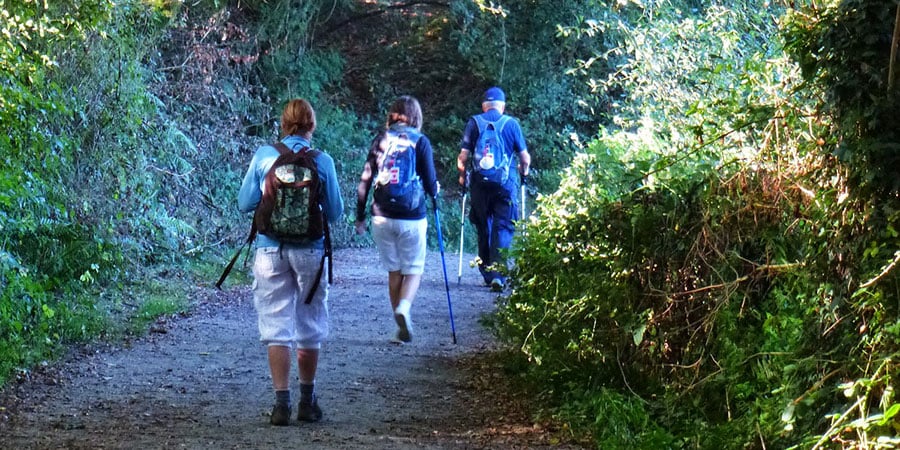 Many pilgrims, however, add rest days (generally one per week walked) to recover but also to explore and enjoy some of the historic cities and towns en route.
Tougher or longer walking days, such as the stage from Villafranca to O Cebreiro are often split in two.
After arriving in Santiago, many pilgrims continue on to Cape Fisterra on the Camino de Fisterra, which would add another 4 walking days to your journey.
Camino de Santiago Distance for other routes
In 2020, just over 53% of all pilgrims receiving their Compostela pilgrim certificate in Santiago took the Camino Frances route.
Many others choose less known routes such as the Camino Portugues, the Portuguese Way, which is the second most popular attracting approximately 19% of pilgrims; or the Camino del Norte, the Northern Way.
It takes:
30 days to walk the Camino de Santiago from Lisbon on the Portuguese Way,
14 days to walk the Camino from Porto (along the Portuguese Coastal Way)
37 days to walk the Camino del Norte from San Sebastian.
One of the shortest Camino routes is the Camino Ingles, the English Way, which is just 118kms from Ferrol to Santiago and would take just 1 week to complete.
The beauty of the Camino is that you can start and finish at any point so you can adapt the trip to the time you have available and your fitness level.
To help get you in shape for your Camino we have a Camino Fitness Ebook.
If you would like to walk the Camino de Santiago and require additional information or would like to book your Camino trip, contact our travel specialists.