Logroño & The Rioja Wine Harvest Festival
The city of Logroño, the capital of La Rioja, celebrates its most famous export with the Fiesta de la Vendimia Riojana, the Rioja Wine Harvest Festival, in late September every year.
Every September, Logroño honours Saint Matthew but also Bacchus and the region's best-known produce – La Rioja wine.
Walking the Camino from the City of Pamplona to reach Logroño on the Camino Frances you can enjoy this fun-filled festival with Camino walkers and wine lovers from around the world.
During this 7-night trip, you can experience the 'Treading of the Grapes', which sees young people in traditional costume tread the freshly picked grapes to get the first grape juice of the season, which will then be offered to the Virgen de la Valvanera.
Also famous for its tapas, Logroño is a great place to discover La Rioja's classic dishes, following the city's tapas trail at the lively Calle del Laurel. Concerts, fireworks, tastings, and other activities will fill the streets of Logroño with fun and music for the Harvest Festival.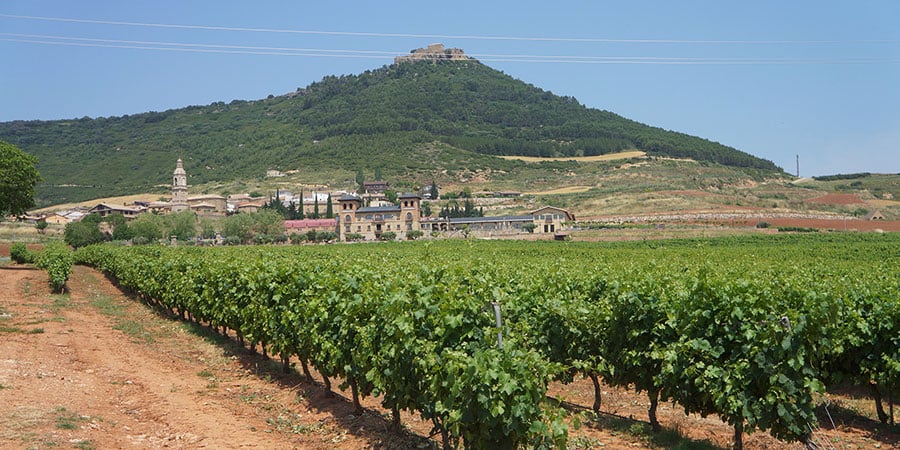 Start the Camino from Pamplona and head towards La Rioja along the Alto del Perdón, with its famous pilgrim statue.
Along the way, visit charming towns and small villages with plenty of history in the Rioja wine-producing part of Navarra – such as Puente de la Reina, Estella-Lizarra, where you will pass the wine fountain at Bodegas Irache and Viana. Enjoy this culture-filled walking holiday with a taste of Camino food and wine.
For more insights into the food to expect along the way feel free to download our Camino Food Guide that will give you the details of the food and wine regions along the Camino routes.
The holiday includes Luggage transfer, accommodation, a holiday pack with maps and notes, and an additional night in Logroño if you choose.
It does not include Flights or insurance.
**You can also start the Camino from Logrono.
For more information about this Camino de Santiago trip to La Rioja and all of the most popular Camino routes please contact one of our Travel Specialists on the form below: