Type of Camino Accommodation
When you spend a long day walking, all you want in the evening is a comfy place to lay your weary head. But what kind of Camino de Santiago accommodation is best suited to your needs?
Along the Camino de Santiago, there are many different types and styles of accommodation. The accommodation along the Camino routes ranges from hostels (Albergues) and Guesthouses (Casa Rurales) to the most luxurious Paradores (luxury hotels).
To help you plan your Camino trip, we look at the different Camino de Santiago accommodation options so you can decide which type of accommodation suits you best.
Camino de Santiago Accommodation: Albergues/hostels
There is a good network of Albergues (hostels) along the Camino de Santiago, particularly along the most popular route such as the French Way or Camino Frances.
The classic Camino Albergues are public, run by 'Hospitaleros' (Camino volunteers) and they can't be booked in advance. Beds in dorms are allocated on a first-come-first-served basis.
You will need to have your pilgrim passport stamped as part of the 'check-in' process and walkers always take priority over other pilgrims (ie. on horseback or bike pilgrims).
In some towns, particularly along the Camino Frances and the Camino Portugues, you will also find privately-run hostels with a similar setup: beds in dorms at low prices.
*Please bear in mind that CaminoWays packages don't include hostel accommodation and we work with the best accommodation options for each route and section.
Camino de Santiago Accommodation: Guesthouses/Pensiones
Guesthouses can be called 'pensiones', 'hostales' or 'casa' and they are small family-run businesses.
They might not have a star rating but they are a good accommodation option where you will have your own room and bathroom. They will also generally provide dinner.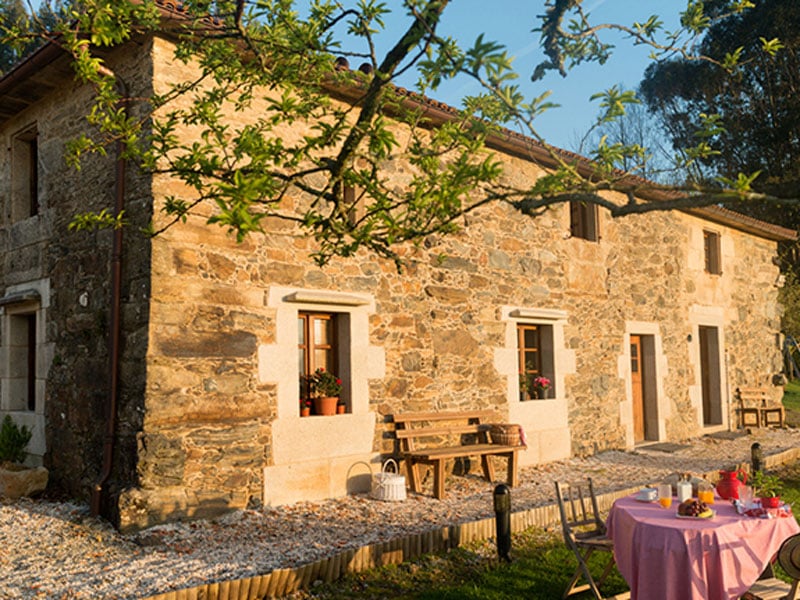 Camino de Santiago Accommodation: Hotels
Bigger Camino towns and cities will have a good range of hotels of all styles and sizes, from 3 stars to 4 and 5 stars rated properties. Of course, with hotels, you will also have your own private room and bathroom.
Camino Parador
A Parador is a luxury hotel belonging to the state-run company Paradores in Spain. They are usually historic buildings such as castles and monasteries; as well as buildings located in nature reserves and areas of outstanding beauty. All Paradors have rooms with private bathrooms.
You can read about the many Paradores located on the Camino de Santiago in our article: What is a Parador?
The most famous Camino de Santiago Parador is the Hostal dos Reis Catolicos in Santiago de Compostela, which has been in operation for 500 years. In Portugal, you will find similar properties and they are called Pousadas de Portugal. If you're interested in staying in a Parador during your Camino, you can have it as your first choice, but it is subject to availability. We have many other wonderful accommodation options for you to stay in also.
Camino de Santiago Casas Rurales
Casas Rurales or country cottages are a relatively recent development in the hospitality industry in Galicia and North West Spain; and one that has brought new life to many rural communities.
They are boutique country properties refurbished keeping in mind the traditional architecture of the region. They are generally farmhouses, manor houses, and restored homesteads located in rural settings; they generally offer home-cooking using local or even home-grown produce. Casa Rurales have rooms with private bathrooms.
We work with many Casas Rurales along the different Camino de Santiago routes and we arrange for our clients to be picked up from the trail.
Bear in mind…
Bigger towns and cities will have a better choice and range of accommodation options, while accommodation in smaller villages and hamlets can be limited.
The Camino is a long-distance trail so the mix of accommodation styles will also be part of your journey. The Camino Frances is the most popular route and therefore the one with a wider range of accommodation options, however, it also gets busier, particularly in the summer months certain towns might get completely booked up.
Our advice: if you are planning your trip to the Camino Frances, book well in advance.
Camino de Santiago Accommodation type provided by CaminoWays
At CaminoWays, we don't provide hostel accommodation and we work with the best accommodation options for each route and section. Our standard packages generally include accommodation in hotels, guest houses, and Casas Rurales; we also have a 'country cottages' option in Galicia and a Superior Collection where you will get booked in the top properties along the way, including 4 and 5-star hotels where available.
All the accommodation and hotels we use on the Camino de Santiago are specially selected by the CaminoWays team. We visit our partner properties every year to ensure we always offer the best option available for our Camino tours. Comfort is our top priority, and, after a hard day of exploring we feel you deserve only the very best comforts combined with excellent local cuisine. All accommodations selected have rooms with private bathrooms.
That is why we personally select only the very best hotels for you to relax in. We endeavour to seek out cosy and rustic accommodations packed with character. You will be booked in the centre of the villages or town, where "everything happens".
We select accommodation based on comfort, facilities, character and food. We don't always privilege "star rating", as it can sometimes be deceptive. Over the years we developed our own rating. We visit the hotels regularly to ensure the quality of the service we provide you.
Please don't hesitate to ask our team about the Camino hotels. Please note, that you don't have to pack towels or bedding for your Camino trip with us as all accommodation booked will have bedding, towels, pillows, soap, etc.
If you have any questions about your specific hotel arrangements, let our Customer Care team know. For more information about our Camino Hotels, our Superior Hotels Collection, and our service and to book your Camino trip, please don't hesitate to contact us.