How many pilgrims walked the Camino in 2020?
According to the statistics released from the Pilgrim's Office in Santiago, 53,905 pilgrims collected their Compostela after completing their Camino.
In comparison, 327,378 pilgrims collected their Compostela certificate in 2019.
Below is an infographic with the top stats on who walked the Camino in 2020: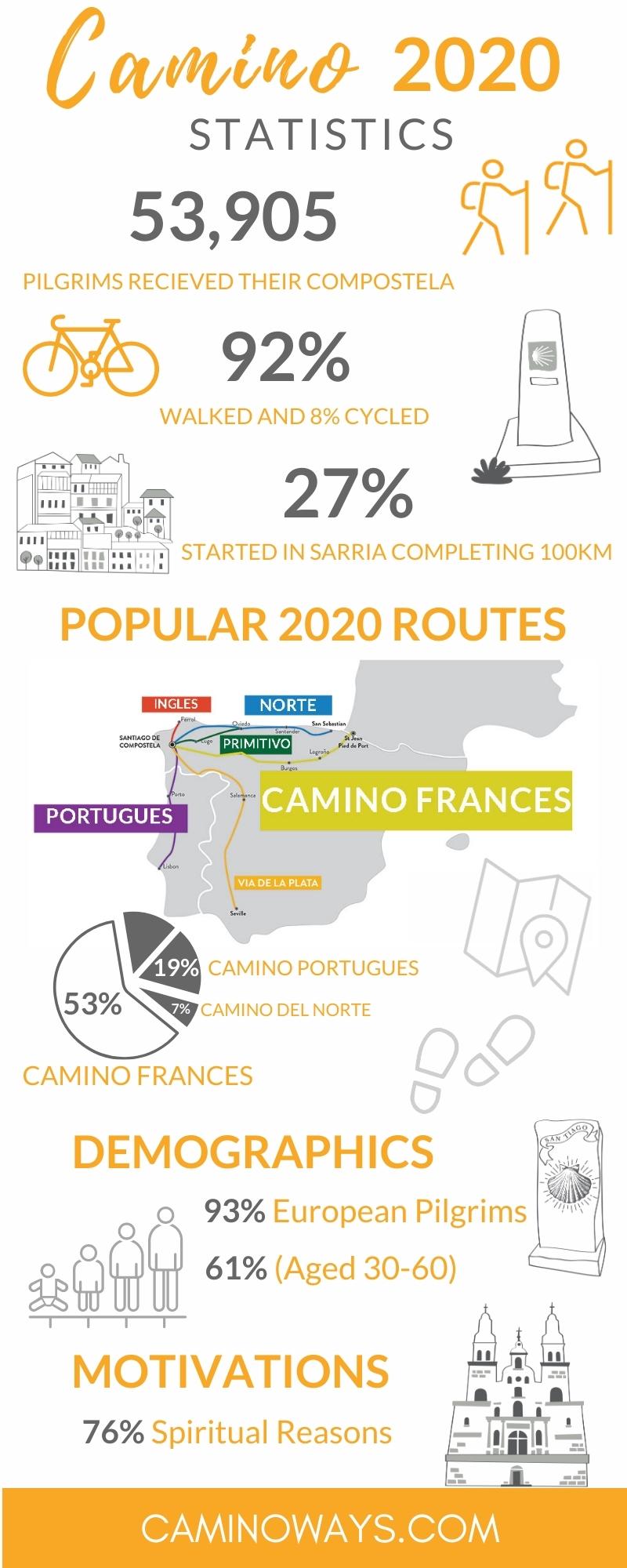 Statistics on who walked the Camino in 2020
Below are some other interesting stats about the pilgrims who walked the Camino in 2020:
The vast majority of pilgrims in 2020 were European with 93% coming from European countries.
Sarria was the most popular starting point for pilgrims with 27% starting their walk from there.
92% chose to walk the Camino routes and 8% chose to cycle.
The Camino Frances was the most popular route with 53% of pilgrims opting to take this Camino way.
19% of pilgrims took the Portuguese Way and 7% of pilgrims took the Camino del Norte in 2020.
The same top 5 ways were the same as in 2019: Camino Frances, Camino Portugues, Camino del Norte, Camino Primitivo and the Camino Ingles.
The majority of pilgrims were aged between 30 and 60 (61%) with 31% under 30 and 8% over 60 years of age.
The main reasons given for doing the Camino in 2020 were spiritual with 76% choosing the Camino for religious/spiritual reasons.
If you would like to join thousands of pilgrims to collect your Compostela certificate in 2021, please don't hesitate to contact us.