Camino Pilgrim Passports, Certificates, and Compostela
Most people have a clear idea of why they want to walk the Camino de Santiago. It may be for religious or spiritual reasons, for a healthy challenge, for a break from everyday life, or even just the social aspect. Whatever your motivation for walking the Camino routes, you might want to document your experience with a Camino Pilgrim Passport and even claim one of the Camino certificates at the end of your journey.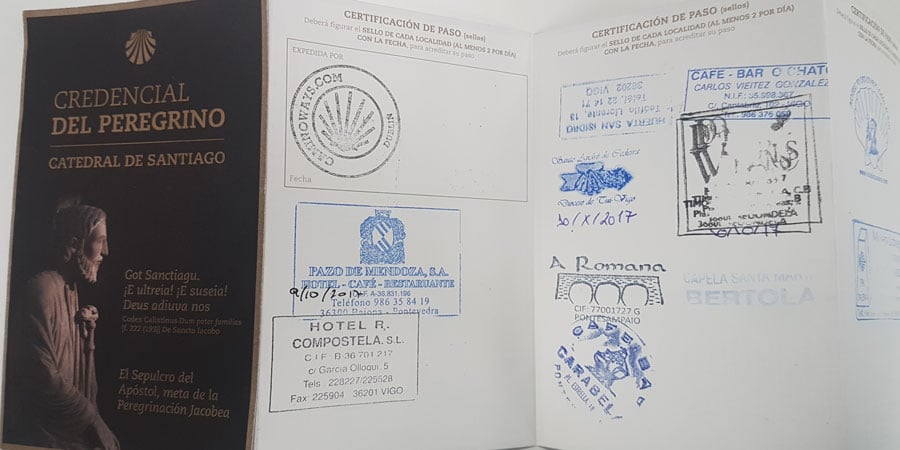 The Camino Pilgrim Passport
The most well-known and most important of the Camino documents is the Camino Pilgrim Passport (Credencial del Peregrino). This passport is proof that you have walked the 100km necessary to obtain your Camino Compostela or Camino Certificate, the official documents that are a testament to your journey.
You will need to collect at least two stamps per day from churches, town halls, or other official establishments on your way to Santiago. Once in Santiago de Compostela, you must show your stamped Camino Pilgrim Passport at the Pilgrim's Office to apply for your Camino Compostela certificate and any other Camino pilgrim certificate you might want to receive.
The Camino Compostela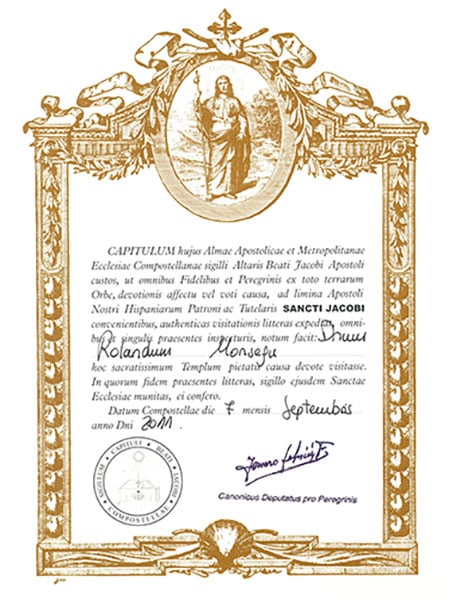 The Compostela is the original religious certificate written in Latin, expended by the Church when pilgrims prove they have either walked 100km or cycled (or travelled on horseback) 200km to Santiago de Compostela.
Originally, pilgrims used the scallop shell as proof of their pilgrimage but this quickly became a fraudulent practice with many people buying and selling shells. From the 13th century, the Church introduced a more rigorous system based on letters and this was the origin of the Compostela.
The Camino Compostela was a valuable document as pilgrims would travel to Santiago in pilgrimage, in many cases as a penance. By getting a certificate showing they had walked to Santiago, they could get back home and show they had paid their penance and repented for their sins.
Apparently, a roaring trade of forged Compostelas also boomed in Santiago in the Middle Ages.
For some, walking to Santiago and getting their Compostela meant they had secured their reference letter or VIP ticket to heaven: the Compostela was considered an important paper, one to show St Peter at the gates of Heaven.
In the 16th century, the Catholic Queen and King Fernando and Isabel created the Foundation of the Royal Hospital and started the construction of a pilgrim's Royal Hospital in Santiago, in the building that hosts today the luxurious Hostal dos Reis Católicos Parador hotel. By showing their Compostela, pilgrims could stay for up to three days. Today, the hotel still provides free meals for three days to 10 pilgrims with their Compostela.
How to get your Compostela in Santiago
Visit the Pilgrim's office in Santiago
Go to the waiting area
Withdraw a ticket with your number
There is a QR code in the ticket that allows you to verify the status of the row in real time. (Notice: in times of great influx, it cannot be guaranteed Collection of the Compostela on the same day)
You can stay in the waiting area until your turn or you can leave and come back when it's your turn (it is recommended to go back at least 50 numbers before your one in order to not to miss your turn)
If traveling as part of an organised group, the Pilgrim's Office also has a special service, where the names of the group can be submitted by email a few days in advance by the group leader (a special form from the Pilgrim's Office must be filled in). Once the group has reached Santiago, the leader can bring the group's pilgrim passports to the office and receive all the Compostelas for the group.
Camino Certificate of Welcome
Many things have changed since the Middle Ages. Today, many people walk or cycle the Camino for leisure, as a cultural experience and other non-religious reasons, but this doesn't mean you can't get a certificate as a souvenir of this very special journey.
Pilgrims traveling for sport or cultural reasons can obtain a non-religious version of the Compostela called the Certificate of Welcome. You can get it from the Pilgrim's Office in Santiago (Rúa Carretas 33). The same rule of 100km for walkers and 200km for cyclists applies to this certificate.

Camino Certificate of Distance
A Certificate of Distance is also available to pilgrims. This certificate states the starting point and distance walked/cycled by each pilgrim and is available in many different languages. This can be obtained in addition to the Compostela and is priced at €3. While the Certificate of Distance may not get you a fast track to heaven, it will nonetheless serve as a nice memento of your trip to Santiago!
Camino Cathedral Visit Certificate
If you are visiting Santiago Cathedral (and if you've walked all this way you probably are!), you can request a Cathedral Visit Certificate (Certificado de visita a la Catedral), also from the Pilgrim's Office (from 9 am until 2 pm). Ask at the door to direct you to the Archdiocese office. You can also request it on behalf of your group and you will only need the name of the people visiting and a donation of €3.
*Please note in order to receive any of the Camino certificates issued by the Pilgrim's Office in Santiago, your finishing point must be Santiago de Compostela.
*Take your Camino Pilgrim Passport if you are planning on attending a pilgrim mass at the cathedral as some pews are reserved exclusively for pilgrims.

Other Pilgrim Passports/Credencials
While the Pilgrim Passport obtained during at least the last 100km of a Camino to Santiago is the most popular and most well-known, it is not the only one of these Credencials. If you are walking the Via Francigena, the Camino Finisterre or even the Kumano Kodo in Japan, there are specific Pilgrim Passports for these journeys.
Finisterrana And Muxiana
The same way you can request your Compostela certificate when you finish your Camino de Santiago, you will also be able to request other pilgrim certificates if you decide to continue walking or cycling to the towns of Fisterra and Muxía along the Camino Finisterre.
Each town, both Fisterra and Muxía, has its own pilgrim certificate known as Finisterrana and Muxiana. Please note that if you are walking the Camino Finisterre in reverse, you will need to start from Muxia in order to request your Compostela certificate in Santiago.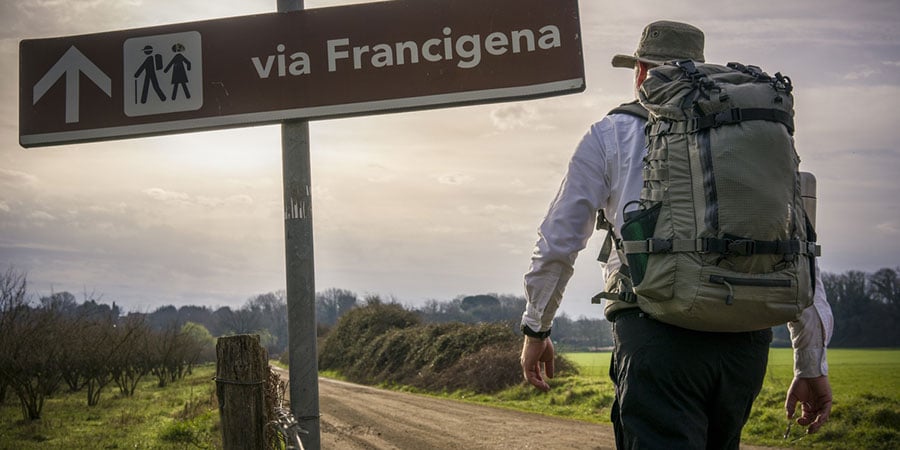 Via Francigena Credenziali
If you are walking the Via Francigena to Rome, you will also need a Pilgrim Passport known as the Credenziali, so you can request your Testimonium in the Vatican. This is a certificate you will receive after completing your pilgrimage to Rome.
Camino/Kumano Dual Pilgrim Passport
If you are intending to walk both the Camino de Santiago and the Kumano Kodo in Japan, you can request a Dual Pilgrim Passport that you will be able to stamp on both trips.
Once you complete the Camino and the Kumano Kodo, you can request a Dual Pilgrim Certificate of Completion (in Tanabe or Hongu) and your Dual Pilgrim pin (in Tanabe, Hongu or Santiago de Compostela Turismo).
If you need more information about the Camino and its rouets or if you would like to book your own Camino de Santiago adventure, please don't hesitate to contact us.
For more information about the different certificates available to pilgrims, please visit the official website of the Pilgrim's Office.