What is the Testimonium? Via Francigena's Pilgrim Passport
Testimonium is the name given to the certificate you can receive when you complete your pilgrimage to Rome along the Via Francigena. It is the Via Francigena equivalent of the Compostela awarded to those walking the Camino de Santiago.
In order to request your Testimonium, remember to take your 'credenziali' or pilgrim passport, and stamp it along the way.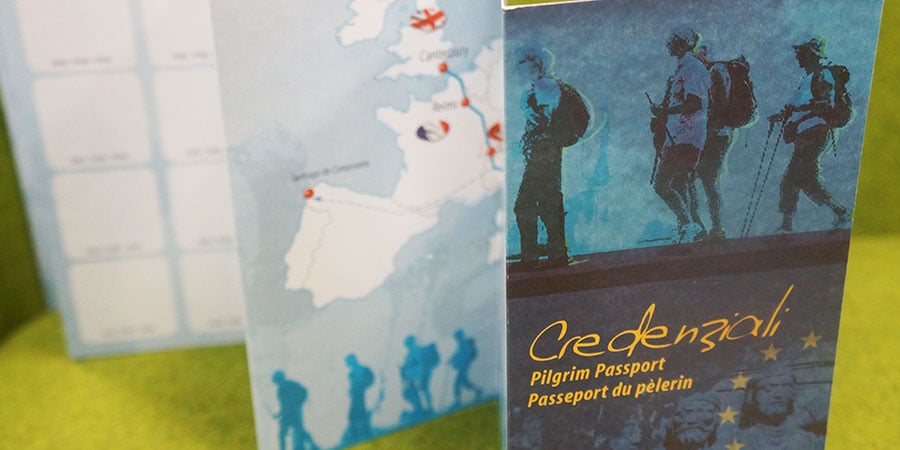 There are two ways of getting your Testimonium:
Religious
This Testimonium is issued at the rectory in St Peter's Basilica (use the Petriano entrance in Piazza S Uffizio).
To receive this certificate, you must do your pilgrimage for religious reasons and it is only available for pilgrims who have walked (or traveled on horseback) at least the last 140km from Acquapendente to Rome – or cycled 400km from Lucca to Rome.
The office is open every day from 8.30 until 12.30 except Wednesday and Sunday.
Take a photocopy of your pilgrim passport with its stamps in case you don't find the relevant person; if you leave your address and photocopy of the stamped pilgrim passport you can get your Testimonium sent by post.
Religious and Cultural
You can request your Testimonium certificate from Opera Romana Pellegrinaggi if you walk to Rome for both: religious or cultural reasons.
You must walk at least the last 100km of the Via Francigena to Rome and present your credential at the office of Opera Romana Pellegrinaggi (Piazza Pio XII, 9) in Saint Peter's Square (Open Monday to Sunday from 9am to 5pm).
You can also request the Testimonium from the San Lorenzo Pilgrims Office Ad Limina Petri (Via Pfeiffer 24) in Rome. The centre is open Monday to Friday from 11am to 5pm (Summer time).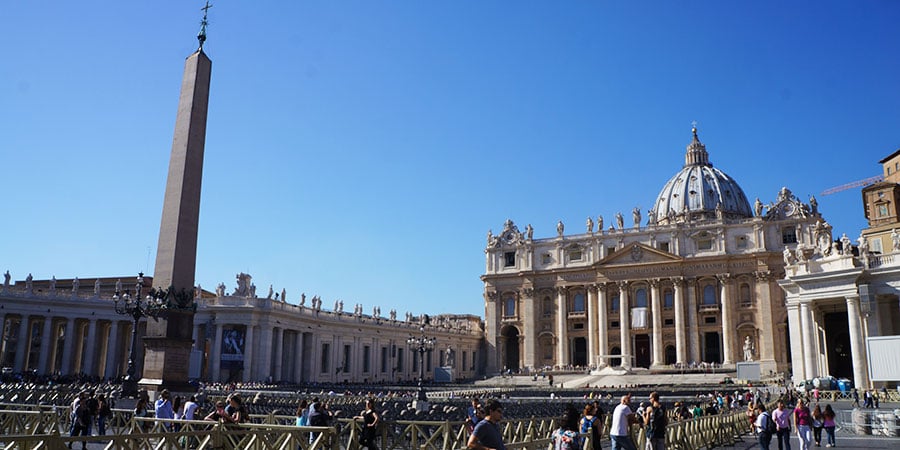 In any case, your stamped Via Francigena pilgrim passport or 'credential' (as with the Camino de Santiago) will be the proof that you have walked the distance required to apply for the Via Francigena Testimonium and must be stamped from the beginning point of your journey to Rome and all along the way.

*Sources: Opera Romana Pellegrinaggi, Association Internationale Via Francigena, PilgrimstoRome.org.uk, VieFrancigene.org
Where to get your Pilgrim Passport on the Via Francigena
SIENA
– Bookshop di Santa Maria della Scala, entry Palazzo Squarcialupi, piazza Duomo 1, 53100 Siena. Tel. +039 0577 283586. Opened from Monday to Sunday 10:30-18:30
– Libreria catechistica, Via dei Fusari 46, 53100 Siena. Tel. +39 0577 289171, [email protected]. Opened from Monday to Thursday 9:00-13:00 e 15:30-19:30, sab 9:00-13:00
LUCCA
– Via Francigena Entry Point, via dei Bacchettoni 8, 55100 Lucca. Tel. +39 334 1046719, [email protected]. Apertura: gio-dom 10:30-13:00 e 15-18:00 (estivo)
– Ufficio Turistico del Comune, Vecchia Porta San Donato, piazzale Verdi, 55100 Lucca, tel. +39 0583 583150, [email protected]. Apertura: aprile-ottobre 9:30 – 18:30; novembre-marzo 9:30-16:30
– Tourist Center Lucca, piazzale Ricasoli 203, 55100 Lucca. Tel. +39 0583 494401, cel. +39 338 8213952, [email protected]. Apertura: 9:30-19:00
– Museo della Cattedrale di Lucca, piazza Antelminelli 5, 55100 Lucca. Tel.+39 0583 490530, [email protected]. Apertura: lun-dom 10-18:00 estate; lun-ven 10-14:00 e sab-dom 10-18:00 inverno
SAN MINIATO
– Fondazione San Miniato Promozione, Piazza del Popolo 1, 56028 San Miniato (PI), tel. +39 0571 42745, [email protected]. Apertura: lun 9:00-13:00; mar-dom 9:00-17:00
– Associazione Turistica Pro Loco di San Miniato, p.za del Popolo 31, 56028 San Miniato (PI). Tel. +39 0571 42233, [email protected]. Apertura: lun-ven 9:00-12:00 e 14:30-17:30; sabato e domenica in base alla disponibilità dei volontari
VITERBO
– Ufficio Turistico di Viterbo, piazza Martiri d'Ungheria, 01100 Viterbo. Tel. +39 0761 226427, [email protected]. Apertura: apr-ott: mar-dom 10-13:00 e 15-19:30; nov-mar: mar-dom 10-13:00 e 15-19:00
– Bistrot del Teatro, via Cavour 9, 01100 Viterbo. Cell. +39 392 3018173, bistrotdel[email protected]. Apertura: mar-ven 12-20:00; sab-dom 14-20:00
For more information about the Via Francigena, the Camino to Rome, or to book your trip, contact our travel specialists