The Camino de Santiago is dotted with interesting historical sites.
These sites are a wonderful chance to recharge your batteries and immerse yourself in the history of the trail.
One of our favourite examples is the imposing Templars Castle of Ponferrada (Castillo de Los Templarios), which is the last big town on The Camino Frances before Santiago.
You can also start walking or Cycling the Camino from Ponferrada, on the last 200km of the Camino Frances.
Visit The Templars Castle of Ponferrada
The castle is enormous in size and the architecture is stunning. It was designed in a polygonal shape, with double and triple defences, making it an absolute fortress.
As you marvel at the giant walls, you will travel back in time to a medieval period where Spanish Knights roamed the outskirts of the structure, protecting the town.
History of Ponferrada
The Templars Castle of Ponferrada was constructed by Ferdinand II in 1178 AD to protect pilgrims walking the Camino de Santiago. The castle was named after the famed Knights of Templar who protected the town in the 12th century.
The Knights were a fearsome unit, and one of the most skilled during the crusades. Having changed ownership a number of times, the castle is now owned by the King of Spain.
Today's Ponferrada Castle
Restoration work is ongoing at The Castle and some of the defence mechanisms have been removed. This does nothing to diminish it's beauty, however, and it's easy to see how it would have intimidated would-be intruders over the years.
You will see two flags flying proudly over the castle. The first is the Spanish flag which is instantly recognizable. The second flag represents Castilla y León, an autonomous Spanish community, which Ponferrada is a part of.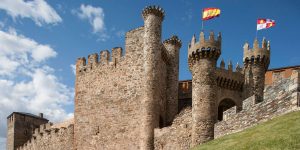 Visiting the Templars Castle of Ponferrada
The castle was recently opened to tourists and is well worth a visit. There is a small fee for entrance but a huge discount is applied for pilgrims! An audio guide is available which narrates your journey through the inside of the building.
After visiting the museum you can make your way to the top of the castle and enjoy wonderful views of Ponferrada across the river Sil.
The castle also hosts the Templars library which is home to over 1,400 books. This National Historical Artistic Monument boasts work from Leonardo da Vinci among its impressive collection.
Would you like to start the Camino from Ponferrada?
For more information on any of our walking or cycling tours, please contact us.