What is the cost of the Camino de Santiago?
We get asked often what is the cost of the Camino. How much should I set aside to budget for my Camino trip? Is it cheaper to do it myself?
For the purposes of this blog, we will use the most popular of our Camino routes: the last 100km of the Camino Frances from Sarria to Santiago.
We will also imagine that you will undertake doing the Camino by yourself, with no tour company (like us) to help.

Cost of the Camino
When looking at the cost of the Camino, there are a few factors to take into account:
Flights – Getting there
Travel Insurance
COVID testing
Camino Preparation: Hiking gear
Transfers from the airport / public transportation
Accommodation
Luggage Transfer
Food & Wine
Optional: Cycling Costs
Miscellaneous e.g. Maps / Guidebooks
1. Flights to the Camino
Depending on where you are flying from, this will be a significant (or the most significant) cost of your trip.
You can usually get the best deals on flights by using skyscanner.com.
If you are undertaking the last 100 km of the Camino Frances (from Sarria to Santiago) you can fly into Santiago and take a bus or train to Sarria, depending on where you are coming from.
There are also options to fly to A Coruna and some other airports but these are a little further away from Sarria.
If you are coming from outside Europe, you may need to fly into bigger airports like Madrid.
Our prices do not cover flights but we can help to advise you on this.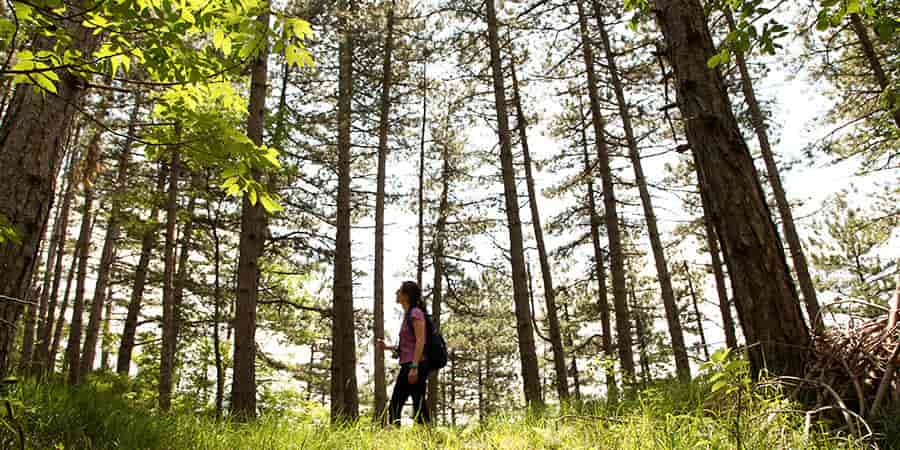 2. Travel Insurance
We don't cover travel insurance as part of our packages but we highly recommend you take out an appropriate level of cover for yourself and your family.
It's always best to be prepared and it can cost as little as €5 Per day.
Here is some more information about Travel Insurance for the Camino.
Should anything go wrong and you are traveling with us, we also have a 24/7 support phone number.
3. COVID Testing
You may have to pay for private COVID testing prior to your departure to Spain, and again prior to your leaving Spain to return to your home country.
For COVID testing, we recommend budgeting €120 per test.
You can find European test centres here.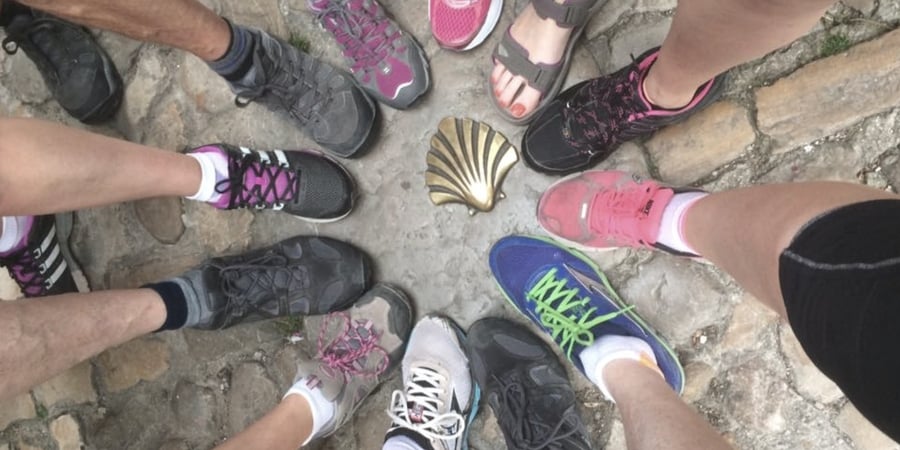 4. Camino Preparation Costs – Hiking Gear & Accessories
What to pack for the Camino?
Check out our handy Camino Packing Guide which you can download as a free ebook.
Here are the main hiking essentials you will need:
Hiking Shoes (boots are not necessary from Sarria to Santiago): €50 – €100
Hiking Socks (Very Important, we recommend Merino Wool: €20 – 30
Backpack:
Rain Gear: €50 – €150
Walking Poles / Sticks (these are available along to Camino so no need to pack): €5 – €12

5. Public Transportation
From Santiago, you can get public transport (bus or train or both) to Sarria, your starting point of the Camino.
The distance is just over 83 km and depending on which public transport option you choose, this will generally cost you €14 – €19 for a one-way ticket or slightly less.
It will cost more if you are traveling from Madrid.
You can check your public transport options on Rome2Rio.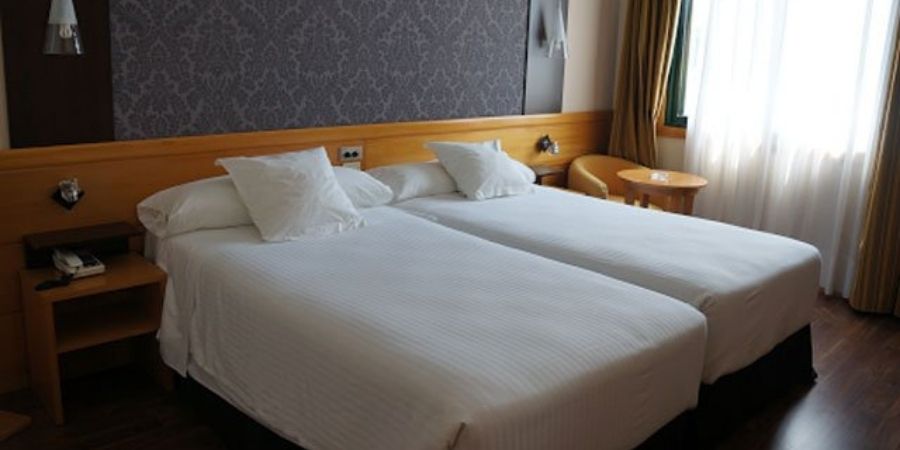 6. Accommodation
Assuming you are looking for the least expensive accommodation, you can find a bed in an Albergue (Hostel) for €10 – €12 per night.
You could be sharing a room (and bathroom) with up to 10 pilgrims.
The Albergues are usually first come first served and tend to fill up quickly.
A Private room in an Albergue will cost you more, perhaps up to €20 per night.
And a private hotel room or a room in a Casa Rural (rural cottage) will cost you €40 – €80 per night.
*Please bear in mind that these are estimations valid around May 2021.
You can read more about the Camino accommodation options to decide which suits you best.
Booking your Camino trip with CaminoWays.com means we book you in the best accommodation to suit your budget.
We have great relationships with hotels and casa rurals along the Camino which we use instead of Albergues.
Find out more about Camino hotels.

7. Luggage Transfer
If you don't want to carry a heavy rucksack on the Camino every day, you might need your luggage to be transferred to your next accommodation.
If you would like to organise it yourself, you can do this with Correos.
The service will cost from €20 from Sarria to Santiago to transfer 1 bag, depending on the weight.
This is something we can arrange and include as part of all our packages.
Find out more about Luggage Transfer on the Camino.

8. Food on the Camino
You can eat quite reasonably on the Camino with Breakfast, lunch, and dinner coming to under €25 per day.
Breakfast
Breakfast is usually served between 7.30 and 10 am.
You can get a decent breakfast along the Camino for under €5.
This will include Tea/Coffee, Orange Juice, bread with meats & cheeses. You can also get fruit or pastries.
Breakfast is not as elaborate in Spain as it is in other countries but it's enough for a decent start!
Lunch
Lunch is something that can be bought the night before and brought for a picnic (Approx. €5 including water)
If you want you can also pop into a kiosk or cafe along the Camino. Bear in mind, lunch is usually served from 1.30 to 3.30.
If you want, you can also stop at a cafe and grab a sandwich and some coffee.
It won't cost you more than €7 per day for a lunch you can have along the Camino.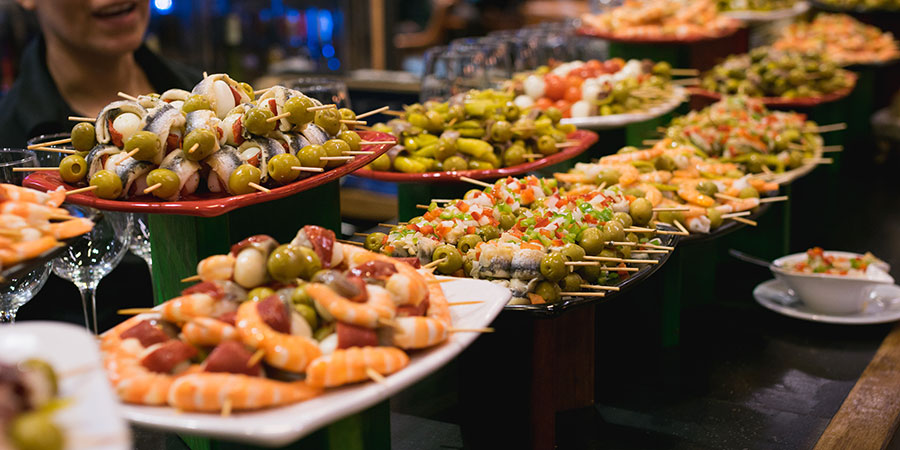 Dinner
Dinner in Spain is a very social affair and is the most elaborate meal of the day.
It is the chance to catch up with fellow pilgrims and share stories.
Dinner is served later in the evening, from 9 pm so it might be a good idea to stock up on healthy snacks for when you get back to your hotel.
You can have dinner with fellow pilgrims in the Albergues (by cooking yourself), by paying for a meal in an Albergue or you can eat in a local restaurant or at your hotel.
In restaurants, you can opt for the less expensive Pilgrim's Menu which costs roughly €10 and above.
Generally, you will pay between €10 and €20 for dinner (including wine).
We will aim to include dinners on your package where available. You can also find a lot of nice restaurants and delicious Spanish foods to try close to your accommodation.
You can find out more about Food on the Camino.
Wine/Beer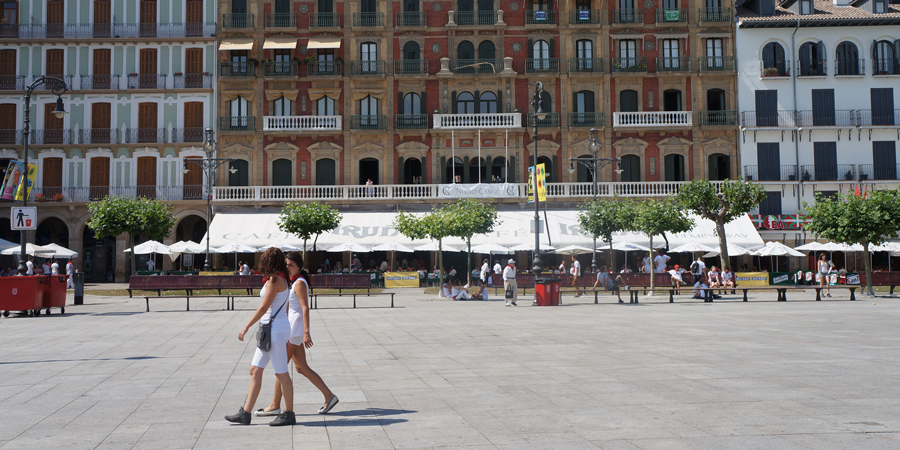 How much is a glass of wine on the Camino?
At a bar, you can pay around €2-€3 for a glass of wine or beer which could include a simple tapa (Pincho)
Wine is usually included in your dinner price (as above).
Water Bottle
Don't forget to bring enough water with you every day on the Camino.
We would suggest you purchase a hiking water bottle that you can clean and refill daily.
You can get one that filters your water if you prefer.
See here for more information.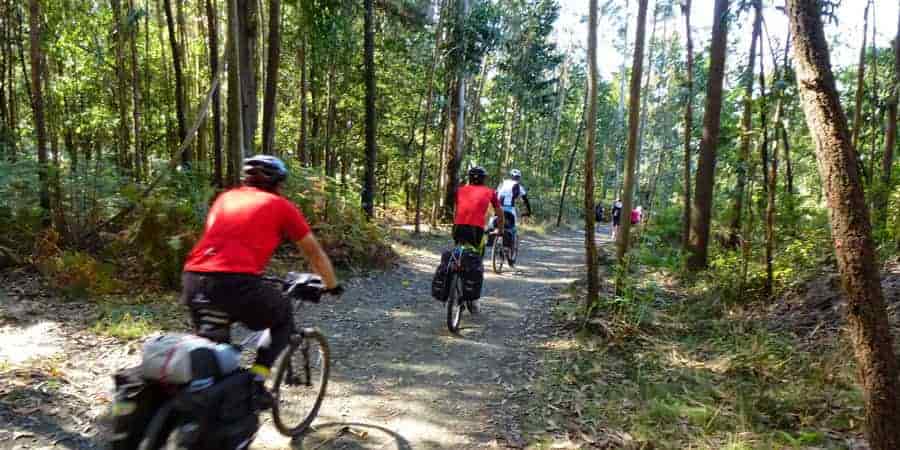 9. Cycling Costs (Optional)
Hiring a regular bike will cost you from €20 per day (including initial drop off to your hotel).
Bear in mind you will need to bring your own equipment. Wearing a helmet is a legal requirement in Spain.
Hiring an e-bike on the Camino will cost you from €40 per day.
Read more about what is involved in Cycling the Camino.
10. Miscellaneous Costs
Guidebook by John Brierly or Cicerone (Includes Maps of the route) €20
Pilgrim Passport (to collect the stamps) €2
Pilgrim Passport holder €1
Compostela is free but a Certificate of Distance costs €3 from the Pilgrim's office.
Find out more here about the Compostela & Certificates.

Total Cost of the Camino
Before you go, the costs of travel (Flights, insurance, Testing, Hiking gear) could cost from €1000.
Public Transport from the airport and back in Spain will cost approximately €40 – €50.
Walking the Camino you can spend between €30 to €70 per day for a basic holiday including food, accommodation, luggage transfers & Miscellaneous.
Yes, it is possible to do the Camino yourself and on a tight budget but you will miss out on the expertise, friendly advice, support, and organisation that we provide.
In addition, we are also offering the last 100 km of the Camino Frances from Sarria to Santiago from €525 per person sharing.
That works out at €75 per day including the best accommodation, luggage transfers, dinners where available, a holiday pack on your phone, and 24/7 support.
There are many reasons you should choose CaminoWays to book your Camino de Santiago.
So if you feel like letting us organise everything so you don't have to worry about it, get in touch! You'll be in good hands: