Flight FAQs and Airport Transfers
It is a question our Camino specialists get asked frequently,  'where do I fly to start my Camino?'. Some of the full Camino de Santiago routes can take up to five weeks to complete so the airports will vary from route to route.
The most suitable airport will depend on various factors: the route you choose, the country you are starting in, the starting date and where you are flying from.
For walkers travelling from outside Europe, you may want to fly into one of the major city airports in Spain. Madrid and Barcelona are popular options for walkers coming from the United States and Australia, for instance.
We offer transfers to get you from the airports to the Camino start points, and if you need information, our team are always here to help.
Camino Airports Map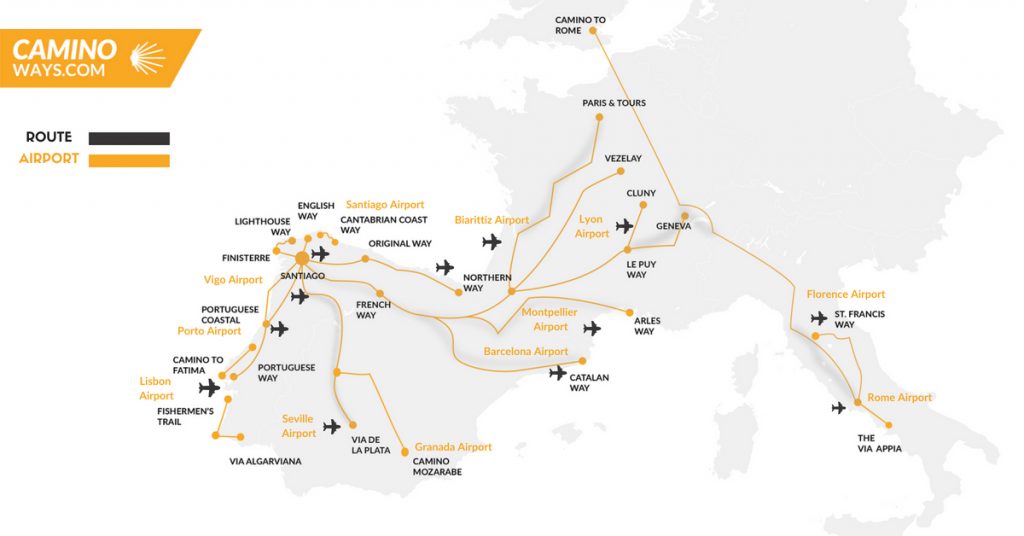 CAMINO FRANCES
If you are planning to walk the full Camino Frances from St. Jean Pied de Port to Santiago de Compostela, the nearest Airport is Biarritz in France, 55km from St.Jean Pied de Port and reachable by bus and train. The journey from Biarritz will take you over 2 hours, so don't forget to factor this time into your overall travel time. If it is your first time heading out on the Camino trail, you may want to try walking for one week, and the last week of the Camino Frances is just under 1 week. To complete this trail, you will need to fly into Santiago de Compostela Airport.
CAMINO PORTUGUES
Lisbon and Porto are the two best airport options for accessibility to the Camino Portugues. As you will be starting your walk from Lisbon, then Lisbon airport is the perfect pick for an airport to fly into as it is just 6 km from the city centre. If you would prefer to walk the last week of this route than complete the full route of 29 nights, you may choose to fly into Vigo Airport, which is 25km from your starting point in the town of Tui or Porto Airport which would have a larger selection of International flights and is a little over 2 hours travel time.
COASTAL CAMINO
If you are planning to walk the full coastal Camino from Porto to Santiago de Compostela, then Porto Airport is the nearest airport to the start of the trail. This is a beautiful trail and perfect for pilgrims who have two weeks available to walk.  If you are planning to walk the last section of the route from Baiona, Vigo Airport is just 30km from the seaside town of Baiona. Some buses run daily, every 30 minutes, to bring you to the centre of Baiona before you start your walk.
CAMINO DEL NORTE
The Northern Way, famous for its delicious tapas culture, would take you over five weeks to complete in full, but the most popular sections that cover a week of walking are the Camino del Norte in the Basque Country and the last stage of the Camino del Norte which leads you into Santiago de Compostela. To reach the start of the route, you will fly into San Sebastian airport or Bilbao Airport. Both airports are well-serviced internationally. For the last week of this trail, it is best to fly to Santiago de Compostela Airport (87 km away) or A Coruna Airport (57 km away).
CAMINO INGLES
Camino Ingles, or the English Way, starts from the seaside village of Ferrol, which is located approx 45km from A Coruña Airport. A bus will bring you to Ferrol and take around 30 minutes to get you to your destination. In A Coruña, there is a bus connecting the airport and the train station (Line 443 stop: "Avenida A. Molina") (departing every 30 min). Santiago de Compostela Airport 85km: There is a shuttle bus from/to Santiago-Lavacolla airport to Santiago city, departing every 30min.
CAMINO FINISTERRE
You can walk the Finisterre Way from Santiago to Muxia and reverse from Muxia to Santiago de Compostela. Flying into Santiago de Compostela Airport is the easiest option for this route. The airport is 11km from the city centre, and there are plenty of ways to get you to your preferred starting point.
LE PUY WAY
Lyon Airport is 145km from Le Puy en Valey. Trains run three times per day and take approximately 2 hrs 15 minutes to get you to Le Puy en Valey. The picturesque town of Conques is a popular starting point for Le Puy Way. There are two airports nearby; Rodez airport is located 40km from Conques and is the easiest option as it has a bus and train service that runs daily. Aurillac Tronquire Aiport is also nearby but only reachable by car, so you would need to get a taxi or rent a car to get to your starting point. The nearest major International airports are Toulouse Airport which is approximately 2 hr 20 minutes drive away.
Can you organise airport pick-up?
We organise transfers on all Camino routes to get you to your preferred destinations; ask us. Airport pick-up is available at an extra cost, and our transporter will wait for you at arrival with a sign with your name. We will advise you if it changes.
Where do I wait for my airport transfer in Santiago?
From the airport:
If you have booked an airport transfer from Santiago Airport to your starting point, the meeting point is by the coffee shop in front of the arrivals gate. There will be someone waiting for you with a CaminoWays.com sign (and the booking name).
If your flight is delayed or arrives early, contact the emergency number provided to let the team know, however, the meeting point remains the same.
From Santiago:
If you have booked an airport transfer from the hotel to Santiago airport with CaminoWays.com, you should wait at your hotel reception desk for at least 2 hours 15 minutes before your departure time. This is where our transporter will go to find you.
-If possible, provide flight details/airport of origin/flight number when booking airport transfers with CaminoWays.com.
Do you offer flights?
We generally leave you to arrange your own flights so that you can take advantage of low-cost airlines. We don't offer flights for our clients.
We are flexible in terms of departure, so choose the cheapest flights, and we arrange your Camino de Santiago trip around those dates!
The best connections with your home country are outlined in the 'how to get there' section on every trip page (under the general description, have a look at the Last 100km of the Camino de Santiago, for example).
You can also look at comparison sites such as skyscanner.com or kayak.com. If you are organising a group trip, our group's team can book flights for the team.
These are the most popular Camino trails, and we will try our best to keep this page updated with the most suitable airports to fly into to start your Camino journey. If you have any questions about the routes or would like to speak to one of our travel specialists, please do not hesitate to contact us.