The city of Siena is one of the highlights along the Via Francigena in Tuscany. Siena is a UNESCO-listed city and one of Italy's most visited sites. Designed as a work of art to blend in with the Tuscan surroundings, the city's perfect Gothic beauty will amaze you.
If you are walking the Via Francigena in Tuscany, we would recommend you spend an additional day in Siena to discover and explore this magnificent city, soaking in its lively atmosphere. We have selected the top things to do in Siena: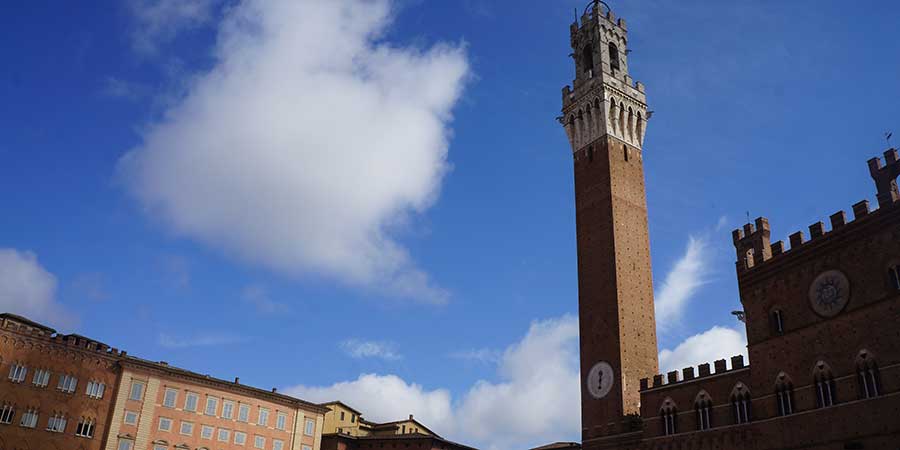 Piazza del Campo
Siena's most iconic square is Piazza del Campo, famous around the world for hosting the spectacular Palio horse race each summer (as seen in the James Bond movie Quantum of Solace). The square's curved shape is a unique stage for this horse race, going back 700 years.
At Piazza del Campo you will also find Palazzo Pubblico (town hall) and the 88-metre Torre del Mangia tower. Visiting the 14th-century tower (entry fee of approximately €8 per person) you will get the best panoramic views of the city.
Also in Piazza del Campo, you will be able to visit the Museo Civico, Siena's most famous museum, home to artwork by the most prominent members of the Sienese School.
Siena Duomo and Pilgrims Hospital
A visit to Siena's Cathedral (Duomo), dedicated to Santa Maria Assunta is also a must. Siena Duomo is a masterpiece of Tuscan Romanesque style and probably the most beautiful cathedral in Italy. It was built at the time with the ambition of being the largest cathedral in the world. Built-in black and white marble, the Duomo's facade is decorated with intricate carvings and fine ornamental details. Inside the cathedral, make sure you admire the magnificent 14th-century marble mosaic floor.
Right in front of the Duomo, you should visit Spedale di Santa Maria della Scala; this is one of the first pilgrims' hospitals in Europe and it was built to welcome pilgrims passing Siena on their way to Rome, along the Via Francigena.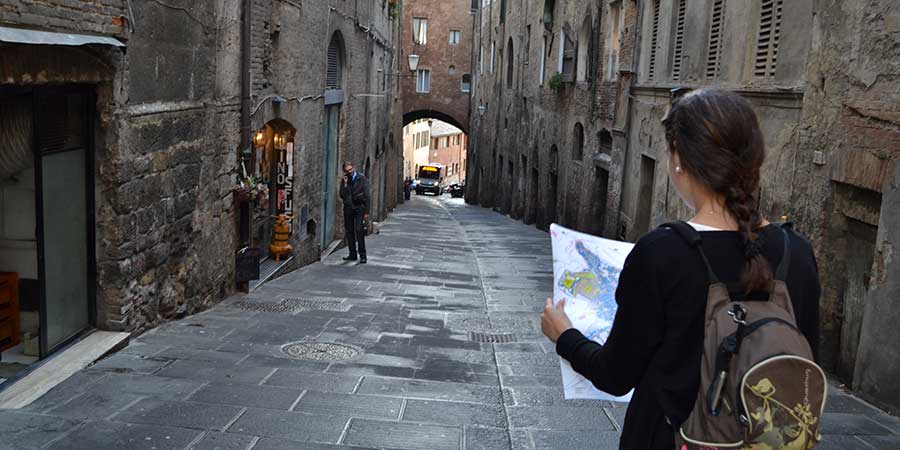 Relax with a creamy gelato
Make sure you wander the back streets of historic Siena immersing yourself in the beauty of this living work of art. After a day of exploring and visiting its most spectacular sights; it is time to relax with a tasty creamy gelato (ice cream), a nice cup of coffee with Tuscan almond cake or just bask in the sunshine and watch the world go by. You deserve it!
Which Via Francigena route?
You will finish in Siena if you walk the Via Francigena from Lucca and Siena.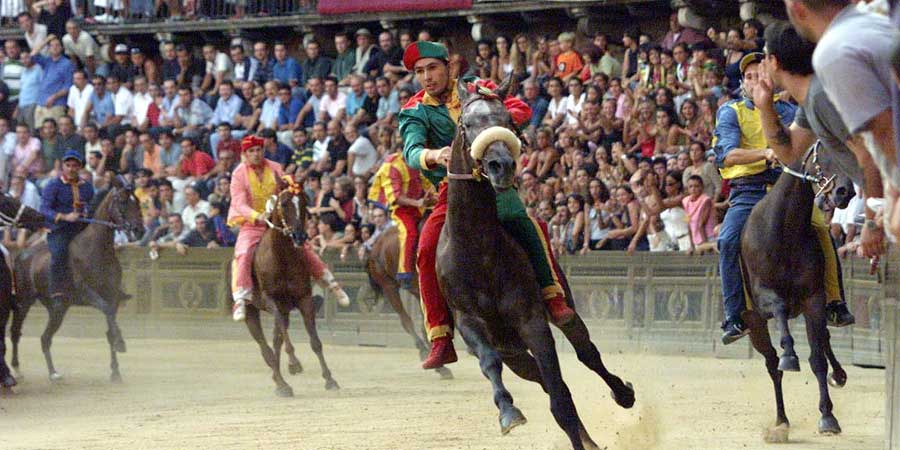 When to travel:
There are a number of festivals in Siena throughout the year. Palio di Siena takes place twice each year on the 2nd of July and the 16th of August. Siena Jazz Festival is a series of open-air jazz concerts in the fabulous setting of Siena's old town. It takes place from June to August. San Giuseppe festival and fair take place in March (around the 19th of March, St Joseph's Day). If you are looking to travel for specific festivals, make sure you book a few months in advance as hotel availability might be limited for those dates.
If you would like more information about the Camino de Santiago, the various Camino routes or if you would like to book your own Camino adventure, please don't hesitate to contact us.