Perfect Italian dinner on the Via Francigena
If you're planning a walking holiday in Tuscany on the Via Francigena or Cammino di Francesco, don't miss the chance to discover authentic Italian food, one of the richest Mediterranean food cultures. Let us whet your appetite with this blog post before you leave for the Italian peninsula. Perfect Italian dinner on the Via Francigena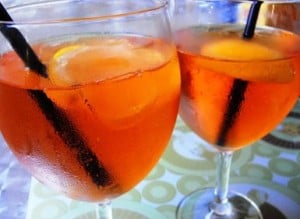 Aperitivo
We suggest you begin your evening in Tuscany with an aperitivo. The Italian word aperitivo is usually translated as "Happy Hour" but is not the same thing. An aperitivo is just a pre-dinner drink, meant to open the palate.
Aperitivo drinks can be alcoholic or non-alcoholic, "virgin" drinks. Non-alcoholic or "virgin" drinks can range from a soft drink to delicious fruit juice cocktails or a non-alcoholic bitter, like Italian Sanbitter, Crodino or Chinotto.
For alcoholic drinks we suggest wine, usually white, but don't dismiss a good red wine a priori. Prosecco is our favourite choice: sparkling white wine perfect to sweeten your palate while tasting some exquisite appetizers. Spumante, sweet or dry sparkling white wine, is also a good choice. Fragolino or Brachetto are two of the sweetest choices if you go for red wine.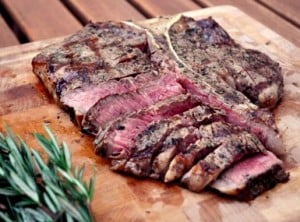 What is offered as appetizers, really depends on the bar. A few olives and potato chips are the classic (poorest) offering. We suggest you ask for something tastier and Italian, like some bread or breadsticks, grissini in Italian, accompanied by some fresh and fabulous Parma ham (prosciutto di Parma) or the famous lardo di Colonnata produced in Carrara, Tuscany. Sometimes you can find Italian cheese such as fresh Mozzarella as an appetizer.
Dinner
Take your time to enjoy your aperitivo and then move serenely to a good restaurant in town but make sure they have bistecca alla fiorentina in the Menu.
Bistecca alla fiorentina, or "beefsteak Florentine style", is a T-bone traditionally sourced from either the Chianina or Maremmana breeds of cattle. It's one of our favourite Tuscan dishes and we heartily recommend it to you!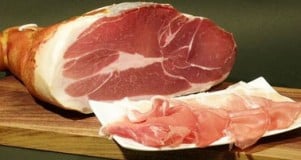 Begin your dinner with a fresh salad dressed with Italian olive oil and balsamic vinegar from Modena.
The highlight of the evening is now finally arrived.
The bistecca alla fiorentina is 2 or 3 fingers thick and the correct weight for 2 people varies between 900 and 1250 grams. The T-bone divides the filet part of the steak from the sirloin. The steak is grilled over a wood or charcoal fire, seasoned with salt and sometimes with black pepper. A generous amount of olive oil is applied immediately after the meat is taken off the heat. The secret is in the speed of the cooking method and the result is that the meat is roasted golden brown on the outside and soft and pulpy in the inside. It is traditionally served very rare, sometimes garnished with lemon wedges and accompanied by Tuscan beans or baked potatoes as a side dish. Thickly cut and very large steaks are often shared between two or more people. Perfect Italian dinner on the Via Francigena
Wine
The best Tuscan red wine to accompany your fabulous dish is absolutely a Chianti.
Other good choices of well-known regional wines could be Monteregio di Massa Marittima Riserva Doc, Brunello di Montalcino, Carmignano, Morellino di Scansano, Parrina, Sassicaia and Vernaccia di San Gimignano.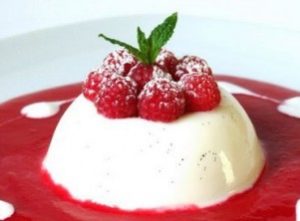 Desserts
If you still have a little space for dessert, try some delicious tiramisu or panna cotta, the best Italian traditional desserts. Something also traditional but much lighter could be just some Cantuccini, known in English as "biscotti", which in Italian is just the general word for biscuits. Try them with an Espresso or a Macchiato. Keep in mind that Italy is the country of coffee par excellence, so enjoy it!
Your dinner is now finished, but if you are very greedy or you didn't have dessert at the restaurant, plan a stop in an open gelateria for a delicious handmade Italian gelato to eat while you enjoy a stroll around town. Perfect Italian dinner on the Via Francigena
To learn more about Camino food and food on the Via Francigena, please visit our blog or you can also contact us.