Cycling the Camino is a beautiful alternative to walking. There are many advantages to cycling the Camino, including covering more ground in less time, and it's easier if you bring children on the Camino.
If you are thinking about Cycling the Camino de Santiago routes, we have prepared this helpful list answering some of your questions about cycling and your new best holiday friend: your bike!
Cycling the Camino: How it Works
You have decided to cycle the Camino, booked your self-guided holiday, and are now wondering how it will work.
First, we recommend cycling the Camino de Santiago only if you have some experience as a cyclist and are familiar with essential bike maintenance such as changing a tube, fixing the chain if it comes off, or attaching the pedals.
If you are cycling for over a week, we recommend adding rest days, particularly if you are cycling with children. This would allow you to have a day's rest and explore some of the great cities and towns along the Camino routes, such as Burgos, León, Porto, etc…
Cycling the Camino: Your Bicycle 
Your bike will be delivered to your first hotel, ready for the following day: your first day of cycling. The bike will be neatly packed in a box, so the handlebar needs to be straightened, and the pedals need to be attached and secured (instructions included).
You must check your bike before starting your journey, ensuring everything works correctly. If you think something is wrong, let us know so your bike can get replaced and avoid trouble on your way (in a way, it is similar to renting a car).
Once you finish your cycling trip, you can bring your bike back to the bike shop in Santiago de Compostela. You can see full details in the General Information document included in your Camino Travel Documents.
If mid-tour, you decide you don't need some of the bike accessories (such as the pannier, etc.), make sure to pack them in your luggage so it can be transferred easily (avoiding additional charges and risk of losing the equipment).
Please do not leave pedals or any other bike accessories behind in your hotel, as you will be charged for loss or damage to equipment.
A minimum period of 3 days (4 nights) applies when hiring a bike for your Camino de Santiago trip with CaminoWays.com; a minimum of 7 days if you are hiring an e-bike.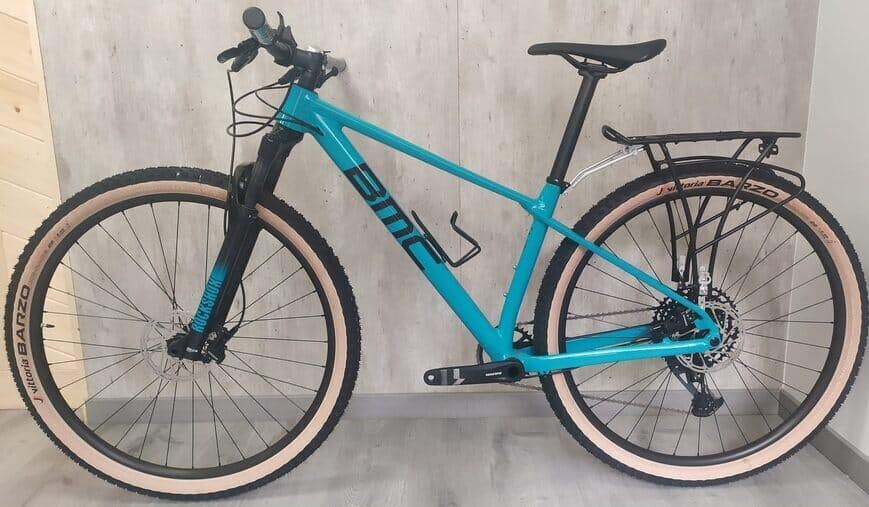 Cycling the Camino de Santiago: What's included
Your Camino bike: You will get an aluminium 12-gear (1×12) mountain bike with disc brakes and 29-inch wheels, as standard, from a local company.
These bikes are specifically designed for the Camino de Santiago terrain. They will be adapted to your height (you must give the reservations team your exact height, so you are provided with a suitable bike – particularly if you are cycling the Camino with children).
The bike has a rack, bottle holder, lock, and reflectors. Contact our travel specialists if you would like to upgrade your hired bike.
Camino e-bikes are available on selected routes for Camino trips finishing in Santiago de Compostela.
Pannier Pack: with a bike repair kit inside. (*If you don't need it, just let us know in advance). The repair kit includes a pump, set of tools, spare inner tube, patch kit and if you're a cyclist, let us know: extra drop out, link for the chain and its tools to repair them. It also comes with a bike lock.
Please note that the panniers are not waterproof, so bringing a dry bag with you for the trip is advisable.
Helmet rental is also included as part of your package, but if you don't need it and instead bring your own, please let our team know. Bear in mind, by Spanish law. Both cyclists must use officially approved protective helmets when riding outside urban areas (children under 16 should wear them at all times), except on long steep slopes, for medical reasons, or under sweltering conditions. Failure to comply with this could result in a traffic fine.
If you are cycling the Camino with kids, let our travel consultants know in advance, as we also have various options. We will also give you suggestions for a children-friendly route/itinerary. We generally suggest covering approximately 25km per day with children.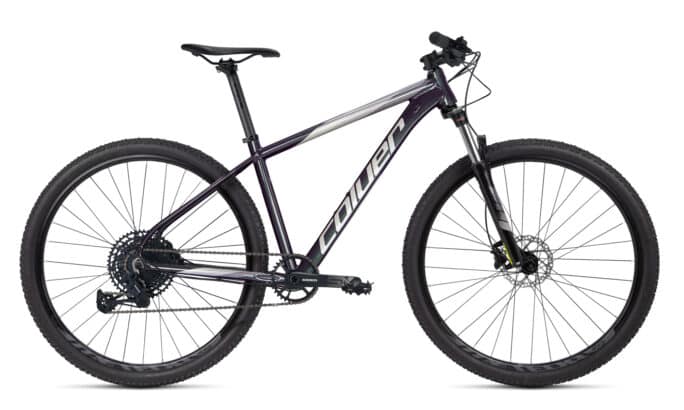 More Information About Our Standard Hybrid Bike:
Shift Sram SX Eagle 1x12s
Fork Suntour XCM RL 29″, Regulable, T: 100mm
Rim 29″
Frame: Limbo 296
Fork Suntour XCM RL 29″, Remote poplock
Frame: Aluminium
Front derailleur Sram SX Eagle
Brakes Shimano MT200, Disco Hidráulico F-160/R-160
Crank Sram SX Eagle 11-50t
Pannier rack included
Safety retroreflectors
More Information About Our Standard eBike:
Frame: Aluminium Lite
Fork: SR Suntour XCR 32 EL (travel 100mm, remote lockout)
Front hub: Shimano FH-TX505
Back hub: Shimano FH-TX505
Tire: Schwalbe Rapid Rob (29″x2, 25)
Rims: Kross Disc (Aluminium, double wall, 29″, 19mm)
Front brake: Shimano Disc BR-M315 (disc, hydraulic)
Rear derailleur: Shimano Deore SL-M6000 (10)
Crank arm: Shimano Steps 38T, 175mm
Chain: Shimano CN-HG54
Engine: Shimano steps E-7000
Battery: Shimano
Charge: 80% up to 2.5 hours | 100% up to 5 hours
Autonomy: ECO + Normal about 70-90km | Normal + Boost under 60km
Cycling the Camino: Support 
We have carefully planned the distances you will cover by bike on the Camino, taking into account the nature of the terrain, type of track, and other circumstances, such as the fact that the trail is shared with walkers in most cases.
If you feel the distances for your Camino cycle are too short or long, talk to our travel consultants when planning your trip. There is probably a good reason behind the mileage chosen; just ask us!
The Camino de Santiago routes cover thousands of miles, so it is difficult to have someone on the ground at all times but relax. It runs all the time smoothly!
CaminoWays.com has a 24/7 assistance number should you need assistance and advice (this number is provided with your booking/travel documents); we also provide you with a support number from the bike provider. While we cannot send someone to repair your bike on the Camino trail, our trusted providers will give you as much support as possible.
Your bike has a kit for essential repairs such as flat tires and punctures. In the unlikely event that you have a second puncture, we can provide you with the contact details for the closest bike repair shop (you will be responsible for repair costs).
If you are in a remote area and don't feel like walking, we can also get your contact details for local taxi drivers (a taxi transfer will be at your own cost).
If you feel you need a break from cycling, we might be able to organise a transfer for your bike, but we will need 48hrs notice, and there will be a cost associated with the bike transfer (as additional luggage transfer).

When cycling the Camino, it is vital to remember that you are sharing the tracks with walkers, so be mindful and respectful to other pilgrims, whether on foot or on wheels.
Surcharges
Please make a note of surcharges that will be charged should any of the following occur:
Theft or loss of bicycle MTB Premium or Gravel: €1,200

Theft or loss of bicycle MTB standard 1×12: €600

Theft, damage or loss of panniers: €30

Theft, damage or loss of helmet: €15

Theft, damage or loss of tool kit: €15

Theft, damage or loss of bicycle lock: €15

Theft, damage or loss of handlebar bag: €15

Theft, damage or loss of saddle gel cover: €15

Late return fee per each day that the customer exceeds the return date stated in the booking agreement – MTB standard 1×12: €23

Late return fee E-BIKES: €50 per each day that the customer exceeds the return date stated in the booking agreement.

MTB bicycle collection at customer's hotel: €35
Ebikes surcharges
Theft or loss of Ebike: 1,500€

Theft, damage or loss of battery and charger: 300€

T

heft, damage or loss of LCD screen: 300€

Theft, damage or loss of key: 200€

Damage or scratches of frame: 250€

Damage on wires: 200€

E-bike at hotel rather than shop: 300€
Enjoy the Camino ride!
For more information about cycling the Camino, please don't hesitate to contact us. To stay up-to-date with our latest news and webinars, check out our Facebook page.