Top 10 Camino Dishes
The various Camino routes cross different regions (and sometimes, countries), each with its own traditions, culture and food. Food is an important part of any journey, and with this in mind, we think there are 10 Camino dishes you absolutely have to try while walking the Camino de Santiago.
If you are walking the Camino along the Camino Frances, here are some classic dishes and traditional products you will likely have the opportunity to taste.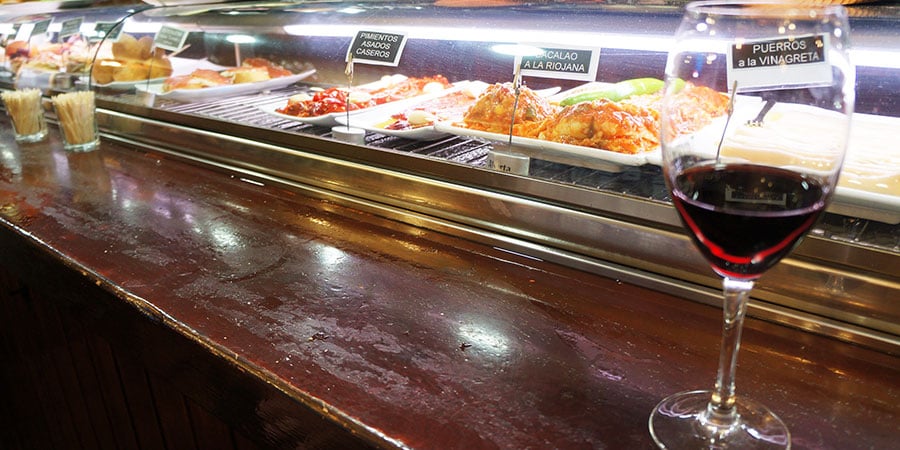 1) White Asparagus
Navarra's white asparagus is the most famous in Spain. The asparagus is delicious with just a dollop of mayonnaise sauce. Another Navarrese speciality is 'Pochas', a regional type of bean stewed with Serrano ham cubes. Helena from Casa Sabina in Roncesvalles serves delicious 'Pochas'.
2) Chilindrón sauce
Chilindrón is a traditional sauce from Navarra in the Basque Country and in the Aragón regions. It's made with red vegetables, mainly tomatoes and red peppers. You will likely find meat such as lamb or chicken cooked 'al chilindrón', in 'chilindrón' sauce.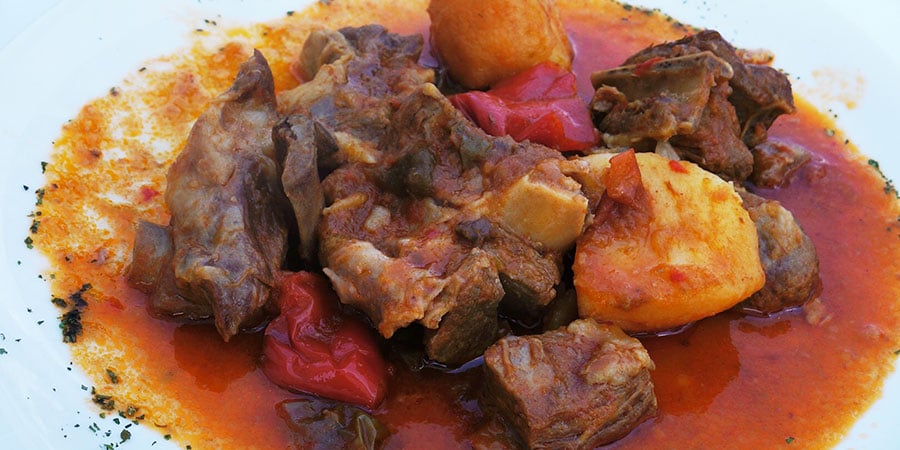 3) Potatoes Rioja style
From the La Rioja region, of course, famous for its red wine, you will find a variety of dishes cooked 'a la Riojana', 'Rioja-style', including potatoes. This is more than just a potato dish; the potatoes are stewed in a clear broth with chorizo sausage.
4) Ice cream in Logroño
Marzipan, goat's cheese with blueberries, cherry and orange sorbets and Ferrero Rocher – these are just some of the wacky and wonderful ice cream flavours you will come across if you are walking the Camino Frances from Logrono. Although famous for its wine, Logroño, the capital of La Rioja, is a city with a deep ice-cream-making tradition – you won't want to miss sampling a sweet treat!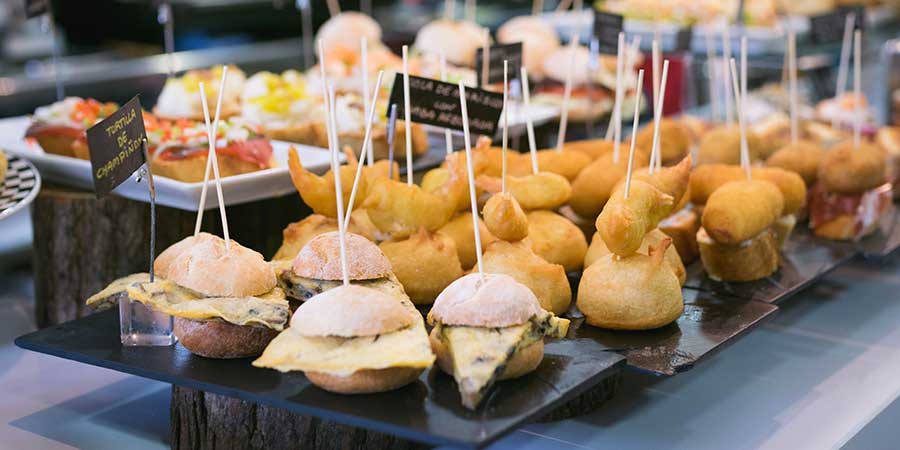 5) Tapas in Burgos
Burgos, named Spain's gastronomic capital for 2018, is a wonderful spot for quality produce. Go for tapas in one of the city's many bars, offering a wide variety of flavours and combinations so you can taste as many different dishes as possible.
6) Cured meats in León
As you enter Castilla-León, cured meats become even more prominent in restaurant menus. Cecina smoked beef is a local speciality, and cured meats (Embutidos) from this region are of exceptional quality.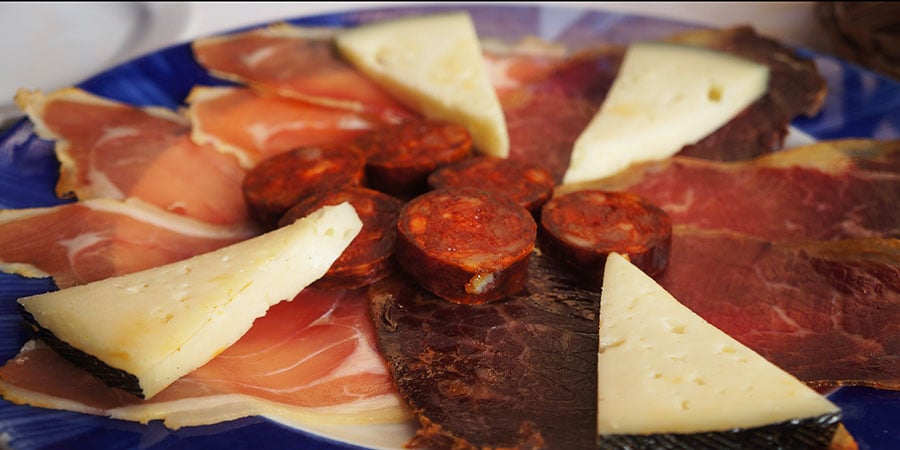 7) Cakes and Chocolate from Astorga
Astorga had, at one stage, up to 64 chocolate factories, which is as good an excuse as any to stop and taste some of the artisan chocolate made locally. Don't forget to try the famous 'Mantecados' (little buttery cakes) and 'Hojaldres' (super sweet sticky puffy pastries). There is also a chocolate museum in town.
8) Botillo in El Bierzo
You will cross El Bierzo on the Camino Frances, its capital being Ponferrada. The most famous dish of this region is 'Botillo'. It's a dish where various parts of the pig are chopped, seasoned, spiced and stuffed together to be cured and smoked for a few days.
It gets cooked and sliced before serving and can also be eaten in stews. El Bierzo is also famous for its cherries, so try them if you are travelling in the summer. You will see them in orchards along the walk and in every supermarket.
9) Octopus 'market fair-style in Melide
Galicia's most traditional dish is the Octopus, eaten traditionally on market days, hence its name in Galego (Pulpo á feira – octopus market day style).
Stop for a 'ración' (portion) at a real 'pulpería', a bar or restaurant specialised in cooking octopus, where the octopus is boiled and served with a sprinkle of sea salt and smoked paprika. A Garnacha in Melide is a popular stop on the last section of the Camino Frances.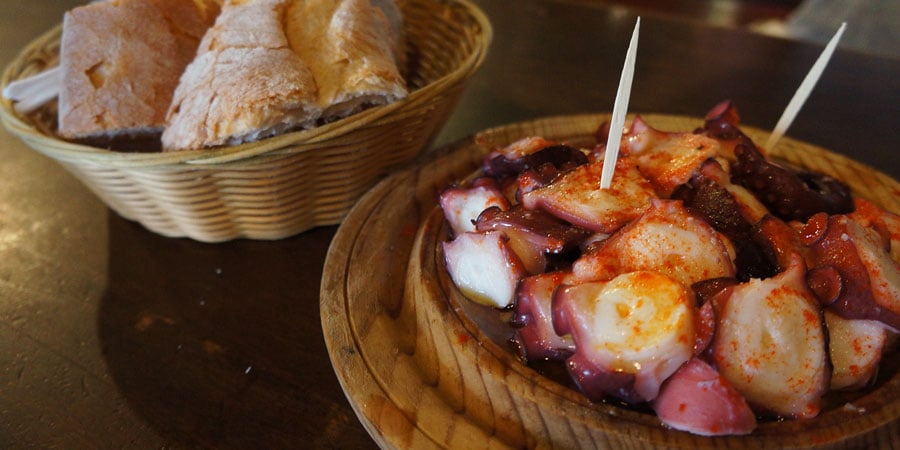 10) Arzúa cheese
Further along, the way, before you get to Santiago de Compostela, you will pass the market town of Arzúa, where you can get a picture taken with the statue of the humble woman selling cheese in the main square.
Explore the small shops in town to get a taste of the local cheese, for example, at the old school butcher shop of father and son Luís and Luís, also known as 'Carnicería Tarazona'.
They will milk the cow for fresh milk on the spot, and they sell the traditional Arzúa cheese, as well as their meats. The family has been running the establishment for over 100 years.
Buen Camino and Buen Provecho! We have previously shared our list of the 10 best Galician dishes not to miss if you are walking the Camino de Santiago.