Camino Packing eBook
Your personal Camino Packing Guide
Packing for a huge adventure can be a little bit overwhelming and it can be hard to decide where to begin. That's where our Camino Packing eBook comes in.
The Camino de Santiago Packing eBook was carefully designed to give readers packing tips, weather advice and a dedicated Camino packing checklist. This Packing eBook will help you to prepare correctly for this epic journey.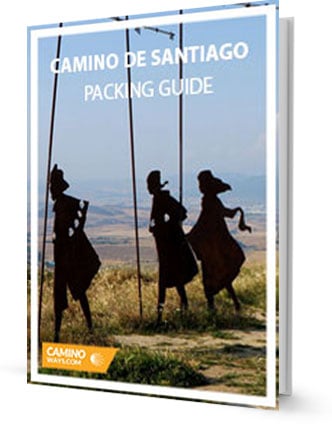 Whether you are planning to walk or cycle any of the Camino de Santiago routes packing your suitcase is a very different experience from the average vacation abroad. When our customers started asking questions and worrying about what to bring and what not to bring, we came up with a plan to develop a comprehensive packing guide.
Our outdoor clothing partners have given us special clothing advice. This packing advice is designed for anyone who is getting ready to walk or cycle the Camino de Santiago, whether it's a week, a full month or longer. We recommend that you have a printed copy of the plan when you begin to pack your suitcase/backpack.
Unlike other adventures, holidays and tours, hiking the Camino de Santiago is a unique experience. Before you start packing, you will need to consider the time spent on the route.
The following factors will affect the items that you need to bring with you to make the journey more comfortable:
What route have you chosen to take? (The French Way, the Portuguese Coastal Way, the Northern Way…)
How many days of walking are you going to do?
What time of the year are you planning to travel?
What is the expected weather temperature?
This guide will provide an overview of the top things you need to bring and what not to bring when walking the Camino. If you book your Camino with us, we provide luggage transfers, so you don't have to worry about carrying large luggage from place to place. Still, it would be best if you carried a backpack with the essential items of water, snacks, phone, camera, blister plasters and small items each day. Remember that you will be walking between 16 – 25 km per day, so plenty of socks and a pair of well-worn walking shoes or boots are two of the most important items to take on your Camino journey.
Fill out the form below to receive your FREE Camino Packing eBook: