Via Francigena Beginners eBook
The Via Francigena beginners ebook will provide you with all of the information you need to know before embarking on the Via Francigena walking route. This ancient route, connecting Canterbury to Rome, is speckled with the most beautiful landscapes, villages and scenery throughout.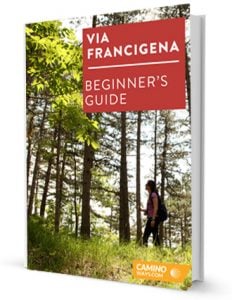 Whether you are planning a walking trip to Rome, a walking tour in Italy, a pilgrimage in Europe or a spiritual journey along the Via Francigena walking routes, this ebook will give you the history, and facts and guide you through all aspects of preparation for your next walking or cycling adventure.
In the Via Francigena Beginners eBook, you will find a list of the best routes to choose from, useful phrases in Italian, the best food festivals along the way, some exercises to prepare you for long-distance walking and a short packing guide.
You may have walked one or more routes of the Camino de Santiago throughout Spain, France and Portugual, but this eBook is especially for those planning to walk the Via Francigena in Italy. Apart from the language, there are some other differences between this route and other Caminos. We hope you find it helpful.
Fill in the form below for your FREE copy of the Via Francigena Beginners eBook: