A Typical Day on the Camino
So you've signed up to walk the Camino de Santiago, your bags are packed and you've completed a fitness plan. You are as prepared as you can be. But what actually happens on the Camino? We're here to reveal a typical day on the Camino so that you can get an idea of what your day-to-day life will be like as you complete your journey.
To illustrate our typical day on the Camino, we'll be walking from Sarria to Portomarin, which is a 22km day. As you walk this section, you'll pass tiny hamlets and charming farmhouses that have been converted into cafes and restaurants – you should pass a service on average every 3km. You'll also spot many Galician traditional 'hórreos' (granaries). Make sure to visit the beautiful Romanesque church in the village of Barbadelo.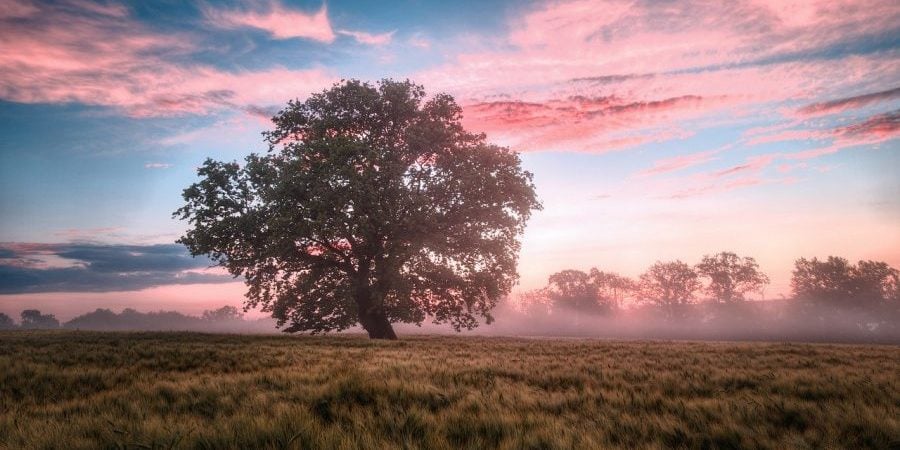 Morning Routine – Start Your Day Right
Breakfast
Good morning! Most pilgrims will want to get an early start to the day. You will see some early risers hitting the trail as early as 6.30 am, but on a typical day on the Camino, there is no need to get going that early (unless it's what you prefer of course).
Between 6 and 8 am, you'll wake up, put the last few bits back into your suitcase and organise your day bag (don't forget the essentials like spare socks and snacks). If you've any annoying blisters bothering you, make sure to look after them and prepare your feet for the day ahead. It's a good idea to do some stretches first thing in the morning too so your body is ready for the day ahead.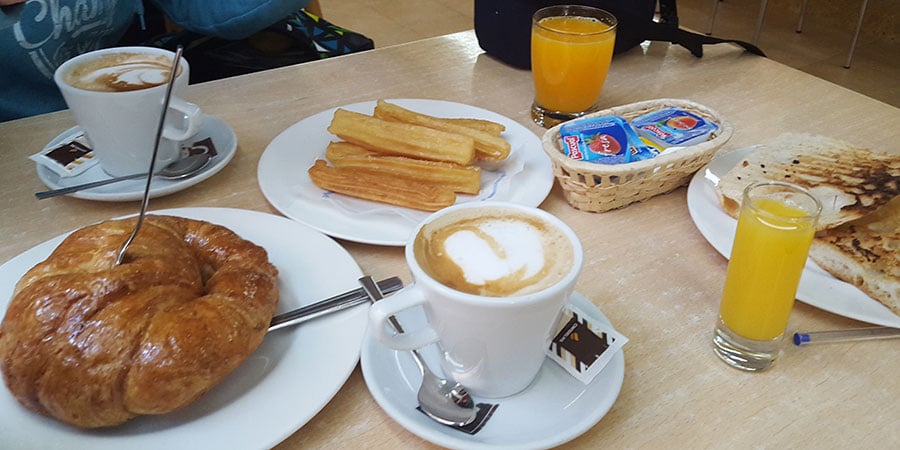 Breakfast usually consists of coffee, tea or orange juice and some pastries, churros and fruit. There may be larger breakfast options available but a very full stomach so early might make you feel groggy. There are many cafes en route and this, along with your snacks for the Camino, should keep you sustained. If you have a luggage transfer service, make sure to drop your bag down to reception by 8 am to make sure it's picked up and dropped at your next accommodation on time.
After you've stretched and eaten, it's time to set off. This could be anytime between 7 and 9 am and is completely up to you. It's good to start the day early so you make it to your destination in good time. Most days will see you walking 20-25km. To take you on this typical day on the Camino, we'll start as if we were currently Sarria, the starting point of the 100km of the Camino Frances, the French way from Sarria to Santiago.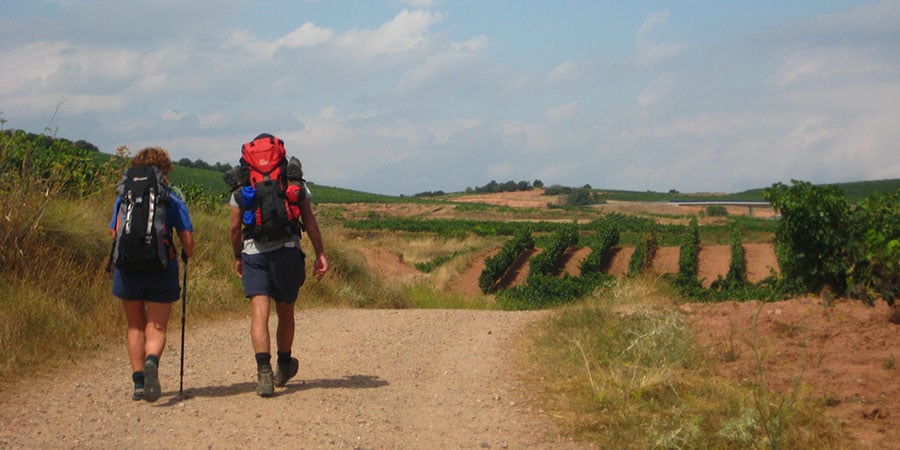 The Start of Your Walk
Pre-lunch walking: 13km approximately
Begin your day in Sarria. You'll likely do the majority of your walking in the morning before the heat of the day kicks in. You may walk an average of 3-4km an hour and take a 15 minute break every hour. Of course, this is only a guideline, the Camino is not a race and you should walk as little or as much as you're comfortable doing.
Also, the morning portion of your walk may vary each day. Your speed and mood might fluctuate, depending on how many days you've been walking and how you're feeling both physically and mentally. During the morning portion of your walk, you might like to stop at a cafe for a coffee and snack. It'll be rare that you're the only pilgrim in a cafe so this is also a good opportunity to meet new people.
As you're walking, you'll likely meet some fellow pilgrims that you end up chatting to while walking and you might also spend some time alone. It's good to be open to talking with your fellow pilgrims but don't feel under pressure to keep up, it's important to walk the Camino at your own pace. You'll meet many people on the Camino de Santiago, some maybe for a few minutes or hours and others you might form lasting friendships with and stay in touch with long after finishing your Camino.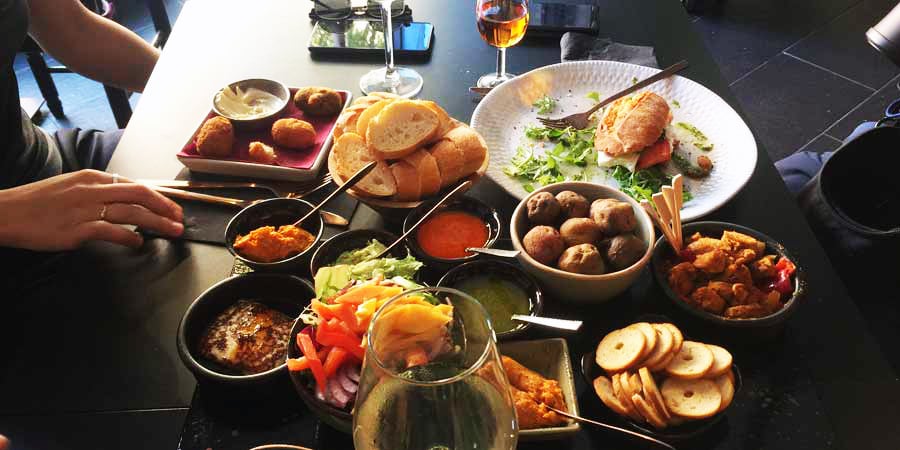 Lunchtime
No set time to have lunch, but it will likely be at least 3 hours after you first set out in the morning.
While the Spanish usually enjoy a big lunch, walking on a full stomach can be uncomfortable so you might prefer to eat something smaller. Again this is completely a personal preference. On a typical day on the Camino, you might want to spend anywhere between 30 minutes and 2 hours having lunch, it's completely up to you and whatever your schedule is that day, how many kilometres you have left to walk etc.
Some days, the perfect lunch option could be as simple as a 'bocadillo' (sandwich) containing some local ham or cheese. Lunchtime is also a great time to meet and chat to fellow pilgrims and share your experiences walking the Camino so far.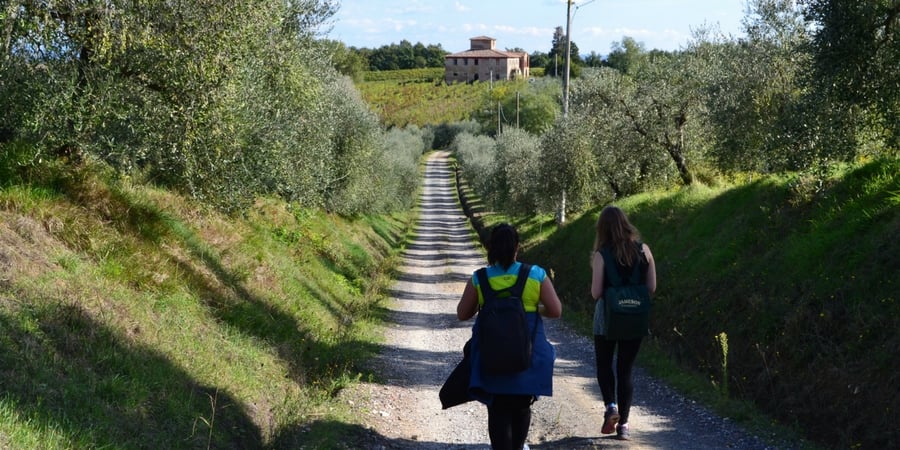 Afternoon
Post-lunch walking: 10km approximately
After a hearty lunch (and maybe a coffee), you'll have a renewed sense of energy for the road ahead. In the afternoon, you'll notice that there are often higher temperatures so your pace might start to slow down a little bit. It's really important to keep yourself hydrated as you continue on your walk, especially if walking in hot weather. Most pilgrims arrive at their destination in the afternoon by around 4 pm. If you arranged for your luggage to be transferred, it should be waiting for you at reception when you check into your accommodation.
It's then time for that blissful period where you can rest, refresh, have a shower and even a little nap. It's good to get out and do a little bit of sightseeing if you have the energy. In the smaller towns, that could be as little as walking down the main street and sitting in a cafe with a book. In the bigger towns and cities like Pamplona, Burgos and Santiago, there's a lot more to experience and you might want to visit the churches, historic buildings and markets.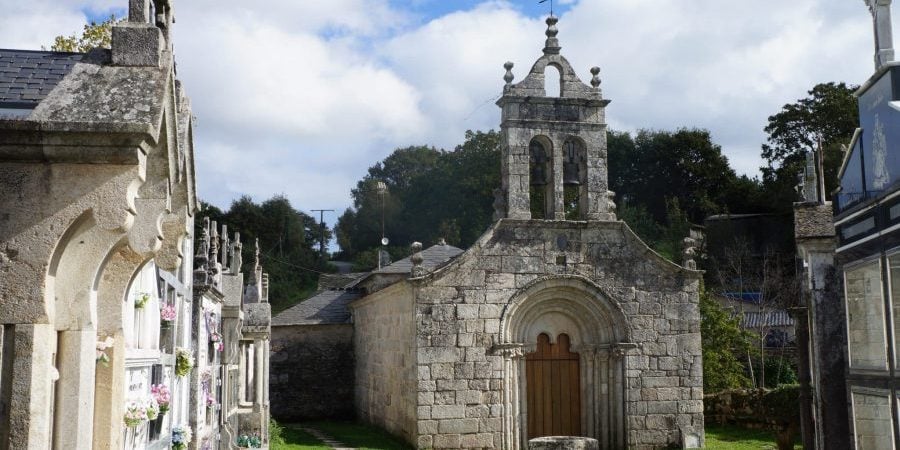 In Portomarin specifically, make sure you try and visit Ponte do Miño bridge, the church of San Juan and the Romanesque church of Castromaior. The town is very walkable and is a beautiful place to wander. There are excellent vantage points of the river on the outskirts of the historic centre.
Now is also a great time to pop to a supermarket if you need to replenish your snacks for the next day (here are some great Camino snack ideas). Supermarkets stay open quite late on mainland Europe so there's no rush to get to the shop early. Don't forget to tend to any blisters before you venture out for dinner. It's important to keep your body in the best possible shape for the next day's walk. If you want to prioritize rest and not venture out until dinner time, don't feel guilty about it. Rest is important.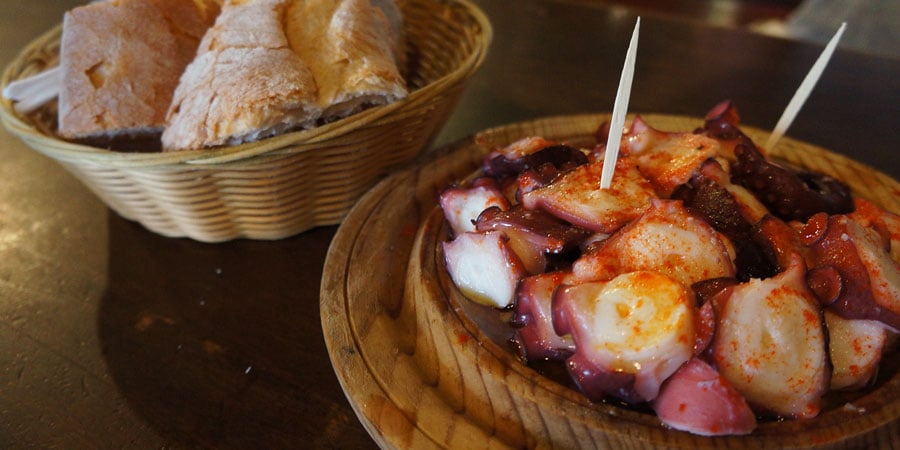 Dinner and Evening Activities
Destination for the night: Portomarin
While you're in Portomarin, it's a great opportunity to venture out for dinner and there are some really great dishes to try in Galicia. Many restaurants offer a daily menu (menu del dia) or a pilgrims menu. The Spanish normally eat late, most 'pilgrim towns' have restaurants or bars that put on a special meal for pilgrims called "menu del peregrine" which is a little earlier. As pilgrims usually eat a light lunch, this is really great as everyone is starving.
The social aspect of dinner can't be overlooked. At dinner and in little bars, you will meet other pilgrims and get a wonderful sense of the camaraderie between walkers. You should also treat yourself to a liberal glass of wine at the end of the day!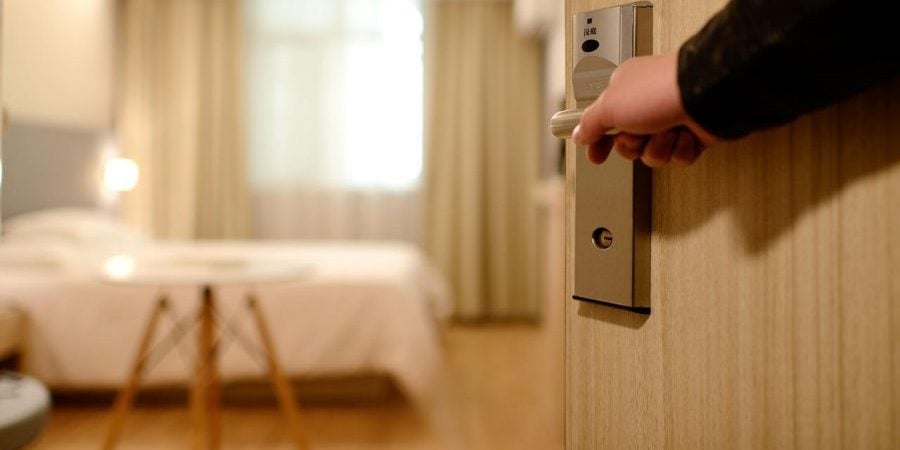 Nighttime
Early to bed Early to rise! You'll soon appreciate the importance of getting to bed early on the Camino. After a typical day on the Camino, many pilgrims end their day at 9 or 10 pm. Before turning in for the night, it's a good idea to lay out the clothes you plan to wear, tend to any blisters and pack up your bag (minus the essentials). You may wish to read or write in a journal if you have energy, but it's very possible that your eyes will be feeling heavy and you'll likely dose off to sleep. Don't forget to set your alarm if you're not a natural riser!
Getting a good night's sleep is one of the most important things you can do while walking the Camino. It's essential to give your mind and body every opportunity to rest and recover so that you're ready for another day on the Camino. Tomorrow's destination: Palas de Rei.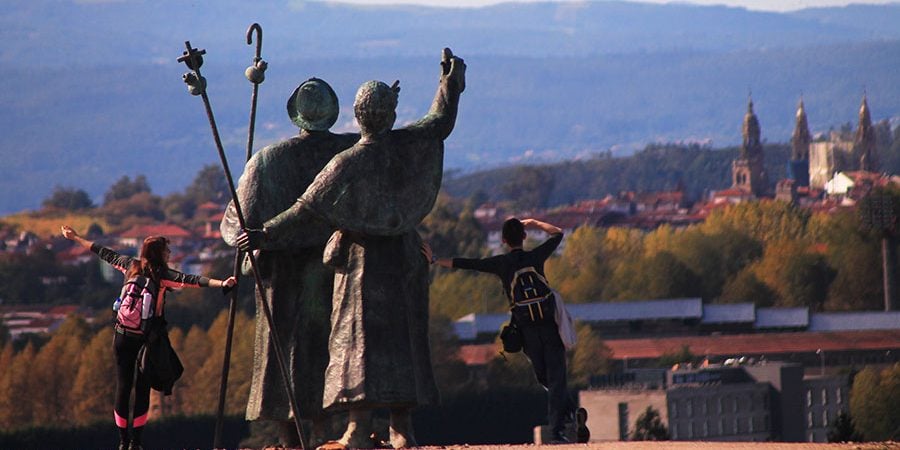 General Tips For a Typical Day on the Camino
Allow for some flexibility in your day as you might want to take some extra breaks or spend some extra time looking around a town on your day's route. If possible, try to plan this out the night before and leave a bit earlier on those days to make sure you have time to walk, rest and make the most out of each day.
Shops can often be closed or have unusual hours on Sundays, so make sure to get to the shop for snacks by Saturday evening.
The distance for most days on the Camino ranges from 20-25km (12-15 miles) approx. Some will be shorter and some longer.
Pack your snacks in your day bag. There will be plenty of stops along the way but it's always great to have snacks on hand, especially if you have dietary restrictions/are vegan.
Many people end their Camino in Santiago de Compostela's main square and it's worth planning that day's walk ahead of time. The Pilgrim Mass services take place at 12 noon and 6 pm and it would be a shame to miss them.
Your day will also look different to what we've described if you are cycling the Camino or walking the Camino with children.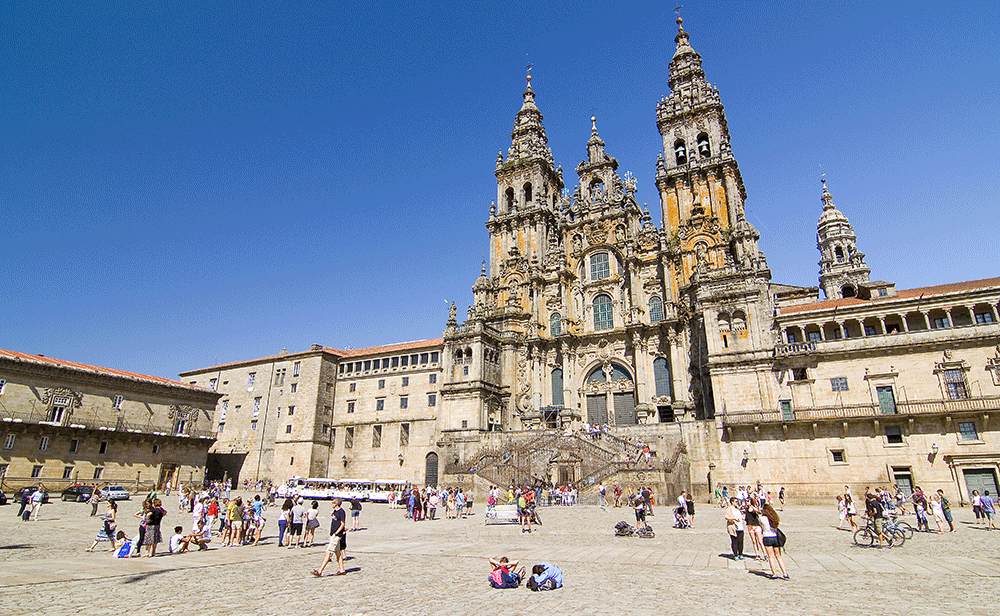 It's important to remember that the Camino is your own journey and there are many reasons to walk the Camino, whether you follow the traditional typical day for a Camino pilgrim or choose to take things at your own pace. Don't be afraid to go with the flow, just because this is the typical plan, it doesn't mean you should stick to it rigidly.
The best experiences you might have could be spontaneously deciding to go for lunch or stop at a cafe with a new friend. Be open to the opportunities on the Camino – remember, schedules are for everyday life, so let yourself have some freedom on the Camino!
To illustrate a typical day on the Camino, we used the first day of the last 100km of the Camino Frances. For more information about our routes or if you'd like some help planning your own Camino adventure, please don't hesitate to contact us. You can also stay up-to-date with our latest news and webinars on Facebook.