Portomarin and its two villages
Did you know that the whole village of Portomarin, on the last section of the Camino Francés, French Way Camino de Santiago, was moved to its current location in the 1960s, when the Miño River was dammed to build the Belesar reservoir (Encoro de Belesar). This meant the old Portomarín village, originally built by a Roman bridge in the Middle Ages was flooded.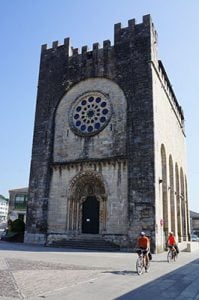 But amazingly, the town's original buildings were preserved. The most important buildings of the village were moved piece by piece higher up the mountain, where the 'new' Portomarín was rebuilt. Among the buildings saved was the fortress-looking 12th-century Romanesque church: San Xoán de Portomarín (Church of Saint John) and the Saint Peter chapel, Capela de San Pedro.
The 'new' Portomarín celebrated its 50th anniversary in June 2013. Interesting to note is that in the summer when the water levels are low, it is still actually possible to see some of the buildings of the old original village, including its old bridge.
Portomarin is well worth a visit and it celebrates its biggest festival, as Festas do Cristo, each September.