A Typical Day for a Camino Pilgrim
The Camino is your own journey, whether you follow the traditional typical day for a Camino pilgrim or choose to take things at your own pace.
6.30 am – 8 am – The early risers have a tendency to get up and out for 7 am. Myself, I enjoyed revising my route over a light breakfast before getting on the road.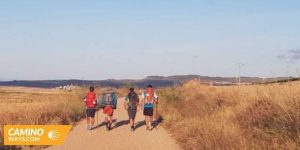 8 am – 3 pm – Each day's walking varies greatly from person to person and stage to stage. There are other factors to be taken into consideration such as fatigue from your previous days walking or simply your mood. I normally walked for the first couple of hours bringing some fruit before taking a break at the first cafe of the day. Other pilgrims did likewise and it was rare that I would be the only pilgrim at the cafe.
The Spanish usually enjoy a big lunch, however, walking on a full stomach can be uncomfortable so maybe you might wish to hold off on that. Some days I opted to get myself a 'bocadillo' (sandwich) of some local hams or cheese to eat.
3pm – 7pm – When you've arrived at your Hotel after your days walking you may feel you have the whole chunk of the evening ahead of you, however, rest is important! Once you've showered, tended to new blisters, made time to get provisions for the next morning you'll be wondering where the evening disappeared.
7pm – 9pm – The Spanish normally eat late, most 'pilgrim towns' have restaurants or bars that put on a special meal for pilgrims called "menu del peregrine" which is a little earlier. As pilgrims usually eat a light lunch, this is really great as everyone is starving and also eager to get to bed early.
9pm – 10pm – Early to bed Early to rise! You'll soon appreciate the importance of getting to bed early on the camino. Equally you will want to organise your bags for the next morning. Even the night owls among us found that staying up any later than 10pm was generally impossible. There's a long day ahead tomorrow.