Self-Guided Camino Tours on the Camino de Santiago
Camino Ways specialise in Self-Guided Camino Tours that offer the freedom to experience the Camino de Santiago at your own pace. Our tours can be tailored to suit any client with a diverse range of routes available. While there is a typical day on the Camino, packages can be altered depending on walking distances and experiences requested.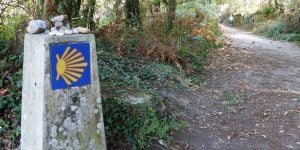 What do Self-Guided Camino Tours include?
Accommodation
On all our Self-Guided Camino Tours, we provide hotel/guest house accommodation of around 3* star standard with en suite bathrooms. Hotel upgrades are also available in bigger towns. For certain routes, including the Camino Frances and the Camino Portugues, we have a Superior Collection available, where clients will be booked in the best hotels along the route.
Meals
In terms of Camino Food, breakfasts and dinners on walking days are included as standard. We do not provide dinners on the first and last nights (ie. Sarria and Santiago) as we find clients prefer to try out the numerous meal options available in these larger towns.
Breakfast-only throughout the walk is also possible but options for evening meals would be limited in smaller towns along the walk. Lunches are not included each day but there are numerous cafes where good lunches can be gotten for between €5 and €8. Dinner is included on all nights on guided tours.
If you are walking the last 100km of the Camino Frances from Sarria to Santiago, we have a guide to the best places to eat on this section of the route.
Luggage Transfers for the Self-Guided Camino
Luggage transfer from hotel to hotel is included for each walking day. The luggage transfer limit on the Camino de Santiago is one bag per person weighing no more than 20kg. Clients should leave their bag in the lobby of the hotel around 8 am each morning before going for breakfast, ensuring their luggage tag is on the bag. The bag will then be moved to the next hotel and would usually be at the next accommodation no later than 4 pm each day.
Electronic Walking Notes and eMaps
As with all of our Self-Guided Camino Tours, we provide all clients with optional walking notes and maps. As the section from Sarria to Santiago is very well marked, we often find clients don't need to use these. On some of our other routes, they prove more useful.
Support Number on the Self-Guided Camino
Clients are provided with a 24/7 assistance number to assist them with any issues or questions that might arise during the trip, outside office hours. Our reservations team manages these support calls and they speak fluent Spanish and other Camino languages, as well as English.
Airport Transfers – Optional Extra
We can provide a transfer from Santiago Airport to the client's first hotel. This can work out to be cost-effective if the client group is 4+ people but can be provided for any client group size.
Should the clients prefer public transport details are outlined in the 'access' tab for each of our tours.
For instance, the best way to get to Sarria from Santiago Airport is to take a combination of 2 buses: First, from Santiago Airport to Lugo bus station (1h50, 5 times a day). Then, take a local bus from Lugo bus station to Sarria bus station (30min). The total cost for the journey is roughly €10pp.
There is also a direct bus between Santiago de Compostela bus station and Sarria but only departs once a day, except Sundays (2h30 travel time).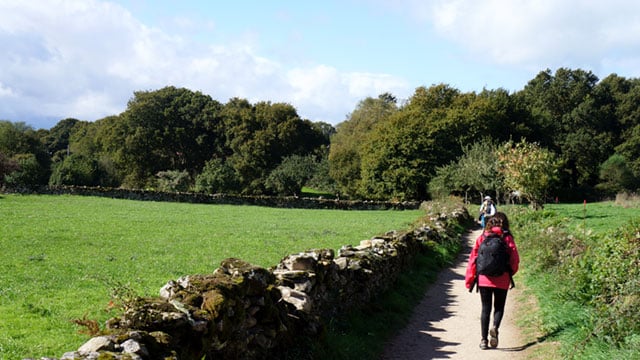 We hope you found the information in this post useful. If you have any questions about the Camino routes or how to plan your trip, please don't hesitate to contact us. You can also use our handy Camino Planner when researching your trip.
For more inspiration, check out the following articles: