Experiencing The Magic of Santiago de Compostela
It's 7.30 am on a chilly morning in November. The sun has yet to rise and the usually busy square in front of the Cathedral of Santiago de Compostela is dead quiet.
It would be an eerie feeling if not for the sense of calm and joy that comes from standing in front of such a magnificent cultural monument.
Recently renovated, this imposing cathedral marks the end of the famous Camino de Santiago pilgrimage and is also, along with the city's old town, a UNESCO World Heritage Site.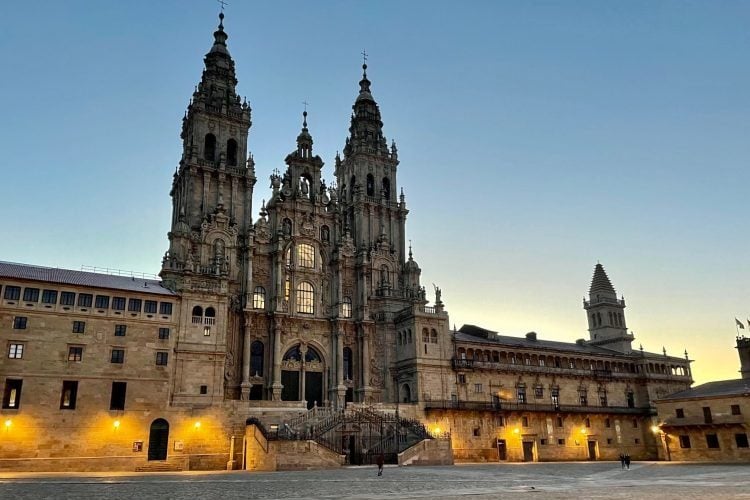 During my stopover in the city, I quickly experienced the magic of Santiago de Compostela as I explored every inch of the cathedral and strolled down each street and narrow alley in the old town, repeating the process multiple times and at varying hours.
I wanted to soak it all in, from the people and the food to the glimmers of light in the morning and the reflections in puddles after a short spell of rain.
Praza do Obradoiro in front of the cathedral was particularly fascinating to watch at different times of the day. I hadn't come to Santiago as a pilgrim this time, but it was still impossible not to get swept up in the atmosphere.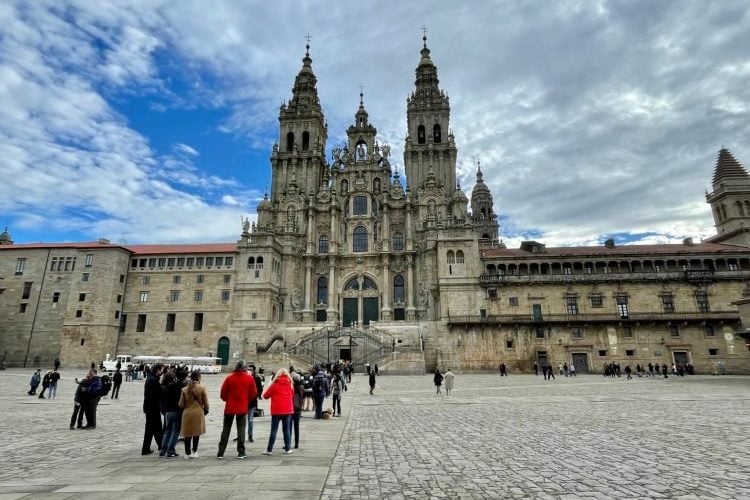 I sat in the square happily people watching and serving as photographer for a few groups of friends and solo pilgrims wanting to get their picture taken in front of the iconic cathedral.
Some pilgrims even had enough energy left after their long journey to hoist their bikes high over their heads. While they may have been tired, dirty and sweaty, each and every one of these pilgrims had huge smiles on their faces.
Some were lying on the ground just taking it all in, while others were giddy and skipping around the busy square. I definitely saw at least one person in tears (of joy and relief rather than heartache I hope).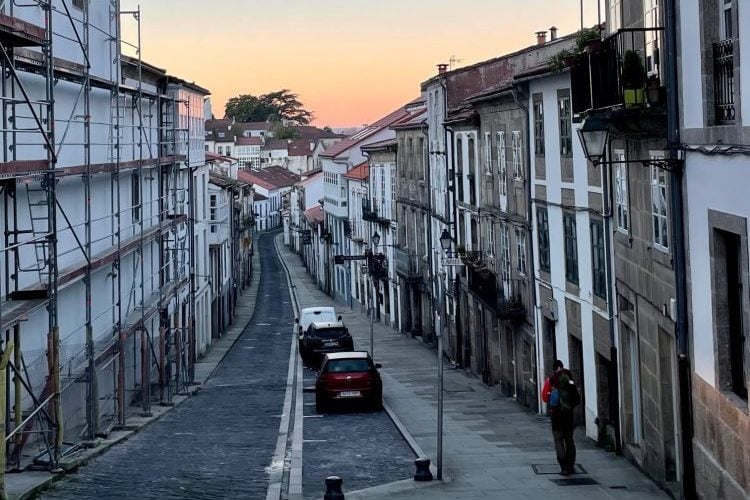 No matter where I travel or for how long, I always love to visit what is usually a busy tourist hot spot at an hour when so few people are around.
It helps me imagine what these imposing buildings and rich historic sites must have looked like to a weary traveller, a King or even an average person all those years ago.
By 8 am on that November morning, people at the end of their pilgrimage began to leave their hotels for the airport, a bin man drove by collecting rubbish that had polluted the square overnight and some early risers were setting off on their walk before the crowds.
I overheard them utter the word 'Finisterre' so I can only assume they were continuing their journey from Santiago to the end of the world at Cape Fisterra.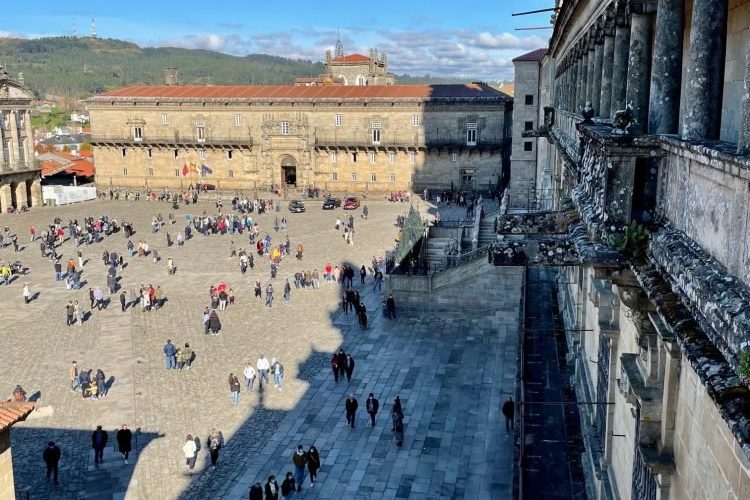 Of course, it's great to see the modern bustle too, especially after the past two years of fear and uncertainty. Looking to the future and 2022, the city of Santiago de Compostela will be even busier and filled with even more joy than it is right now.
With Holy Year 2022, the return of travel and a renewed sense of hope, it may even be difficult to find a quiet moment in Santiago de Compostela, even in the pre-dawn hours!
Once I started to feel a little bit chilly and the beginnings of hunger pangs were starting to make themselves known, I tore myself away from Praza do Obradoiro and went in search of a café con leche and a slice of Tarta de Santiago.
It may have been a bit early for a sweet treat but hey, when you're trying to experience the magic of Santiago de Compostela, you can't miss the chance to indulge in every delicious bite, no matter the hour! Buen Camino!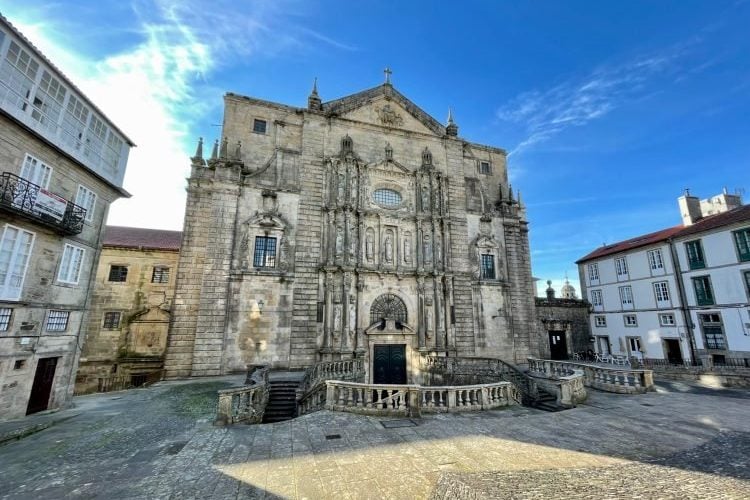 If you'd like to book a Camino trip or would like more information, please don't hesitate to contact our travel specialists.
To experience the magic of Santiago de Compostela for yourself, be sure and read our other articles about this wonderful city, from the best ways to spend 24 hours in Santiago, great places to eat in Santiago and 10 unmissable activities in Santiago to tick off your bucket list.