Guided or Self-Guided Camino Tour?
Should I choose a Guided or Self-Guided Camino Tour? So you have decided that you want to walk the famous Camino de Santiago. Well done on taking the first step on your unforgettable journey. But which of the Camino routes is for you?
You can also choose to travel independently or join a group with our Camino guided tours, led by our experienced Camino guides. Both experiences are amazing but can be very different. It really comes down to personal preference at the end of the day.
This guide will help you decide the best fit for you! So, Guided or Self-Guided Camino Tour?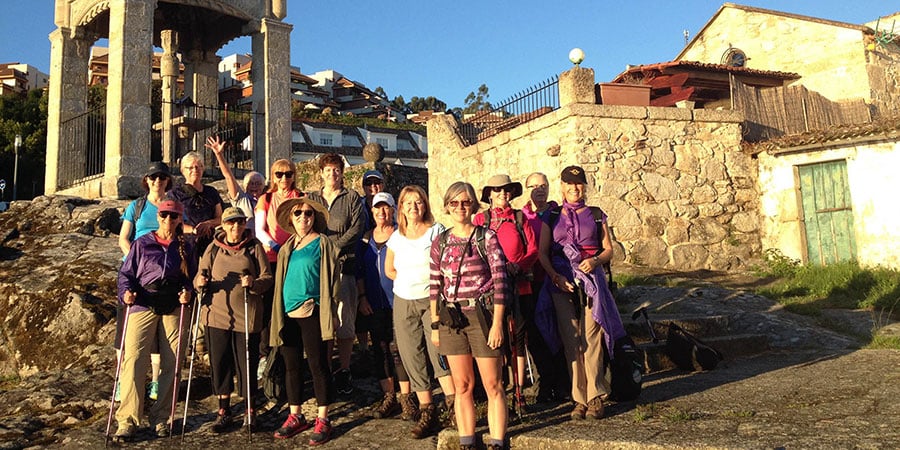 CAMINO GUIDED TOURS
If you go for a guided tour you will experience the Camino with a group of fellow enthusiastic pilgrims. Our Camino groups stay together in the same hotel and often share dinner. There is a brilliant social vibe to the group tours and lots of our former pilgrims have remained friends with their group long after they've hung up their walking boots.
Check out this review from Margaret who walked with us as part of a group. That's not to say you can't stray from the group at your leisure, of course, you can. Our expert Camino guide is there for any support you might need, and to keep you clued in about local history and culture along the way.
The guides are all passionate local walkers, so you're guaranteed an authentic experience and some insider information! Our group tours are restricted to set dates, to ensure that we get enough walkers signed up. You can find the date that suits you best here: Camino guided tour dates.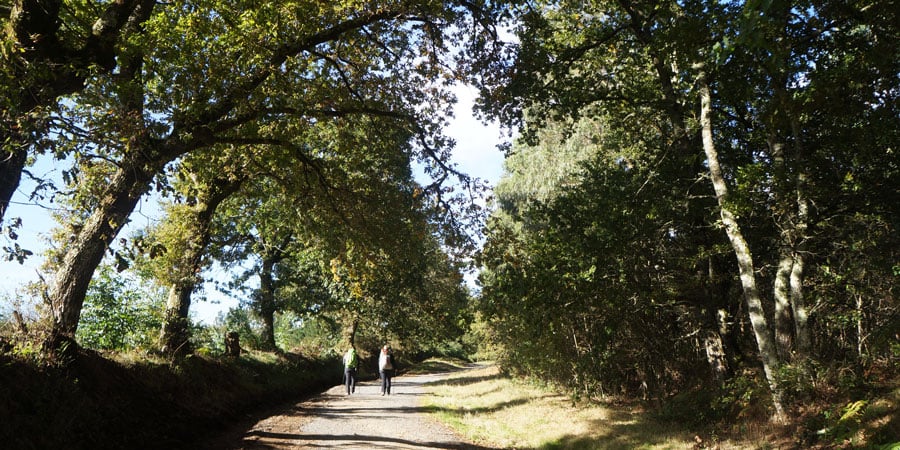 SELF GUIDED CAMINO TOUR
Our self-guided Camino tours offer a similar experience in terms of luggage transfers, food options and accommodation. The crowning glory of the self-guided option is the pure flexibility and freedom it provides. You won't be restricted to particular travel dates or specific routes like the group tour, you can plan your trip as you please using our tailor-made booking system to build your own perfect Camino.
The distances you walk and the towns you stay in along the way are entirely up to you. With a guided tour, the days are planned and carefully structured in advance but you are the master of your own universe with a self-guided tour (as long as you follow the trail!). Our travel specialists are always available to give you advice and help you plan the trip.
We will provide you with detailed walking notes to ensure you don't get lost or miss any points of interest. If you are travelling with friends or in a group we'd recommend a self-guided tour.
Still undecided? Guided Camino or Self-Guided Camino Tour? Check out our handy table below: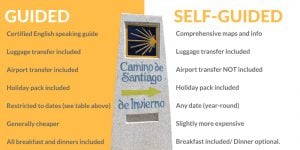 Check out this year's departures here: Camino guided tours.
For more information on any of our Camino tours please contact our travel specialists