Camino de Santiago Map to Plan your Camino journey
The Camino de Santiago is a journey for the soul. The Camino de Santiago Map shows a network of ancient trails and historical pilgrimages traverse across Europe and converge in Santiago de Compostela in Spain.
In the Cathedral of Santiago, it is here that the remains of St. James are said to be buried.
Ancient pilgrims walked the trail in the name of religion. Today, modern pilgrims lace their boots and set off on the path for various reasons why people walk the Camino. Spirituality is a severe influence on many of these Camino enthusiasts, See the Camino Statistics.
Others credit a thirst for fitness, while travel and culture play a role.
Whatever your reason, there is a Camino for you.
There are so many trails to choose from that you'll need to do your homework to select the perfect trip. The Camino routes all have something different to offer. In some ways, you are guaranteed to meet like-minded pilgrims; on others, you may be more isolated. Some routes have more coastal scenery, and some are more mountainous.
Don't worry; we are here to help. Our downloadable Camino de Santiago Map (below) details the routes and includes a section you can use to jot down some notes. Download your Camino de Santiago map below and contact our team of Camino experts to start planning your trip:
Download the Camino de Santiago map here.
Camino de Santiago Map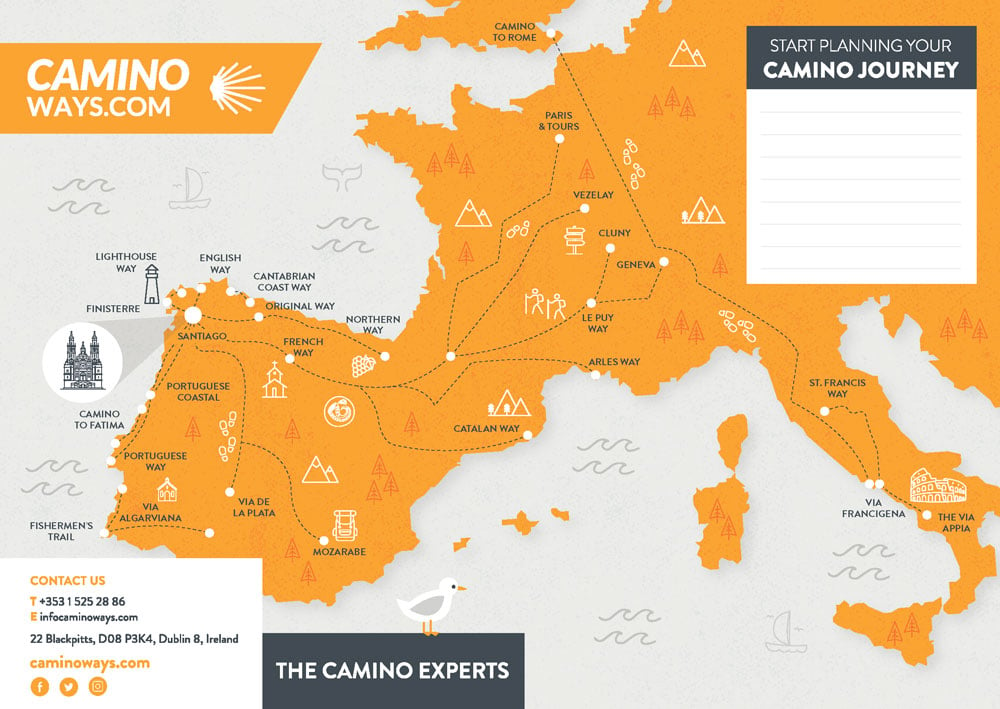 Walking (or cycling) an entire Camino route can sometimes take a few months, depending on the way. For some people, this is unmanageable. However, to achieve your Compostela, you only need to walk 100km or cycle 200km into Santiago. This can be done in around eight days in most cases.
The maps of the Camino de Santiago Routes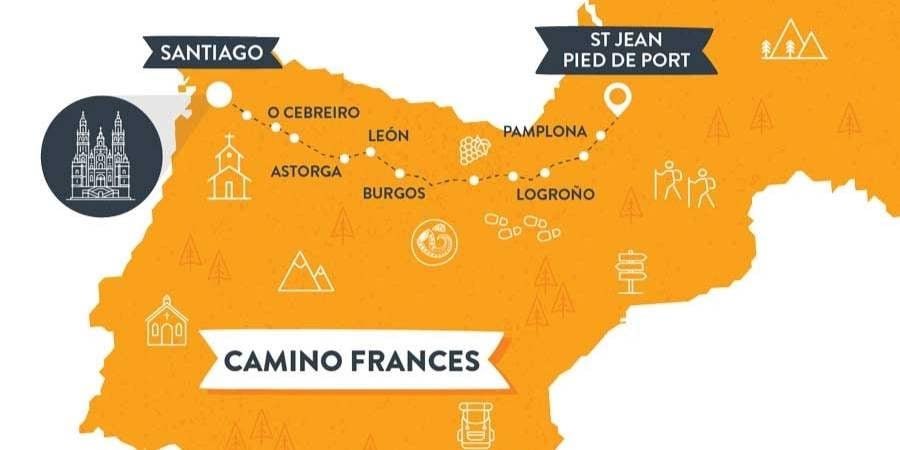 The Camino Frances is the Most popular Camino Ways, and you will have seen it in many films, documentaries, and TV shows.
The route begins in France at Saint-Jean-Pied-de-Port. The terrain on the French Way is the perfect blend of mountainous, flat, and rugged. It truly is the best of all worlds for hikers. The most popular section of the Camino Frances s the last 100km from Sarria to Santiago de Compostela. That is because pilgrims can qualify for their 'Compostela' or certificate of completion after they walk the last 100km into the sacred city.
This walk is a genuinely sociable Camino, and often pilgrims will return with friendships that last a lifetime. Due to the popularity of this section, it is also very well-serviced. You'll find many local cafes, bars, and restaurants along the route serving local delicacies. Don't forget to try 'Pulpo' in Melide, which is Octopus with a Galician twist.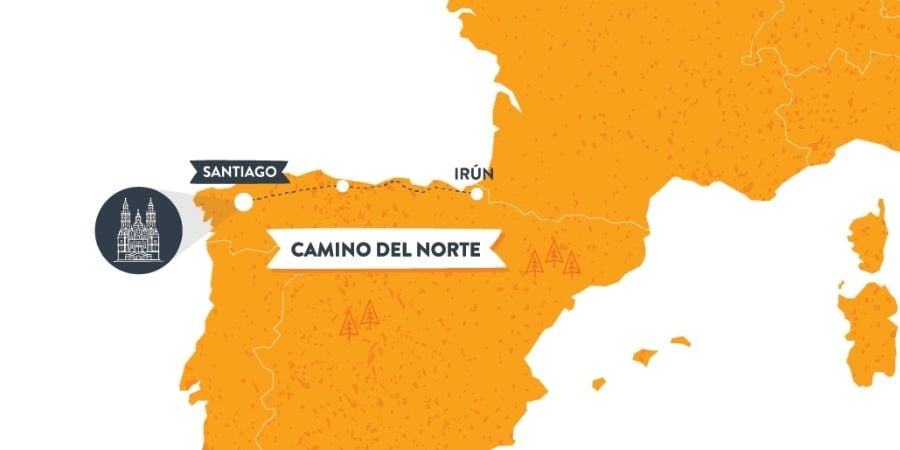 The first two sections of the Camino del Norte will introduce you to the delights of the Basque Country. The first section from San Sebastian to Bilbao is mainly inland and a bit more challenging, but the country landscapes are stunning. In contrast, section two takes you from the city of Bilbao, where you should sample its famous 'pintxos', to elegant Santander. Along the way, you will stop in seaside towns full of Northern charm and excellent regional delicacies.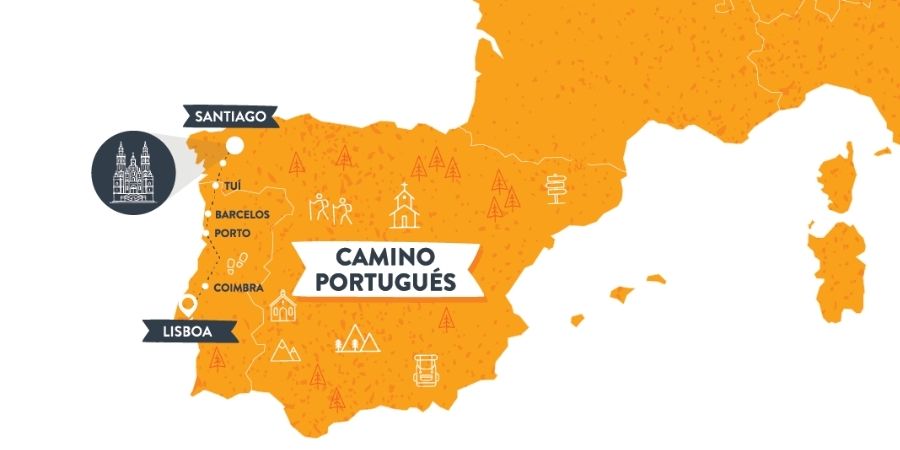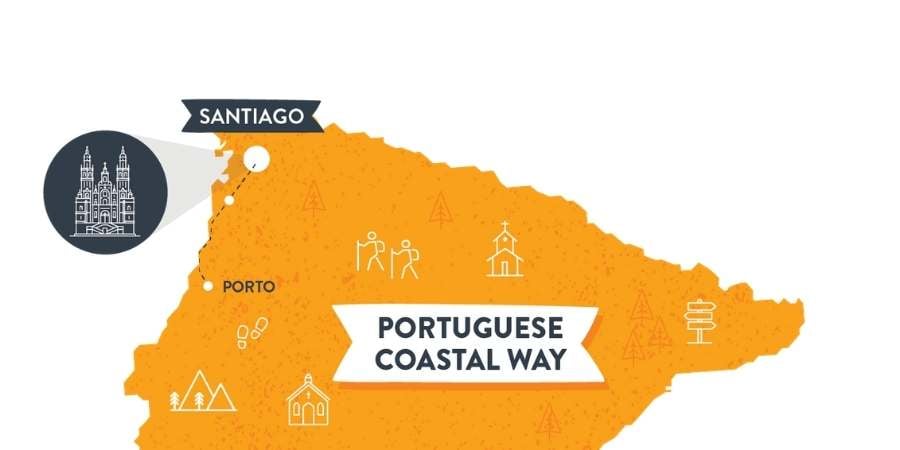 The Camino Portugues follows the central route from Lisbon to Santiago. The entire way takes up to 4 weeks to complete by foot.
This is a fabulous alternative to the Camino Frances, and you will enjoy a more rural and quiet Camino.
Many pilgrims start the route in Porto, which takes roughly two weeks. The Portuguese Coastal Camino from Porto is quickly becoming the second most popular route on The Camino de Santiago.  One of the main reasons for this is that it blends a scenic coastal landscape with interior woodland and countryside. The way is a variant of the Camino Portugues (below), also loved within the Camino community.
The Camino Ingles traditionally has two starting points, from Ferrol and A Coruna.
Starting from Ferrol, you will walk 100 km to Santiago while enjoying coastal views and pretty Spanish towns.
Starting from A Coruna, you will walk just 75 km to Santiago. This route is usually combined with another way in Ireland or the UK and is traditionally called the Celtic Camino. You will need to walk 100 km to Santiago to get your Compostela.
Map and Ebooks
If you are planning on walking (or cycling) the Camino, don't forget you can also download our Camino Beginners Guide and Camino Fitness eBook free of charge.
Print them out or read them on your phone and prepare for a lifetime trip!
For more information on any of our walking or cycling tours, please contact the travel specialists on the form below: