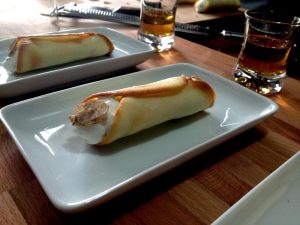 This week we have a special treat of a delicious recipe from our friend Massimo from the Tuscany Truffle Academy. Massimo has mastered the art of truffle hunting in the beautiful Tuscan countryside. For Massimo and his family the beauty of Truffle hunting is that his guests get to discover the real, high quality truffles which he says are very different to the low quality, fake commercial product. Truffle hunting is viewed as one of the ultimate foraging experiences for food lovers, nature lovers and chefs. On all of his tours he gets to explain the long history, traditions and legends of truffles. Here is a great little recipe all the way from the charming village of San Miniato in the Italian countryside.
Cannol with chestnut flour, ricotta cheese and truffle
1 egg white
40 grams of chestnut flour
40g butter
40 grams of sugar
200 g ricotta cheese from sheep
2 tablespoons sugar
50 ml of cream
Truffle
We prepare cannoli by mixing the egg whites and incorporating the flour, sugar and melted butter.
On baking paper layout the cannoli in the shape of discs about 10cms wide. Put the discs in a preheated oven at 200 degrees and remove from the oven just when the discs are lightly coloured. Mould them into the shape of cannoli's when they are still hot. Now let them cool.
Prep time: 30 minutes
Cooking time: 20 minutes
Prepare the ricotta cream by adding the ricotta to cream and sugar. Assemble it all with the help of a whip. Fill the cannoli with the ricotta mixture and grate the truffle on top. Simply delicious!
Contrary to opinion truffle hunting can be done all year around in San Miniato because there are different truffles in each season. The famous white truffle is available from September to December, the rare Marzuolo truffle can be found from January to April and the tasty black scorzone truffle is found from May to September.
If you are planning your walk on the Via Francigena you can add in a little truffle hunting in San Miniato on the section from Lucca to Siena.
[wp-review]
For more information about our walking and cycling tours in Tuscany contact one of our Travel Specialists.