Camino Christmas: Galician Clams Recipe
You might be wondering why we have put a Galician Clams recipe in our Christmas Camino food section, but did you know that in many parts of Spain, seafood and fish are extremely popular dining options during the Christmas period? This is especially true for coastal regions and indeed, throughout Galicia and in Santiago de Compostela.
Galician clams or 'marinera' style clams is a traditional dish for Christmas Eve when family members reunite and enjoy a special meal together. While it's popular at Christmas, Galician clams can be enjoyed at other times of the year and you're likely to come across them along the Camino de Santiago.
Clams are absolutely delicious and very easy to cook so we hope you enjoy our special Galician Clams recipe. Let us know how you get on!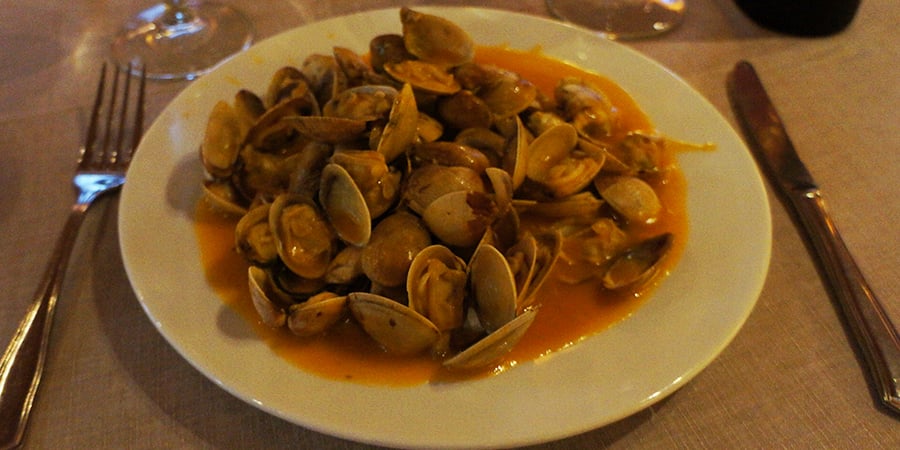 Ingredients:
1/2kgs clams
2 garlic cloves
2 onions
4 tomatoes
olive oil
1 tablespoon of flour
1 glass of white wine
1 glass of fish stock
parsley
sea salt
hot smoked paprika (or chili flakes if you prefer)
Method:
Start by chopping the onions and garlic very finely. Cover them with olive oil and brown them in a pot.
Add a spoonful of flour (this will help thicken the sauce), the tomatoes (chopped in small cubes), salt and a touch of hot smoked paprika.
Let the mix cook at low heat for approximately 15 minutes before adding in the white wine, fish stock and clams.
Finally, add the parsley and cover the pot with a lid.
Eat the dish as soon as all the clams have opened. We recommend serving this dish with some nice bread or boiled potatoes.
We hope you enjoyed our Galician Clams recipe. If you'd like to see more recipes or learn more about Galician food and drink, just visit our Food & Wine section.