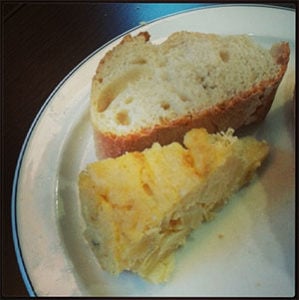 Found on every menu along the Camino de Santiago routes, Tortilla (Spanish potato omelette) is an excellent Camino recipe and one of our all-time favourites.
It is also given free as a 'Pincho' or 'Tapa' in many bars across Spain. It is an absolute must-try for your trip.
Everyone has a different trick or technique for their tortilla making; some might like the egg runny, and some prefer it well cooked. Here at the CaminoWays.com office, we've had some great tortilla makers over the years, Sabela and Alejandro competing for the top tortilla-maker spot!
Here's a classic tortilla recipe by Maria from Galicia.
PREP TIME: 20 MINUTES
COOKING TIME: 30 MINUTES
WHAT YOU WILL NEED
Six large potatoes
Six large eggs
One medium onion (optional)
Salt
Olive oil (or sunflower if on a budget!)
Non-stick frying pan (essential!) – 24 cm diameter approximately
COOKING METHOD
First of all, you have to peel and wash your potatoes. You will then cut them into flakes or small cubes.
Fill your frying pan with olive oil, enough to cover your potatoes. You will then cook them at low heat (the idea is that the potatoes cook through and not get too crunchy or crispy on the outside).
In the meantime, you can beat the eggs in a big bowl; don't forget to add salt as you won't be able to add salt once the tortilla is fully cooked (tip number one!).
Once the potatoes are soft and cooked through, drain them well (to reduce the amount of oil) and mix them well with the eggs.
Drain all the oil from the pan (leaving all the oil in is a common mistake among beginner tortilla-makers!). Chop your onion, fry it slightly and add it to the potato and egg mix. Pour the mixture into the pan and allow to cook at low heat.
Once the edges of the tortilla start to bubble, it is time to flip it. The best way is to put a large plate over the pan and slide the tortilla back in to cook it on the other side, being careful not to break it. No mad pancake-style flipping is required!
Let it cook through (or leave runny if you prefer), and voila! your first tortilla is served! Enjoy!
Tips for the best Tortilla
Also, note you can add bits of chorizo to the tortilla or leave the onion out if you don't like it.
And a tip: Bar Tita in Santiago de Compostela is renowned for its free tortilla Pinchos; head there if you finish your Camino in Santiago.
Let us know if you try the recipe! we'd love to see the results! Read more about Camino food.
Contact us for more information about the Camino de Santiago routes.