Happy World Tapas Day! Enjoy Our 7 Favourite Tapas
For World Tapas Day (yes, there is a day dedicated to the tasty tapa!) the CaminoWays.com team has put together a list of our absolute favourite dishes you can savour on the Camino de Santiago.
Although, it's not as if we needed an excuse to talk about Spanish food …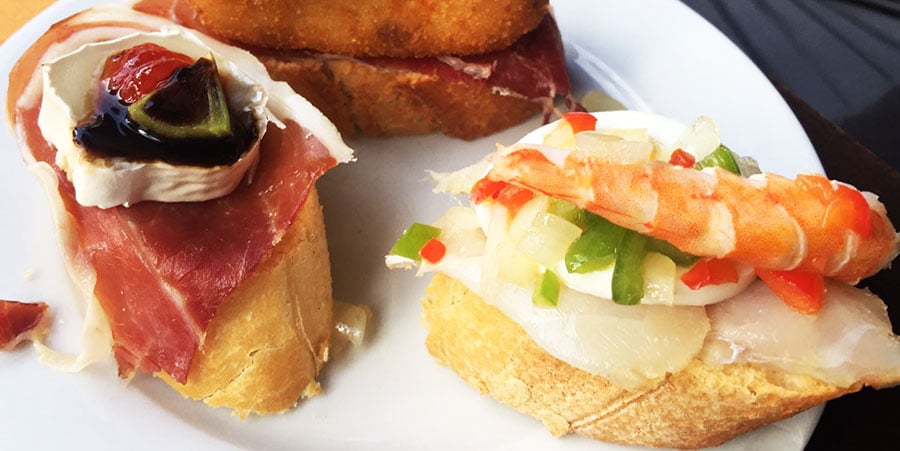 World Tapas Day: What is Tapas?
The word tapa comes from the Spanish verb tapar meaning "to cover".
The culture of tapas was believed to have originated in taverns in the sunny region of Andalucia. Slices of meat or bread were used to cover drinks in order to protect them from fruit flies.
Bartenders soon figured out that salty meat made people thirsty and made them drink more, thus the tradition of offering salty snacks to accompany drinks was born.
Since then tapas have evolved into small portions of food designed for sharing and enjoying on social occasions. Below are some of the team's all-time favourites!
1. Gambas al Ajillo 
Manuela likes the perfect combination of fresh prawns in a garlic, chilli and olive sauce and should be a staple of any good tapas restaurant, tapas party or tapas-style event. It's one of the tastiest of all the Spanish tapas. Order this little dish every time, you can't go wrong.
2. Zorza con patatas 
Loved by Galician natives at CaminoWays.com is this simple but tasty dish called zorza: marinated pork filling used for chorizo sausage. This flavoursome dish is typically eaten with a side of potatoes.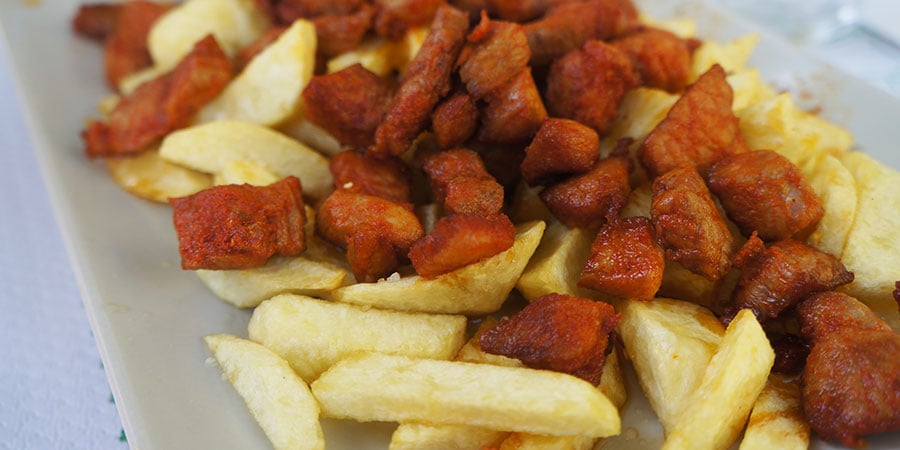 3. Galician empanada
Empanada is probably the most Galician dish ever, after octopus! and a favourite of Galician native Maria. This was the dish she missed the most when she first moved to Ireland.
Galician empanada, which is a savoury pastry, comes in all shapes, sizes and flavours but Maria recommends those filled with seafood or fish such as salted cod, tuna, cockles or mussels.
Zamburiñas (queen scallop) empanada has to be one of the best! You can pick up a portion at any good bakery across Galicia.
4. Tortilla con chorizo
We've spoken of our love for the humble tortilla before. For those of you unfamiliar with the Spanish staple, it's not a flour wrap but more like a thick omelette made with potatoes.
The tortilla can be found in just about any bar in Spain, in some, you might even get it complimentary with your drink. Tania from Santiago de Compostela likes her tortilla with chorizo. Betanzos on the Camino Ingles is famous for its own runny tortilla and Bar Tita in Santiago de Compostela will offer you free tortilla with each drink.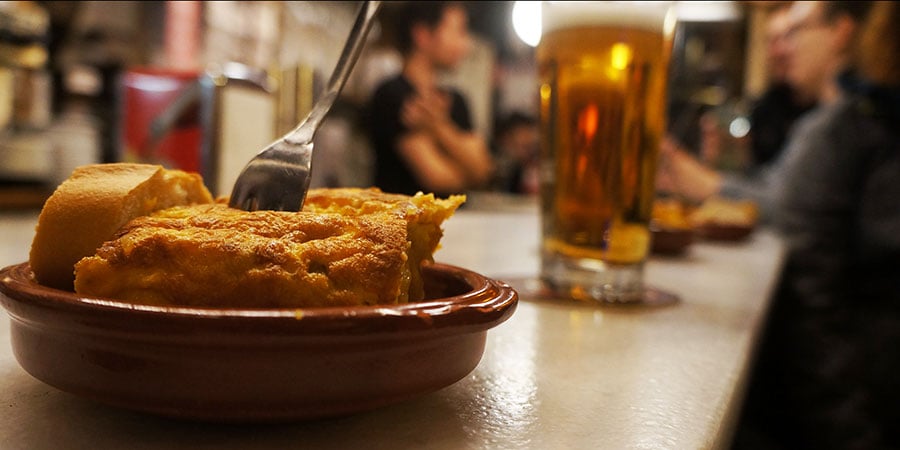 5. Espinacas con Garbanzos 
This dish is most commonly found in the South of Spain in particular in the enchanting city of Seville on the Via de la Plata. If you are a vegetarian, the combination of protein and iron is exactly what you need to keep you fuelled for your Camino!
6. Pulpo a la Gallega 
This is a must-try while in Galicia, the country's most iconic and traditional dish. Cooked octopus served with boiled potatoes, olive oil and sweet Spanish paprika. You'll find restaurants dedicated to octopus called 'Pulperias', particularly famous are those in the town of Melide on the Camino Frances. In Galicia, it's also known as Pulpo á Feira (market day octopus).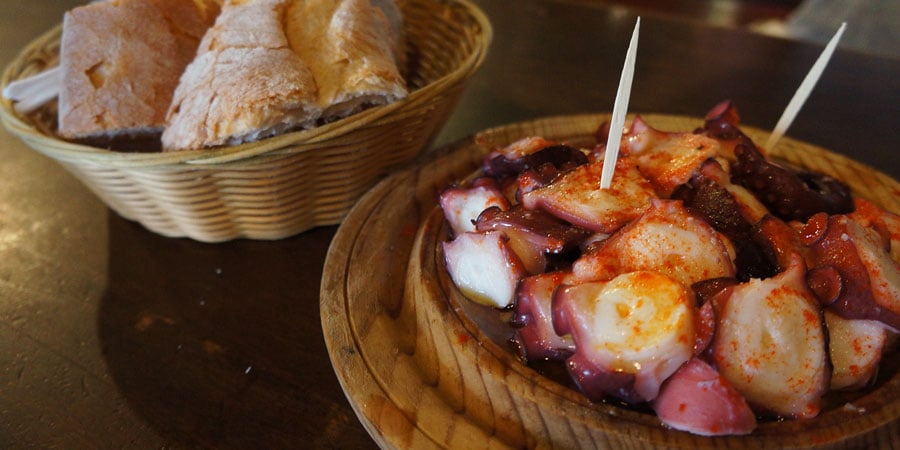 7. Homemade croquettes
Laura's favourite tapa is 'croquetas', particularly homemade, which you can find in many bars and with a variety of fillings: serrano ham, salted cod, etc…
She has inherited a secret recipe from her great aunt. They are huge and spectacular! You will need milk, egg, bread crumbs, a little parsley and minced meat to try making them at home.
"My aunts, cousins and siblings have all tried to make the recipe and only my mother is able to cook the same croquettes as my great aunt."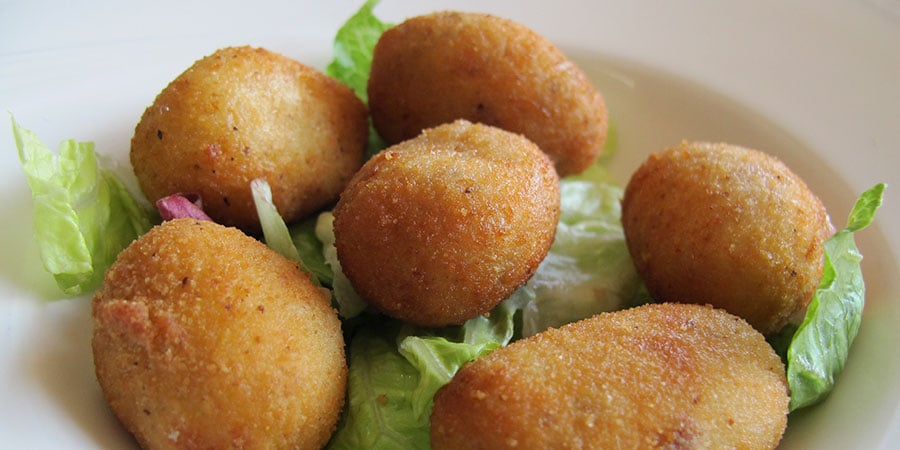 What's your favourite tapa?
Have you downloaded our delicious Camino Food ebook? Download it here: Camino Food guide.
For more information about the Camino de Santiago routes or to start planning your Camino trip, talk to our travel specialists.