Our favourite food experiences in Tuscany
Three amigos from the CaminoWays.com team recently cycled from Lucca to Siena along one of the most popular routes on the Via Francigena. Myself, Claire and Caroline began this great adventure in the medieval city of Lucca and finished in the Italian capital of Rome. The cycle took place over three days, taking in the famous Tuscan hills, the historic town of San Giminiano and bumping into some of the friendliest locals in the region. For this blog post I will try to zone in on our food experiences in Tuscany.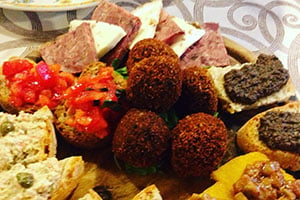 From small villages, larger cities to the majestic Roman ruins we were treated to some wonderful Italian cuisine throughout Tuscany. The smell of baked pastries, freshly ground pesto, olive groves and fruit will fill my memories of our journey.
We began our trip in the beautiful walled city of Lucca. The first thing you notice is that the locals take the restaurants outdoors, literally. All of the cafes, bars and restaurants are small inside but make use of the wide open squares in front of each building. Perfectly decorated tables line the cobbled streets, covered with colourful canopies and hanging flower baskets. This was the perfect place to sample our first of many fresh pasta dishes. Delicious!
As we followed the many Via Francigena sign posts out of the city and into the Tuscan countryside we were greeted by olive groves, vineyards, orange trees and lemon bushes on every corner.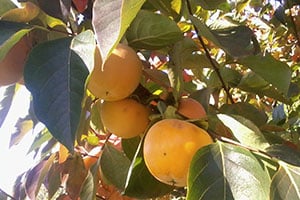 This time of the year is fantastic for foodie lovers as the harvest season is in full swing. You only have to take a glimpse of the colours in the landscape to be an inspired cook.
Half way towards our first stop at San Miniato we stumbled upon a small, quirky restaurant called La Gola di Bacco for lunch. The owner had little English but we noticed that the Italians didn't have a need for languages. They used animated gestures and facial expressions to communicate. The friendly chef wanted to explain the array of meats on our very large meat platter. A conversation with this wonderful chef was like a great game of food charades. He acted out each dish, even joining us at the table for a little chat.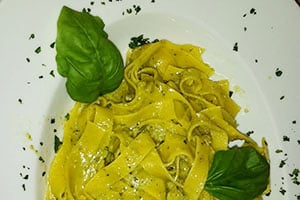 Our third food experience was a pizzeria in the beautiful town of San Miniato. The restaurant in the hotel was closed for an opera but they had kindly arranged dinner in a nearby establishment. We were tired and hungry after our journey and the waitress offering to choose our meal selections was just what we needed. She gave us samples of the famous regional black truffle and if you are a mushroom lover than you won't be disappointed! This was followed by an enormous wood oven pizza and a scrumptious selection of deserts. It is safe to say we had a good night's sleep on the first cycling leg of our journey.
The restaurant at our next location in Colle di Val d'elsa was very interesting. Throughout the meal we were witnessing what seemed to be an Italian Cluedo theatre show being acted out. Again, the unmistakable passionate Tuscan attitude was everywhere. I had an amazing mussel soup with giant mussels and tomato sauce. They serve every meal with bread which we were grateful for after a long day of cycling across the many Tuscan hills.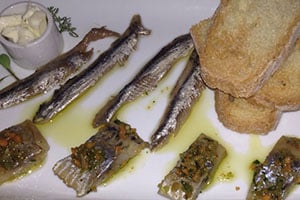 As we made our way to the city of Siena on the final leg of our trip we decided that it would be only fair to treat ourselves to a celebration dinner. We picked the wonderful Salefino restaurant and we were so glad. Everything from the service to the food to the atmosphere was simply fantastic. Before we even looked at the menu three glasses of limoncello were given to us with compliments, followed by a warm taster of broccoli soup. As we struggled to translate the Italian menu the waitress offered a helping hand and ended up translating the whole menu into English. Her enthusiasm for the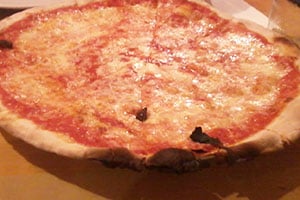 dishes added to the whole experience. We enjoyed the meal so much that we couldn't bring ourselves to leave and had to indulge in some delicious deserts. This is a treat for anyone visiting Siena.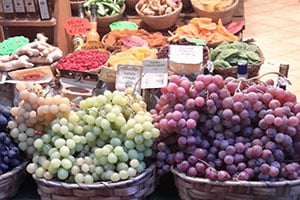 Some eating etiquette tips for your journey; listen to the owner, don't expect to get vegetables or side portions unless you order them separately, remember how filling pasta can be before ordering a second course, un caffé per favore is translated to mean one very strong espresso please (try an Italian cappachino as a treat for breakfast) and meat is everywhere (breakfast, pizzas, anti-pasti  meat platters…).
Stay tuned for more blog posts about our Via Francigena journey from Lucca to Siena including some of the friendly faces we met along the way and the various terrains we crossed on bike to make it to the finishing point in Siena. For more information about this popular section of the Via Francigena or to book your next cycling holiday contact one of our travel experts.
If you enjoyed this article about food experiences in Tuscany, make sure to visit our blog for more Camino food inspiration.