Rome in a day: 24 hours in the Italian capital
The magical Via Francigena trail finishes in historic Rome. Although 24 hours isn't a lot of time to explore one the world's most visited places but it will give you a taste of Italian life. Here are a few suggestions to make the most of your day in the Italian capital.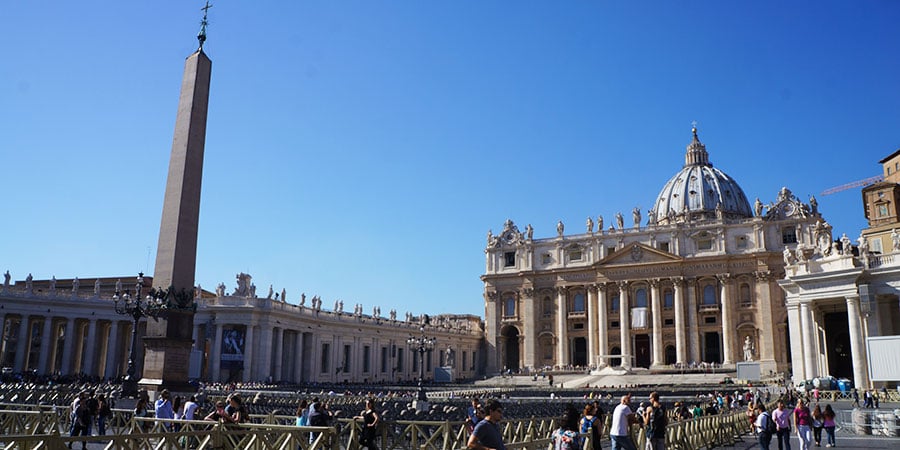 9am Start the day at the morning markets
Rise and shine early if you can to make it over to the open-air market is held in the mornings at Campo de' Fiori. Here you will have the chance to stock up on some fresh fruit for the morning. You will also find plenty of souvenirs to bring home to your loved ones.
10am Piazza Navona
Just a short walking distance from the market you will stroll into Piazza Navona. Take some time to sit by one of the fountains and watch the world go by. Admire some of the sculptures by the famous Bernini before heading off on a 20 minute walk towards the Vatican.
11am Get to know the Vatican buildings
Rome's history spans two and a half thousand years. You could spend a week just exploring the Vatican buildings in Rome. With its population of just under 1,000 inhabitants Vatican City is the world's smallest sovereign state. The Vatican possesses unique cultural artifacts and has been recognised as a UNESCO World Heritage Site since 1984. St.Peter's Bascilica, St.Peter's Square and the Sistine Chapel are just a few of the must see sights. If you are travelling during the summer months expect large crowds.
2pm Lunchtime
After soaking up all of that knowledge you will deserve a welcome rest for lunch. Wine and dine at Zanzara restaurant which is only 10 minutes walk from the Vatican. Mussels and meat feature heavily on the menu. Buon appetito!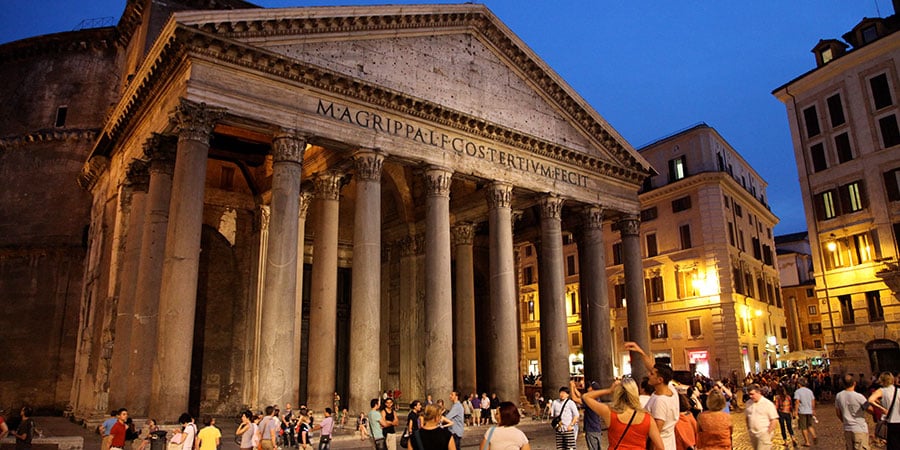 3pm Trastevere Neighbourhood
Venture into the less crowded area of Trastevere with more time for people watching. The main attraction in this neighbourhood is the Bascilica di Santa Maria. The gold speckled mosaics are breathtaking.
5pm Visit the ancient Colosseum
Your first trip to Rome wouldn't be complete without a visit to the historic Colosseum. Used over 2,000 years ago for gladiatorial combats and entertainment, this amphitheater is definitely one of the most recognisable buildings in Rome. The full entrance fee is €12.00 or €7.50 if you are from Europe and aged between 18 – 25.
7pm Palatine Hill
Rome's earliest settlers lived on this hill. You will get some stunning views of ancient roman ruins from the Hill, looking down on Circus Maximus and the Roman Forum.
8pm Late dinner 
For a delicious meal you are spoiled for choice in Rome. You will stumble upon pizzerias and fine dining restaurants on most streets. Just a short walk from Palatine Hill you will find Angelino ai Fori dal 1947, serving up the tastiest pasta dishes. Try to reserve the outdoor seating under the vines as a special treat. After dinner you can wander your way to the Gelateria La Dolce Vita for dessert.
10pm Hangout at the Trevi Fountain
Now that night time has poured in you are free to wander the streets in comfortable conditions. Rome can get quite hot during the summer days so make sure to pack your sunscreen. Night-time is the perfect time to relax in the romantic atmosphere at the famous Trevi Fountain. What a fantastic end to your day in Rome.
If we had more time we would fit a lot more in as there is so much to see and do in this wonderful city.
For more information on any of the Via Francigena walking tours in Italy please contact one of our travel specialists.