CaminoWays Brochure Guide
Our brand new CaminoWays Brochure Guide is here! The 32-page booklet is full of useful information for planning and preparing for the Camino de Santiago. Are you are a complete newbie or a seasoned Camino pro? Either way will find something in here for you.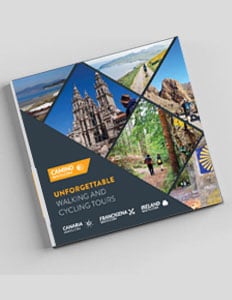 The CaminoWays Brochure Guide includes:
10 Reasons to do the Camino.
How to choose the perfect Camino for you.
Top Camino Routes.
Maps and Guides.
Pilgrim Motivation.
Camino groups info.
Camino checklist.
Lots more…..
You can download your free copy by filling out the form below. We hope to see you on the trail soon. Buen Camino.