CaminoWays Brochure Guide
Planning a huge trip like walking the Camino de Santiago can be a little bit intimidating. If you've been wondering where to begin your planning for your Camino de Santiago adventure without getting overwhelmed, look no further than our CaminoWays brochure.
This 32-page booklet is packed full of useful information for planning and preparing for your experience on the Camino de Santiago. Whether you're completely new to the Camino or you've walked and cycled a few routes already, you should be able to find something useful inside our CaminoWays brochure.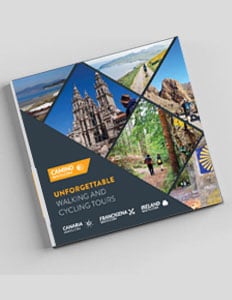 The Brochure includes:
10 Reasons to do the Camino.
How to choose the perfect Camino for you.
Top Camino Routes.
Maps and Guides.
Pilgrim Motivation.
Camino groups info.
Camino checklist.
And even more…
If you have any questions about the Camino and what we do or if you would like to get in touch to plan your perfect trip, please don't hesitate to contact us. You can also start planning your trip right now using our special Camino Planner.
In the meantime, you can download your free copy of our CaminoWays brochure by filling out the form below. We hope to see you on the trail soon. Buen Camino!