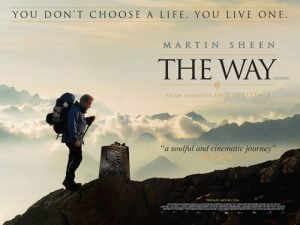 'The Way', starring Martin Sheen and written and directed by his son Emilio Estevez, captivated audiences with its true story of hope and perseverance.
Since its release in 2010 (yes 11 years ago!), it has inspired many people to walk the Camino de Santiago, and visit the spots along the Camino Frances and the Camino Finisterre where the movie was filmed.
Areas such as St Jean Pied de Port, Leon, Santiago de Compostela, and Cape Finisterre, have all become well-known Camino spots thanks to the success of the movie.
If you are a fan of 'The Way' and would like the experience the spots where the movie was filmed, then Camino Ways, the walking and cycling holiday specialists, are providing a 'Walk and Coach' tour along the Camino Frances. In 2021 this tour will take place on September 11th and early booking is advised.
This exciting tour will see you travel from Pamplona to Santiago in one week. During your trip, you will pass through breathtaking lands and sites which have been made famous by 'The Way'. 10km of your day will be spent on foot and the rest of your day will be spent in the comfort of a private coach.
This trip gives the best of both worlds allowing you to enjoy all the comforts of a coach tour, with the excitement and scenery of a walking tour and a knowledgeable guide.
During each day you will be treated to one cultural visit after lunch. Places of interest along the route include the historic centre of Leon, the deserted village of Foncebadon, the Monastery of Samos, and Pambre's Medieval Castle. Your evenings and nights will be spent in charming hotels which have been hand-selected by the Camino Ways team because of their comfort and character.
Camino Ways are offering a 'Walk and Coach' tour from €1418pps. Book your tour today and experience the sights and scenes of 'The Way'.
Price includes return airport transfers, 7 nights accommodation on a full board basis, a guiding service, and a coach tour during the trip.
Price does not include flights, drinks, or travel insurance.
Please contact us on the form below for more information: