To add a Spanish flavour to your next meal, today we are sharing a very easy-to-follow and delicious Camino Croquetas recipe to teach you how to make one of Spain's classic and all-time favourites: croquetas. You will often find them on the Camino de Santiago.
They can be done with different ingredients such as ham, chicken, salt cod, mushrooms and other veg (for vegetarians), etc…
Croquetas recipe is a must-try Camino food while visiting Spain and you will often find them as tapas or pintxos in bars and restaurants; or starters in menus.
Wherever you go you will encounter croquetas of all shapes, sizes and flavours. They were traditionally a great way to use leftovers and if you have more ham than you can handle this Christmas, then making croquetas is a tasty alternative to ham sandwiches!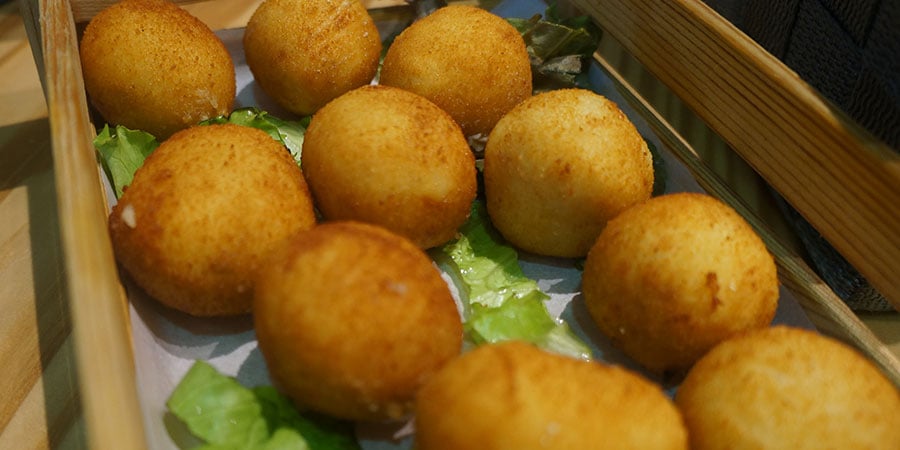 Please note Spanish croquetas are generally made with white sauce (bechamel) and not mashed potato.
INGREDIENTS YOU WILL NEED, for the Croquetas recipe
100gr cured Spanish ham cut in small cubes or your ingredient of choice (make sure they are cooked, for instance leftover chicken would be perfect)
2 tbsp olive oil
60g plain flour
500ml milk
2 free-range eggs
150gr breadcrumbs
Salt – to season
Olive oil – to fry
HOW TO MAKE CROQUETAS
1. Dice your ham, chicken or ingredient of choice as finely as possible.
2. To make the bechamel (white sauce), heat the oil in a saucepan over medium heat and gradually stir in the flour. Add the milk and cook gently, making sure you keep stirring so you get a smooth paste (no lumps of flour!). Using a whisk will help you get this smooth bechamel. Make sure the bechamel is quite thick, adding more flour if required (aiming for a consistency similar to mashed potato).
3. Add your ingredient of choice, whether is ham, mushrooms or anything else. Season to taste. If you are using Spanish cured ham, you probably won't need any additional salt.
4. Put the mix in a bowl and let it cool. Cover and put in the fridge, if you can for up to 24 hours so the mix hardens.
PART 2
5. Beat the eggs and keep in a deep plate or bowl; and pour the breadcrumbs on a separate plate.
6. Get the mix from the fridge and start shaping the now hard mix into little cylinders or balls, whatever is easiest. Another trick is to shape with two small spoons or just with your hands.
7. To bread the croquetas you will dip them in the egg first and then cover in breadcrumbs.
8. Heat the olive oil in a large pan and start frying the croquetas at a high heat so they get golden on the outside and don't absorb too much oil. When cooked, place on a dish or plate with kitchen paper so it can absorb any extra oil.
9. Serve hot or cold!
Enjoy!
[wp-review]
For more information about the Camino de Santiago routes or to book your trip contact our travel specialists: