Tony McMahon and Sue McGinty from Australia sent us their story while walking the Camino in France so we could share it at our Tapas and Tales Camino storytelling evening to celebrate St James. Thank you Tony and Sue! Pictured: Our colleague Sophie reading Tony and Sue's Camino stories.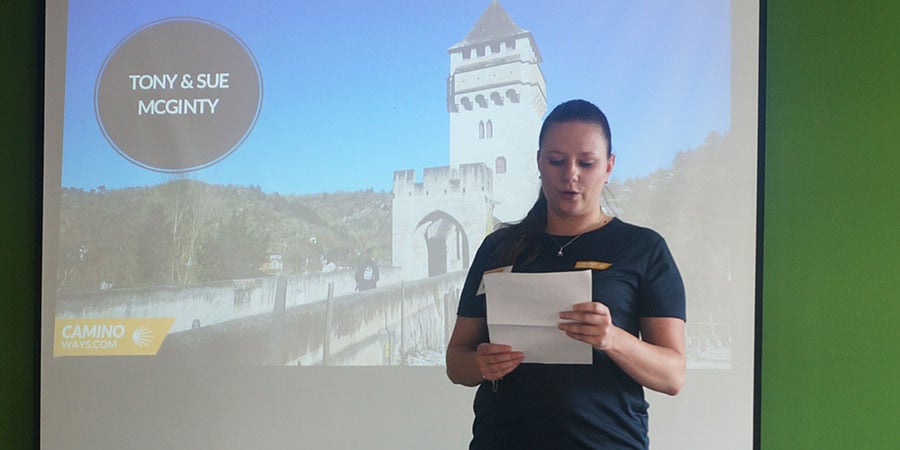 Doing Caminos can become addictive (and that's a good thing). And the reasons are many.
For example, we have just finished walking from Cluny to Le Puy-en-Velay. Among a number of things that stand out are the beautiful French countryside with its carpets of wildflowers, the wonderful hosts who have taken us in for the night in a series of gites, chambre d'hotes, chateaus and hotels; even an old people's home, SeniorLand in Montverdun.
The story there is that we arrived at the 'hostellerie' but there was no wifi due to a lightning strike a couple of days previously. Well, that was terrible; we like to keep in touch with family and friends and they like to see our walks (ok, so we have more than one addiction). Anyway, the manager, Joël, came to our rescue. He also works at an aged people's complex about 70 metres away so off we went with him.
We said 'bonjour' to everyone and, with our grey hair, fitted right in. And they gave us a cup of tea! After making contact with the internet and, as we were about to leave, one of the staff wondered if we would be able to walk back to our accommodation or would we like her mother to drive us! We declined, politely, and braced ourselves for the 70 metre hike back to our hotel.
The point is, the people in rural France have been so kind and welcoming. Who wouldn't like coming back to that.
One thing we've learned is not to be too hardcore in following the prescribed route. Pilgrims wander, they don't just go in a straight line. We've had some great experiences by taking shortcuts or by having a couple of days off to visit an interesting place. Once in Pamplona we caught a bus to Bilbao to check out the Guggenheim Museum (not to be missed). Tony likes Gregorian Chant, so another time we took a bus from Burgos to the village of Silos for the weekend to hear the monks chant the mass. Magic. Just two days ago we took a different route and found ourselves at Chanalellies, where we visited a beautiful little 11th century church on "the original Camino". Everyone does their own Camino.
Enjoy your tapas and some vino. We'll be one day from St Jean Pied-de-Port on that evening. Raise a glass for us.
Our friends and family have been wondering how our French is going. We have our moments and we are both improving, thanks to Google Translate.
To show how well we're doing, yesterday evening we trudged into our accommodation in Nasbinals having just walked 27 kms. Rang the bell, called out. No answer so opened the door and let ourselves in. Bit dark and gloomy; not quite 'Bates Motel' (of Psycho fame) but getting there. Out came a tall, bald guy ( a bit like Lurch from the Addams Family to mix narratives) and Sue told him, in her tired French, that we have a reservation for the night. He looked down at her and said in stilted English, 'I don't speak English'! More practice needed!
A couple of days ago, we'd been walking across the Margeride which, according to a French tourism site, 'is a secret and mysterious land. It offers lovers of authenticity a series of restful landscapes, where meadows alternate with moors, forests and rivers'. Sounds about right. It's also the location of the Beast of Gévaudan who terrorised the area in the 1790s by attacks on and killing over a hundred people. The Beast is a tourist attraction now, with museums, statues, etc.
It's beautiful countryside and our photos don't do it justice. And we see and experience beautiful scenes and moments every day.
For example, at a fromagerie in a tiny hamlet, after having a huge cup of coffee we spoke to a young German woman who had walked from Bamberg in northern Bavaria. She decided to take time off after graduating as a physiotherapist to walk to Santiago; she's about halfway. As we left, she and a young French woman began singing the medieval pilgrim song, 'Ultreia'. Magic.
You can read more Camino stories on our Camino Memories page and our Camino blog. For more information about the Camino de Santiago routes or to start planning your trip, contact our travel specialists.