Lili shares her Camino story
Thank you to Lili from Manila in the Philippines who has kindly shared her Camino story with us. Lili bravely took on the Camino solo and cleverly prepared with some practice walks before the beginning of her trip. You can enjoy reading Lili's Camino story below.
Buen Camino for Life by Lili from Manila, the Philippines
I have been dreaming of my camino de Santiago de Compostela like forever. I realized that dream on the first week of May 2015. Yes, just this year. And just nearly 3 months ago. I waited for many of my friends to join me, only to decide to do it solo. Well, not exactly solo. I joined caminoways which organized my camino for 6 walking days and booked all my hotel and luggage transfers, as well as my breakfasts and dinners. I dreaded walking so far only to find no decent accommodations and sleeping without dinner. I decided well. The pre-booked hotels and meals were all good, and all I worried about is finishing the day's walk. All of 113 kilometers in 6 walking days. Minimum daily walk is 15 kilometers. Other days, we walked 30 kilometers including detours!
On the Feast Day of Saint James (July 25), I mused over my own camino. Interestingly, I thought back to all those moments when I felt God's presence in the green fields, the moist smell of the forest, the encounters with grazing farm animals, the non-verbal interactions via sign language with friendly locals, the centuries-old medieval bridges crossed by many pilgrims before me, the tiny, dark churches in the quaint hamlets we passed, the muddied paths and puddles of rainwater along the trail. NEVER did the pain of walking so many miles in the rain cross my mind. If at all, I look at my little toes and reminisce how I persevered to finish my camino. A little triumphant sensation there, I confess.
Unfortunately, I didn't have much time savoring my camino moments after my walk. Soon after, I met up with cousins visiting Madrid and then I had to fly to Berlin to meet up with friends before flying into Copenhagen to join our Scandinavian cruise. After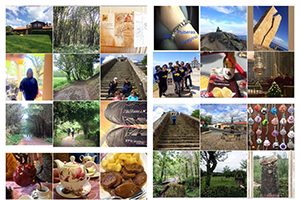 sailing back to Denmark, I then flew back to Madrid with a couple of friends to join up with 2 more couples flying in from USA. The reunion lasted 3 weeks and covered many side trips from Madrid including bus and train trips to Burgos, Bilbao, Getaria, San Sebastian, Lourdes (in France), Irun, Santiago de Compostela (yes, I went back too soon), Muxia, Fisterra, Oporto, Fatima and Lisbon. The adventure with friends left me no time to really indulge in more musings over my pilgrimage to Santiago de Compostela. Besides, the experience was clouded by a couple more pilgrimages to Lourdes, France and Fatima, Portugal. It's an altogether wonderful experience. Really. Just that I would have wanted to relive the memory of EVERY SINGLE DAY of my camino and remember how all the yellow arrows directed me throughout my weeklong camino.
I have been "on the go" since May. Even well before that, as I spent a week in Madrid doing more "practice walks" before hopping on that 6 hour train to Santiago de Compostela. When I returned to Manila mid-June, I only had a week to prepare for my family from Sydney spending a whole month with us. Plus there's the Bangkok wedding which the entire family and a few friends (all 23 of us!) attended. On the feast day of Saint James, the last batch of my OZ family took the flight back to Sydney. I am left with many happy memories of family reunions, wedding, Bangkok sidetrips, and quite honestly, bonding across 4 generations within our family. Such memories would last me many lifetimes. As would my "me-moments with my God" during my camino. I find it a luxury to indulge myself with those lovely images and experiences from my camino now. No matter what you hear or read, your Camino is YOUR CAMINO. It's a personal experience — an adventure, if you like — that is completely your own. I walked more than a hundred kilometers but more than half of those walking ALONE. Alone with my thoughts. In sync with Nature, and over-the-top with the wondrous solitude to pray as much and as long for others, and for myself and my family. Before the walk, I listed a hundred names of people I'd pray for. A kilometer for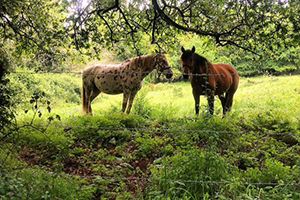 each, some of whom I do not know at all. The thought of praying for someone else pulled me through. Funny that whenever I prayed for myself, I'd always catch myself praying for "no blisters". More so whenever I stop to change my socks, wiggle my toes and slather my feet with Vaseline. I even picked up the habit of ordering a beer to "reward" myself every afternoon, and some glasses of red wine come dinner time. Every morning when I woke up, I prayed and thanked the Lord for the renewed energy, well-rested limbs, and newfound enthusiasm for another day's walk. I never lost the excitement over what I'll find along the camino trail. Somehow, I likewise looked forward to the mid-morning and late lunch breaks when I find myself interacting with fellow pilgrims from different countries. One funny thing here is finding yourself deep in conversation with another pilgrim whose name you never asked. Yet you remember his nationality, from where he started his camino, and how long he has been walking. Other times, you'd be walking with a few for about a mile, engaged in serious and not-so-serious conversations, before bidding each other "Buen Camino". If you meet them at your next coffee break, you greet each other like long lost friends. Such is the camino routine and vibes and I gladly eased into this "behavior".
I finished my camino without any blisters. I pity those who trudged on with blisters, nasty sore toes, and for a few, lost toenails. Thankful every time I reached our hotel even when there were days we were soaking from the rain. Nothing beats that first beer of the day. Except perhaps that first minute when you soak your tired feet in a tub filled with hot water. Many times I fell asleep till the water turned really cold around my swollen feet. Every night, I'd wash my hair and then wear my camino clothes for the next day. Yes, fat chance I'd jump into my pajamas and then change into my camino shirt and shorts the following morning. Happened only on the first night.
We would like to sincerely thank Lili for submitting her Camino story. She will be entered in our raffle for the chance to win a short break in Santiago for two people. You can submit your Camino story to the team at CaminoWays.com team. All entrants will be in with a chance to win a 2 nights break in a 4 star hotel in Santiago and a discount off your next Camino journey.
For more information about the Camino or to book your next Camino tour please contact one of our travel specialists.