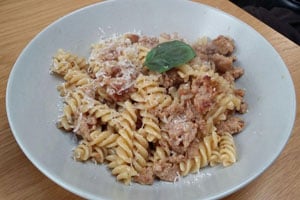 One of the things I love about Italy is the food. The variety and quality of ingredients mean something for every taste and mood. This is one of my all-time favourite recipes. It's quick, simple and tasty. It's proper comfort food. Recipes like this are most common in the Tuscany region of Italy. This is the recipe fennel pasta with Sausage and chilli.
INGREDIENTS
500g Good quality sausages (80% pork or higher if possible)
Two heaped teaspoons of dried chilli
One tablespoon of dried oregano
Two heaped teaspoons of fennel seeds
250ml white wine
Juice of 1 lemon
500g fusilli pasta
20g parmesan cheese
Some fresh parsley or basil to garnish
PREPARATION AND COOKING of Recipe fennel pasta
Using a pestle and mortar, crush the fennel seeds and the chilli flakes until the mixture is fine.
Heat some olive oil in a frying pan.
Squeeze the sausage meat out of the skins and into the pan. Break up the mince with a wooden spoon.
Fry for a few minutes until the meat starts to brown.
Add the chilli, fennel seeds and oregano and stir well.
Fry on medium heat for about 10 minutes (until the meat becomes golden brown and caramelised).
Pour in the white wine and allow to reduce by half.
Add the lemon juice and turn the heat down to low.
Cook the pasta in a pot of salted boiling water (according to the cooking instructions)
When the pasta is al-dente, drain it in a colander and keep about half a cup of the cooking water.
Pour the reserved cooking water into the sausage mix and let it cook for a minute or two.
Empty the pasta into the sausage mix, add the parmesan (grated) and toss together well.
Season with salt and pepper (taste first as the sausages may already be slightly salty).
Serve immediately with parsley or basil, and grated parmesan sprinkled on top.
NOTE: This Recipe fennel pasta with Sausage and chilli will work with any type of pasta. Remember the key to Italian cooking: Keep it simple!
If you plan your walk on the Via Francigena, the Camino to Rome, you can sample recipes like this on the Tuscan route from Lucca to Siena.
For more information about food on the Camino and Via Francigena or if you'd like help planning your walking or cycling in Tuscany, contact us.