Camino Pilgrims Office in Santiago de Compostela. If you finish your Camino trip in the city of Santiago de Compostela you will receive your Compostela certificate and a warm welcome from the people at the Pilgrims office.
The Pilgrims Office in Santiago de Compostela (Oficina de Acogida al Peregrino) is located just a few minutes away from the cathedral and Praza do Obradoiro in the centre of the city.
The Pilgrims Office in Santiago is a welcoming centre for pilgrims completing the Camino. It is here where you will get the final stamp for your pilgrim passport (credencial) and where you will be able to request your pilgrimage certificate, known as 'Compostela'; as well as the certificate of distance.
Camino pilgrims arriving in Santiago de Compostela should make their way to the Pilgrims Office, located at the following address:
Rúa das Carretas, 33, 15705 Santiago de Compostela, Spain
It is important to obtain your pilgrim passport before embarking on your journey. This will allow you to collect your stamps along the way and request your Compostela in Santiago.
The Pilgrim's Reception Office is run by the Cathedral of the Archdiocese of Santiago de Compostela. The Director of the Pilgrim's Reception Office is traditionally a Canon of the Cathedral.
Opening Hours of the Camino Pilgrims Office in Santiago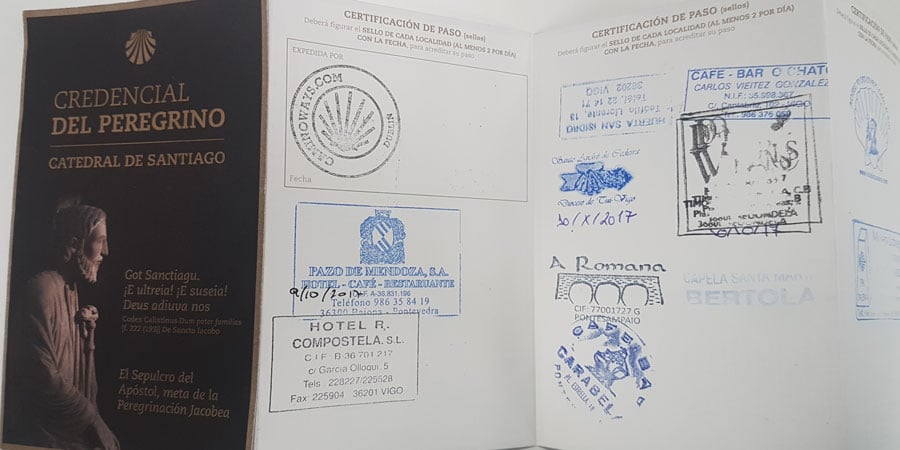 The Camino Pilgrims Office in Santiago de Compostela receives pilgrims nearly every day of the year.
In winter-time (1st November until 30th April, except Easter), the office is open every day from 10 am to 7 pm.
During Easter Week (Semana Santa) and from 1st May until 30th October, the office receives pilgrims from all over the world from 8 am to 9 pm.
The centre is only closed on Christmas Day and New Year's Day when pilgrims can request their certificates directly from the Cathedral.
Note that during the busiest months of the year (from July to September) when there are many people walking the routes the Camino Pilgrims Office in Santiago de Compostela can get quite busy so expect a bit of waiting.
You are in good company as you join the other pilgrims in celebration after a long journey.
A pilgrim must walk at least 100 km or cycle 200 km and collect stamps in their pilgrim passport along the route to qualify for their Compostela certificate when you get to the pilgrim's office.
For additional information and the latest updates, we recommend you visit their website: Pilgrims Office in Santiago or contact our travel specialists.
Read our Camino Culture section for more information about pilgrim certificates and more.