Camino Markings – The Scallop Shell
The scallop shell and yellow arrow are the 'symbols' of the Camino de Santiago, and these Camino Markings will guide you all the way to Santiago de Compostela. They are the ultimate Camino Markings. Here's why:
The scallop shell is one of the most iconic symbols of the Camino de Santiago. It is still used today to guide pilgrims to Santiago de Compostela along many routes.
Painted or printed on walls, sidewalks, tiles, or Camino markers, the scallop shell (or 'Vieira' in Galician and Spanish) will help you find your way.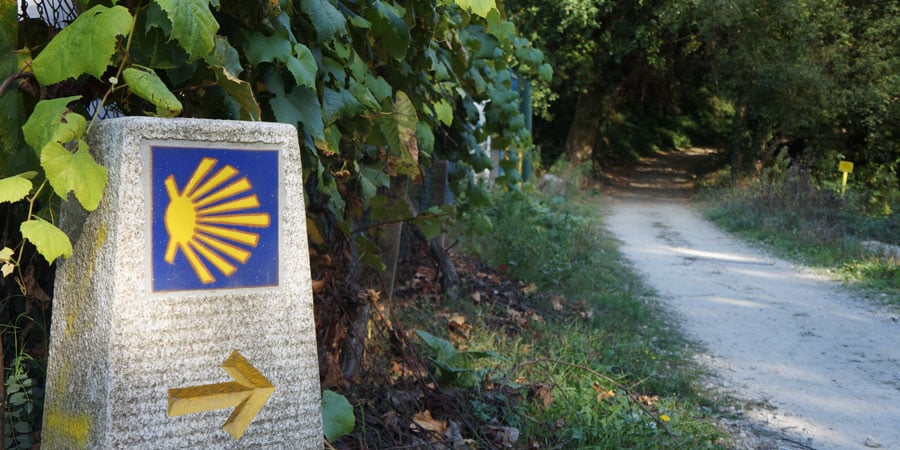 The scallop shell is believed to be a metaphor, its lines representing the different routes pilgrims travel from all over the world, all trails leading to one point: Santiago de Compostela.
Medieval pilgrims often wore scallop shells attached to their cloaks or hats for their journey to Santiago. More than being just a symbol or a pilgrim badge, the scallop shells also had a practical purpose.
READ MORE: The Story of the scallop shell and the Camino.
Following The Yellow Arrow
The name of Don Elías Valiña Sampedro might not ring any bells. Still, you will certainly recognise his most 'famous' creation: the yellow arrow showing pilgrims the way along the Camino de Santiago.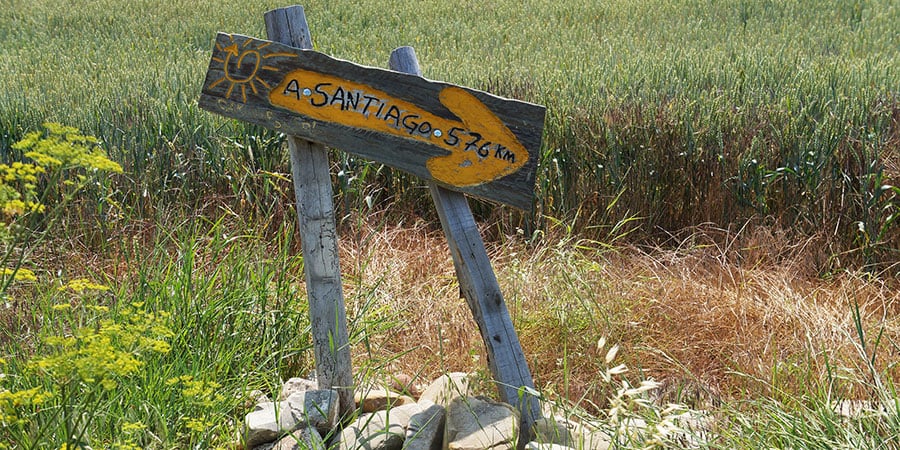 Don Elías was a parish priest of O Cebreiro and a Camino visionary. After years of studying the Way of St James, he was convinced of the importance of this ancient trail and set himself on the challenge of reviving the route we call the Camino Frances. In 1984, he put in motion his mission to rescue, clean and mark the trails along this Camino, starting in Roncesvalles, in the Pyrenees.
Legend has it that Don Elías drove across the north of Spain on his Citroën GS packed with yellow paint, painting arrows to show pilgrims the way to Santiago.
READ MORE: The story behind the Yellow Arrow on the Camino de Santiago.
These Camino markings at regular intervals make the routes extremely easy to navigate.
Camino de Santiago Navigation map
We have created a Google map to help you navigate the Camino de Santiago. Once en-route. Click on the link and open it in Google Maps. The blue dot will give you your exact position on the way, and the line will show you where to follow the Camino: https://bit.ly/3w5fAjh.
If you are a CaminoWays client and about to embark on the Camino, please visit our client portal for more information: https://core.caminoways.com/client/camino-navigation-maps.
For more information about Camino markings and the Camino de Santiago routes or to book your trip, contact our travel specialists.