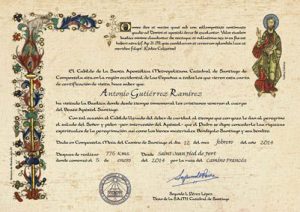 The Pilgrims Office in Santiago (Oficina de Acogida del Peregrino) has just launched a new Camino certificate called the 'Certificate of Distance'.
This new Camino certificate can be obtained in addition to the traditional Compostela or the Certificate of Welcome, after reaching Santiago de Compostela. The Pilgrims Office has created this new certificate in response to requests from pilgrims over the years. This new certificate includes arrival date, as well as starting date and starting point, the amount of kilometres completed and the pilgrim's chosen route (Camino Francés, Camino Portugués, Vía de la Plata, etc…). The cost of this new Camino certificate is 3€.
The Pilgrims Office has also announced a new service for groups of pilgrims on the Camino de Santiago. It will be now possible to request the Compostela and Certificates in advance for large groups travelling together on the Camino.
Those looking to avail of this service should ask their group leader to email the Pilgrims' Office to request a form and fill it in for the group, in advance. The Compostelas or Certificates should then be ready for the group as they arrive in Santiago and can be collected at the Pilgrims Office in Rúa do Vilar.
The Pilgrims' Office will also issue a certificate with the name of the group as a unit; the group will also be named and welcomed during the Pilgrims' Mass.
This is a free service, as well as Compostelas and Certificates, however donations are recommended.
You can also request this certificate by email if you have walked/cycled the Camino before that date, contact email for the Pilgrims Office is [email protected]
*Please note in order to receive any of the certificates issued by the Pilgrims Office in Santiago your finishing point must be Santiago de Compostela.
*You might also like to read: Walking the Camino: Passports, Certificates and Compostelas.
*If you would like more information about the Camino de Santiago or would like to book, contact our Camino travel specialists at [email protected]