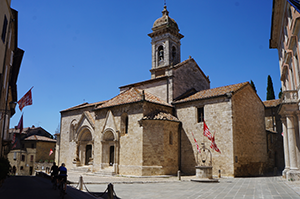 The Val d'Orcia in Tuscany is one of the must-see regions of the Via Francigena and one of the highlights of the Camino to Rome.
The Via Francigena crosses the Val d'Orcia since Roman times, when it was known as Via Cassia. Since then, the trail has linked and facilitated trade as well as a rich exchange of ideas between France and Italy. Both merchants and pilgrims have travelled the Val d'Orcia, the valley of the Orcia river, for centuries.
Listed by UNESCO as a World Heritage Site for its natural and cultural importance, the Val d'Orcia is a classic example of agricultural landscapes created during the Renaissance; where functionality and art/aesthetics went hand in hand. The area was settled by merchants from Siena in the 14th and 15th centuries; who dedicated careful thinking and planning to design not only a very efficient and functional agricultural area but also keeping in mind this landscape should be harmonious and pleasing to the eye. The valley is also a protected cultural and natural park.
Starting your Via Francigena trip from Siena you will continue across the heart of Val d'Orcia for a couple of days, stopping at medieval towns such as San Quirico d'Orcia and Radicofani; also passing Bagno Vignoni which was home to the most famous hot springs in the Middle Ages and Castiglione d'Orcia, a medieval hilltop town of quaint cobbled streets and topped by the famous Rocca d'Orcia.
The walled town of San Quirico d'Orcia has been an important stopping point along the Via Francigena to Rome since medieval times. Pilgrims still today enter the town by Porta Senese and leave by Porta Romana: the gate to Rome. San Quirico is divided in two, nearly in perfect proportion, by the main street: Via Dante Alighieri. When you are in San Quirico, make sure to admire the breath taking panoramic views of the Tuscan countryside from the town walls; as well as visiting some of the town's stunning Romanesque churches such as the Collegiata of Saint Quirico and Giulitta and the Church of Santa Maria Assunta. The gardens at Horti Leonini, a fine example of Renaissance geometrical gardening, are perfect to shelter from the sun or just enjoy a few minutes of peace and quiet.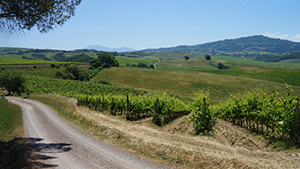 When to travel:
You can travel all year around, however Spring months (up to June) will be less hot for walking and cycling than July and August, in general. September and October is harvest season in the region, also a great time to travel. Mushrooms and chestnuts are very traditional products in the region, so if you are a fan, October is the time to go.
For more information about cycling or walking the Val d'Orcia, the Via Francigena in Tuscany or to book your Via Francigena holiday contact our travel specialists.