Highlights of the Camino del Norte by Catherine Murphy
I trudged into the little seaside town of Llanes, barely noticing the remains of its 800-year-old city walls. Llanes may be steeped in Spanish Armada seafaring history, but I was sweaty and sodden from 30km of walking, the last few of them in the rain. Remarkably placed blisters on both little toes made each step more painful than the last. These are the highlights of the Camino del Norte.
I checked into the Posada del Rey, where the 90-year-old owner chatted for what felt like an eternity. Señora Milagros Ampudia Vega was a force of nature, brimming with experience and life. As much as I wanted to hear her stories I also wanted to take my boots off and lie down. Next, I wanted to acquire the taste of Asturian cider in one if the town's siderias, before tucking into dinner at Covadonga restaurant across the street.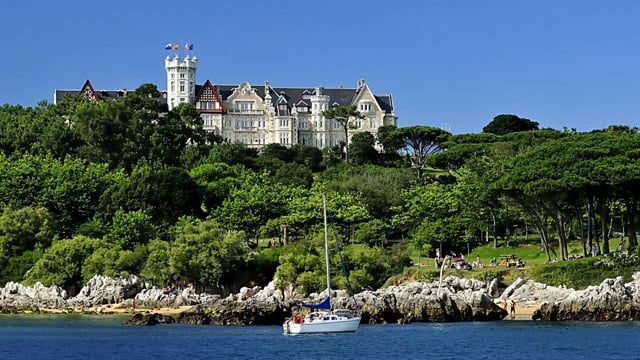 I had just walked part of the Camino del Norte, starting out from the Cantabrian capital of Santander, passing through medieval villages and seaside resorts before finishing in Llanes.
The northern or coastal way starts in San Sebastian and goes to Oviedo, before joining the Camino Primitivo to Santiago de Compostela, taking in much of 'Green Spain' – the Basque country, Cantabria and Asturias – along the way. By car, the journey takes one and a half hours; it took me five days, walking between 20km and 30km a day. The final day's walk proved to be one of the most enjoyable but also the toughest, with the GR-E9 coastal route adding kilometres and a long uphill section at the end.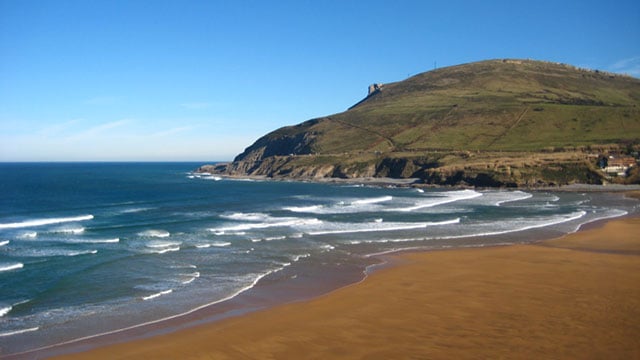 The Camino can be trying but the rewards are many. One of the reasons why pilgrims choose the Camino del Norte is because it's less busy than the French Way. The route had just been made a Unesco world heritage site thanks to its many cultural and heritage attractions. It also offers fine food at exceptionally reasonable prices, and beautiful coastal scenery.
En route to Llanes, I had strolled through Colombres and Pendueles charming villages known for their 'Casas Indianos', built by returned emigrants who had made fortunes in the New World. I rested my tired in a little cove at Buelna before witnessing the natural wonder of the Bufones de Arenillas, a geological feature of rock chimneys and cracks that spray water 20 metres into the air when the sea is rough, voicing a haunting, powerful roar as they do so. I enjoyed quintessential Camino walking through shaded forests that made up for other sections where there was too much pavement or worse still, road. Cantabria is a land of rolling green hills and valleys, so it was logical to expect plenty of ups and downs on the way.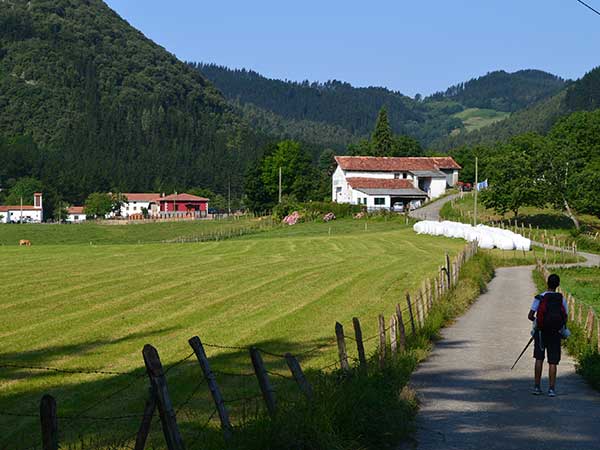 I had set out from the abba hotel in Santander – perfectly situated next to bus and train stations – with the yellow 'flechas' or arrows of the Camino taking me right through the city's shopping area. Never mind Santander's cathedral or Museum of Prehistory and Archaeology: I was staying in pre-booked hotels along the way with my luggage transferred to each one.
This meant I could buy stuff.I could also gloat at being on the road while locals went to work. Part of the appeal of the Camino is having a period of time where your only concern each day is getting to the next place. Eat, sleep, walk; repeat is a mantra that takes you far from your daily life at home.
While staying in pre-booked hotels along the way means you're tied to a particular place each night, it also means that you don't have to race to each new town or village to secure a Refugio bed; you don't have to carry eight kilos of kit in a backpack each day and you don't have to sleep in a dorm with dozens of snoring pilgrims. Camino diehards may sniff at the notion of hotels and luggage transfers but quite frankly, I wasn't complaining.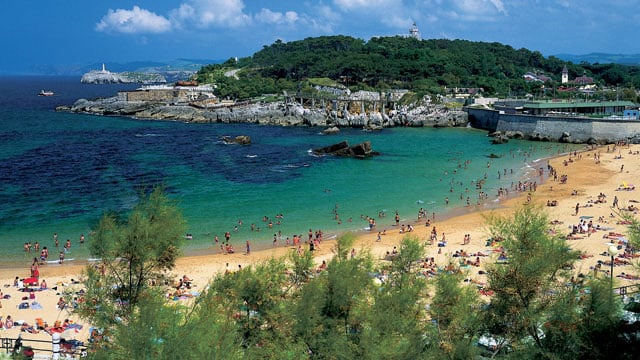 From Santander, I walked along the Camino de Santiago to Barcena de Cudon. There are hundreds of Posadas along the Camino del Norte, small family hotels which originated centuries ago as inns run by farmers. Posada Lunada was charming, spotless and friendly with a breakfast of fresh fruit, bread and jamon, toast and local Soboa cake. Owner Jabier Pardo, explained that in previous centuries, travellers used the old road from Madrid to reach the next port at Santander. These days, Madrileños come for the Cantanbrian food.
Dinner at Puentecilla restaurant in nearby Puente Arce – rice with mussels followed by bacalao (salt cod) and a garlic emulsion – was some of the best food I had on the trip. There are three or four other restaurants in the area, including El Nuevo Molino, which has a Michelin star.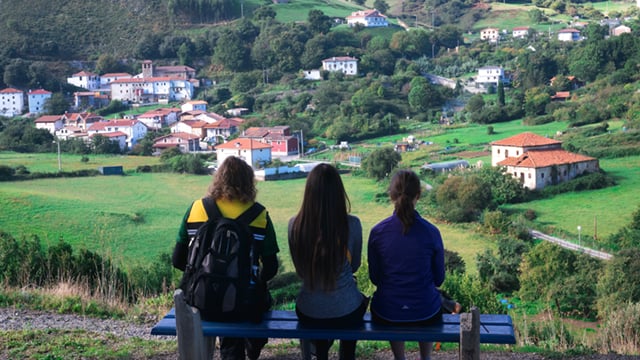 Some of the greatest rewards on the Cantabrian section of the Camino del Norte are its medieval villages – Santillana del Mar's ancient buildings impress walkers after a trek through tranquil country villages and meadows, as does the Hotel Altamira with its beautiful wooden-beamed foyer. Must see are the Altamira caves and the 12th century Collegiate church which houses spectacular cloisters.
Popular with tourists, the village's cow barns have long since been replaced by souvenir shops and it isn't actually by the sea as its name suggests – if your legs allow it, make a detour to the little seaside resort of Suances for a dip in the ocean.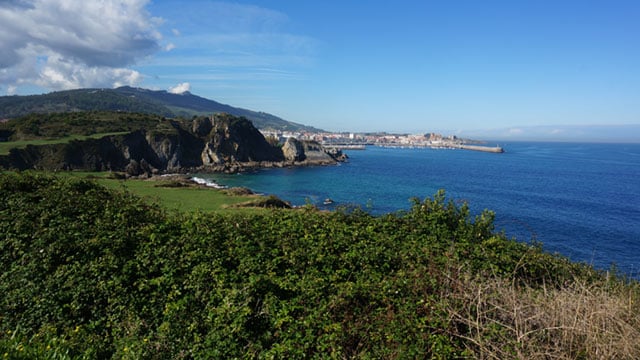 From Santillana del Mar, I walked to Comillas, stopping off at Cobreces where pilgrims visit the Cistercian abbey or enjoy a restorative lounge on the beach. Comillas, which became a wealthy town in the 19th century, is home to the Capricho de Gaudí, another must-see. Gaudi built the Capricho as a summer residence for the Marquis de Comillas, a local shipping magnate who made his fortune from slave trading, bought his Marquis title and became a patron of Gaudí.
The Esmeralda hotel in Comillas was perfect for pilgrims. Owner Gilberto Fernández, whose family has owned the hotel for many years, happily chatted to guests as he served up home-cooked food including Cantabrian favourites like Cocido Montanese, a hearty mountain stew made with beans, ham, chorizo and cabbage.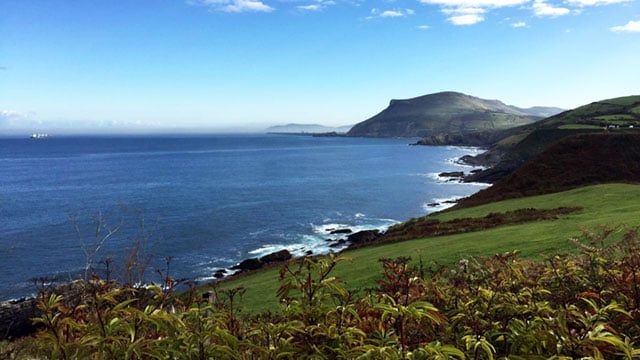 There are many opportunities to enjoy Cantabria's fine beaches along the route. On the section from Comillas to Colombres, I swan in the wild Atlantic water of Oyambre, an unspoiled beach that forms part of Oyambre national park. My first view of the Picos de Europa mountain range came on the climb up from the town of San Vicente de la Barquera. One of the most frequent and memorable sounds on the Camino del Norte was that of Cantabrian cowbells.
After passing into Asturias and walking through Colombres, it was the cry of seagulls that beckoned me to Llanes, with the mountain on one side and the coast on the other.
We hope you enjoyed this artice about the highlights of the Camino del Norte. If you have any questions about Catherine's journey on the Camino del Norte, the various Camino de Santiago routes, or if you would like to book your next walking or cycling holiday, please don't hesitate to contact us.