With its sandy beaches enveloped by the views of the Picos de Europa mountain range, Santander, the Cantabrian capital has a lot to offer.
Residents and visitors of Santander, on the Camino del Norte, are spoilt for choice when it comes to outdoor activities, with world-class surfing and sailing facilities on their doorstep and mountains just an hour away for hiking and skiing exploits.
It's easy to see why Santander has been a holiday destination favoured by the Spanish Royal Family throughout the years.
Pilgrims can enjoy Santander's dramatic scenery, laid back city atmosphere and growing café culture.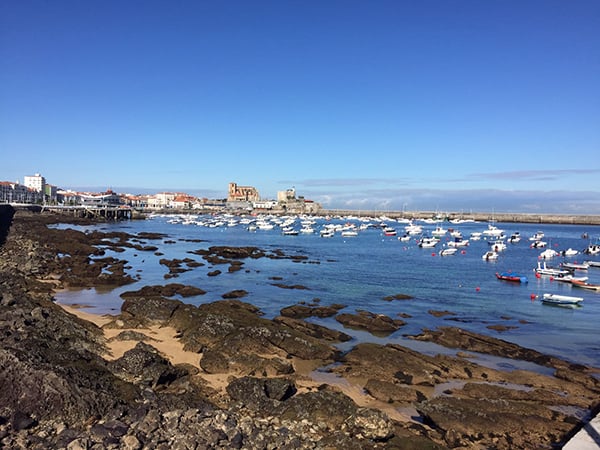 An insider's guide to Santander
Having lived in Santander for a year, these are just some of my reasons to love it:
El Banco Santander
Given that it's now one of the world's largest banks and the largest bank in the Eurozone, it's likely that the name Santander will ring a bell. The impressive Banco Santander building welcomes visitors through its mighty arch and right into the heart of the city. Through the arch, you'll find residents of the city enjoying a glass of wine or a pincho in company. This leads us to …
Casa Lita
When you think of Spanish food the word tapas probably springs to mind. However, on the Camino del Norte you'll be stepping into Pincho territory (Or Pinxto in the Basque Country). Traditionally tapas come free with drinks, while this is not the case in Santander, a pincho will only set you back a euro or two.
Pinchos are small portions of food, traditionally eaten in bars, often standing up. Going for pinchos, like most things, is very much a social occasion in Spain. Aside from offering arguably the best tapas in Santander the buzz of this place alone is enough to warrant a visit to Casa Lita.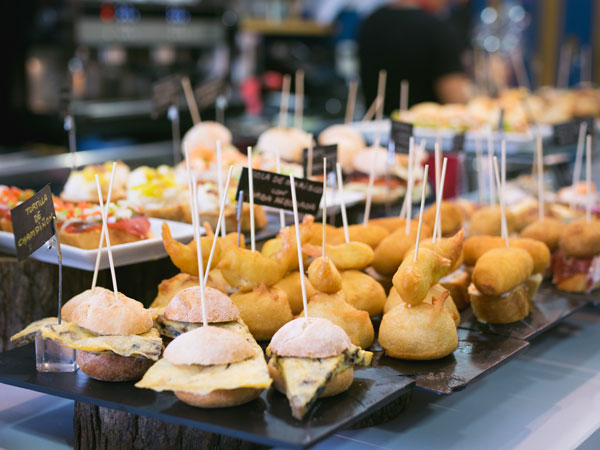 El Faro
Visit the Cabo Mayor lighthouse. If you fancy adding some extra walking onto your Camino trip then it's worth taking a trip up to the Cabo Mayor lighthouse. Along this scenic coastal path, you'll find secluded beaches and dramatic scenery.
Here you'll find residents of Santander running, walking their dogs and going for their Sunday stroll. There are a number of designated viewing points along the way but the whole path is really a feast for the eyes. Upon reaching the top you can even stop to sample a portion of the Cantabrian speciality 'rabas' (a Spanish name for calamari) and a glass of Rioja, while you soak in the scenery
Beaches
The port city of Santander is abundant in beautiful beaches. With many to choose from, my personal favourite is Playa de Los Peligros where at certain times of the year you can sun yourself on the beach while enjoying a view of the snow-capped mountains of Picos de Europa. Northern Spain isn't known for having the most favourable weather conditions, you have the rain to thank for those green pastures (the rain in Spain, as it happens, does not fall mainly on the plain). However, mild temperatures make this region ideal for walking and when the sun does come out in Santander it's like no place on earth.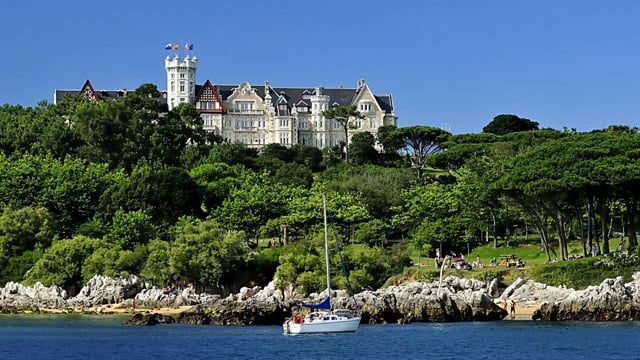 Palacio de la Magdalena
This impressive palace was used as a summer home for the Spanish royal family. With its breathtaking scenery, it's easy to see why this was chosen by none other than royalty.
You can visit Santander on the Camino del Norte Full Route (5 weeks) or on the Camino de Norte Bilbao to Santander (1 week).
For more information about the Camino del Norte, the Camino de Santiago routes or to book your Camino trip, contact our travel specialists