What about the food on my trip? FAQ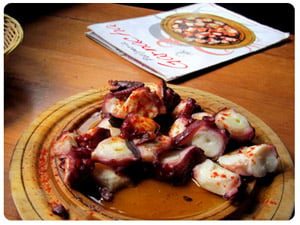 We often get asked: "What about the food on my trip?" Not a single experience abroad is complete without good food! For our Camino de Santiago holidays, we place emphasis on regional products and traditional dishes. This is an important criterion in our hotel selection.
Meals in our selected hotels along the Camino de Santiago are typically made from fresh, local products and served in a traditional manner.
We also cater for vegetarian, vegan, coeliac and nut allergies. Please ask us before booking.
Food on my trip – Breakfast, lunch and dinner
Breakfast
Generally continental breakfast in most small hotels, except in 3 and 4* hotels where you can expect a full breakfast.
Lunch
Our selected hotels can prepare a picnic lunch for you, made of sandwiches, fruit, chocolate or cereal bars. But you will often find bars and restaurants en route.
Dinner
3-course meal with starter, main course and dessert.
If you are interested in reading more about food on the Camino, make sure you read our Camino in 10 Foods Blog Post.
We hope you enjoyed this article based around the 'food on my trip'. We are always updating our information about Camino food. For any questions or help planning your Camino de Santiago adventure, please don't hesitate to contact us.