What The Camino Pilgrims Are Saying – Cycling The Camino
In a previous article in this series, pilgrims spoke about their overall experience walking the Camino de Santiago. Now pilgrims are sharing their experiences cycling the Camino, which brings with it its own share of struggles and accomplishments.
This piece is part of a series, so make sure to check out the other articles in the series: Overall Camino Experience, Solo Camino Experience and the Camino Group Experience.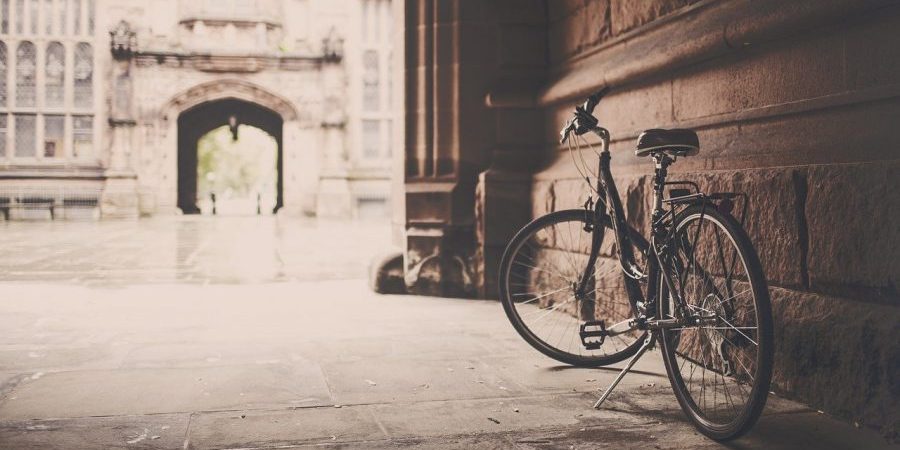 "We set out from Leon on Sunday 15th of April eight of us on mountain bikes complete with panniers. We cycled on the walking trails, at times this was challenging but well worth it for all that we have seen was fantastic – we had a very good week weather-wise so the trails were good – we are all accomplished cyclists both on road bikes and mountain bikes and still we all found it challenging at times but so so enjoyable. Arriving in Santiago de Compostela on Friday 20th we had covered approx 330km in 6 days – all the accommodation that had been arranged was of a high standard and all the staff in every place we stayed could not have been nicer. A fantastic trip had by all – helped by the fact the sun was shining down on us all week." – Billy, Ireland
"Camino Ways set up the whole biking trip, from Leon to Santiago, some 240 miles. We had great bicycles for our 4 cyclists (my brother, sister, wife and myself). The food was great at every stop as was the plentiful Rioja. This was a great cycling vacation – Mike, USA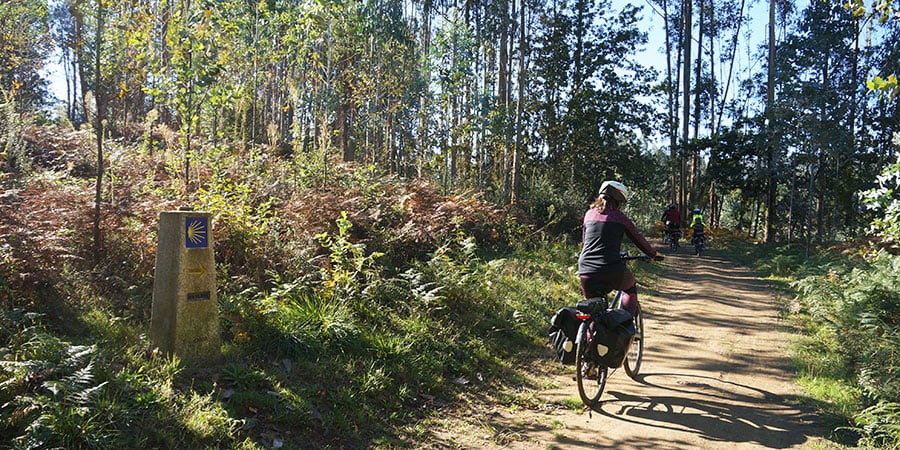 "When you're turning 50 and you want to do something memorable, ring Camino ways explain you're turning 50 and you want to do something fun with your best mates in the world, next thing you're on a bicycle in Tuscany, Italy having the time of your life. Yes there are hills, Yes it can rain, BUT, You laugh every day, you eat great food , you drink great wine.. you stay in awesome places. And you see wonderful things you wouldn't see normally. Remember there are no views at the bottom of a mountain. Did I mention you laugh every day… Hey if you want to make it a bit easier you can get an electric bike.. Camino ways are Awesome.. See you next Sept for another 750 km of the Francigena." – Jet, Australia
"I have been waiting to do El Camino for years and it was a dream come true. I did my pilgrimage by bike; this is the 2nd part of the trip I would like to thank Camino Ways for–it too was as promised and my high-quality mountain bike sturdy steed did 800km (not counting getting lost but that was hardly the bike's fault) with only 1 flat tire. – Caroline, Canada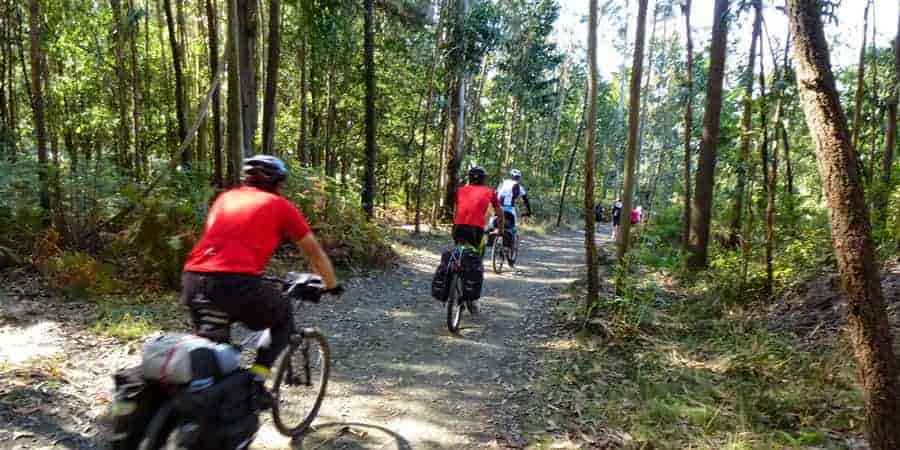 "Our bike trip along the Portuguese Camino was everything we had hoped for. A time to experience Portuguese/Spanish culture in a variety of settings, the countryside, the people, the tourist attractions, vigorous exercise and each other. Our accommodations were outstanding and our luggage transfers were flawless. Brand new mountain bikes were great! Our daughter often questioned the medium fitness level recommended, and my wife was a little concerned about her lack of mountain bike experience, but all would agree that it was a spectacular trip and would recommend it to our fit, adventure-seeking friends. Thanks, we loved it" – Kira, Canada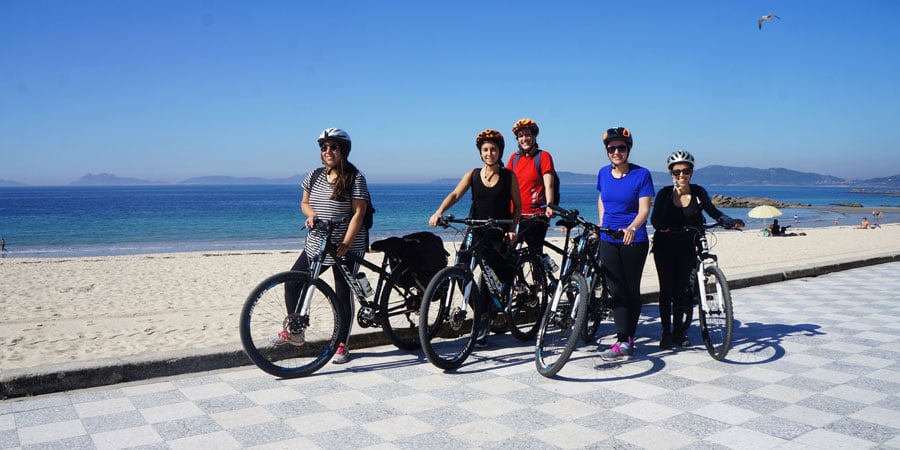 "4 friends, 5 days biking 290 km, 6 nights. Bikes were hard-tail, absolutely excellent condition. Side bags were handy, helmets good too. Gear was found to be sufficient when we needed to fix a tire puncture (luckily only once). Hotels along our customized route were convenient, just what we needed at the end of the day. Overall, planning and reservations were all so seamless that we needed no support during the entire trip! Can't wait to do another leg of the Camino." – Ronen, Camino Portugues Coastal from Porto to Santiago
We hope you enjoyed this article which shared pilgrims' experiences cycling the Camino. For more information about Cycling the Camino, the various Camino routes, planning your own Camino adventure or anything else, please don't hesitate to contact us.