Renowned for its superb food, unique culture, and lush scenery, the Basque Country is a fascinating region. Claire shares her top tips for walking the Northern Way from San Sebastian to Bilbao:
Camino del Norte from San Sebastian: Claire's Top Tips
Tip 1: Take time in San Sebastian
It's definitely worth spending a full day in San Sebastian (or Donostia in Basque) before you start your walk. European capital of culture in 2016, without a doubt San Sebastian has something for everyone; fantastic Pinchos, a wonderful beach only a stone's throw from the old town, and beautiful architecture. San Sebastian is a foodie paradise, with world-renowned Michelin-star restaurants if you fancy a lovely treat before starting your Camino del Norte adventure.
Bear in mind though, that eating well in this city doesn't have to cost a fortune; the streets are lined with great Pincho bars where small portions of various dishes are served, often on a thick slice of crusty bread, meaning that you can taste a little of everything! If you have time, it's worth taking the funicular to the summit of Monte Igueldo at the end of La Concha Bay for unrivalled views of the city.
Tip 2: Go prepared!
It's important to leave in the morning with enough supplies to last you for the day. This section of the route has limited places to stop for lunch and snacks along the way, so it's a good idea to bring a packed lunch if you feel that you may not be at the next destination by lunchtime. Some cafés on route only open in the summer, so it's worth bearing in mind especially if walking in Spring or Autumn.
Water stops are quite limited too, so we recommend bringing at least a couple of litres with you in the morning to prevent dehydration.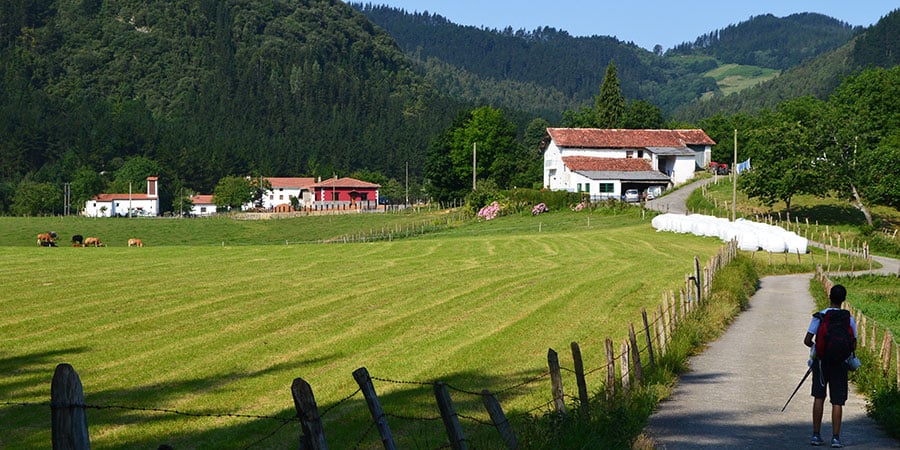 Tip 3: Don't forget your camera
Ok, so this one goes for all Camino routes but the Camino del Norte from San Sebastian is particularly scenic and you'll want to capture those views to make friends and family back home jealous! There are many great viewpoints along the way and the lush green countryside paired with clear blue skies make for wonderful photos. A great way to jazz up your Instagram!
Tip 4: Taste the Txakoli
This is the slightly sparkling, dry white wine native to the Basque Country, Cantabria, and northern Burgos. Pronounced sha-ko-lee, it's the perfect accompaniment to some Pinchos or to a seafood dinner. Txakoli wine has become increasingly popular since the late 1980s onwards when some varieties from the Basque country achieved the "Denominacion de Origen" certification, a regulatory classification system used mainly for wines but also for some food items. The first variety of Txakoli to receive this certification comes from around Getaria and Zarautz, which you will pass through on route to Bilbao.
Tip 5: Pack your swimming gear!
If you are looking for a Camino which combines great walking with the beauty of the Spanish coastline, this is the route for you! Many of the towns have some great beaches where you can relax after your walk and even go for a dip to cool off. The longest beach in the Spanish Basque country is in Zarautz, and it's lovely promenade has some great shops and restaurants.
We hope you enjoyed Claire's top tips for walking the Northern Way from San Sebastian. For more information about the Camino del Norte from San Sebastian or to book your trip, please don't hesitate to contact us.