In the past 9 months, we've had quite a few new Camino books written by a variety of authors in styles to suit everyone's taste.
From the deeply personal journal to the historical guidebook – our list of new Camino books includes something for everyone!
Each of the books below contains a message of hope and love from our beloved Camino de Santiago. In them, we are sure you will find plenty of inspiration and motivation to take your own journey.
6 New Camino Books to enjoy
We hope you get a chance to read them and/or bring them along for the journey!
1. The Novel: "The Promised Land" by Elizabeth Musser
A novel written by a Christian author, Elizabeth Musser, has a very unique take on the Camino de Santiago.
Living in France, Elizabeth has the first-hand experience of walking the Camino and the pilgrims who walk it, all of which she brought to her novel:
"My pilgrims in The Promised Land discover that the journey is as important as the destination. How they get there and with whom is every bit as important as arriving. This is the message that many pilgrims come away with on the Camino as well as the sense that the end of the physical Camino is just the beginning of a new way of seeing and experiencing life."
Her fictionalized account of four pilgrims dealing with loss is an important spiritual introduction to the Camino and the reasons why we walk it.
Read a Q&A with the Author: "The Promised Land" by Elizabeth Musser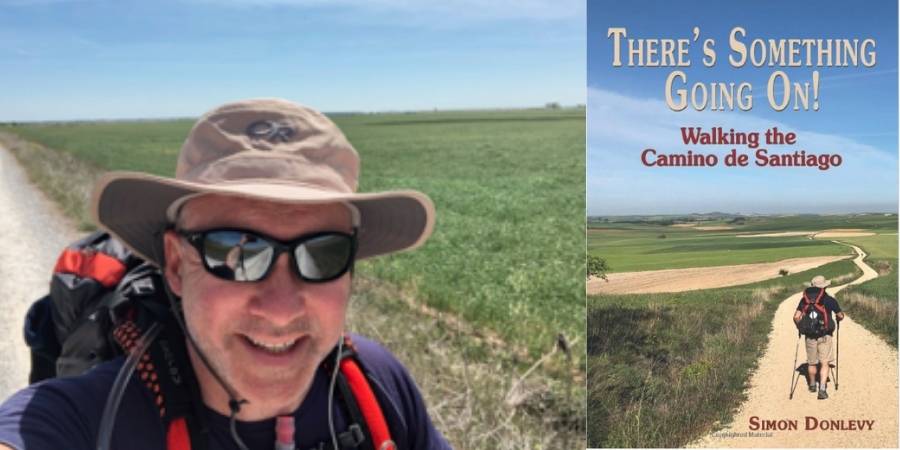 2. The Life Changer: "There's Something going on! Walking the Camino de Santiago" by Simon Donlevy
Stepping off the "hamster wheel" at age 50 and embarking on a 500 mile (800 km) journey along the Camino de Santiago was life-changing and exactly what author Simon Donlevy needed in his life.
In this personal account of his journey, Simon describes all that goes into walking the Way, from the deeply emotional to the hilarious and mundane – he's got it all covered.
"My original intention for this book was to create a keepsake for my family, a legacy if you like. As my adventures unraveled, and I started documenting my memoirs, the book wrote itself; an unintended consequence of my pilgrimage. As for 'the walk', well it's completely changed me and my outlook on life".
If you're thinking about undertaking the Camino to change your life, this book could be the inspiration you need!
Read more about the book here: "There's something going on! Walking the Camino de Santiago" By Simon Donlevy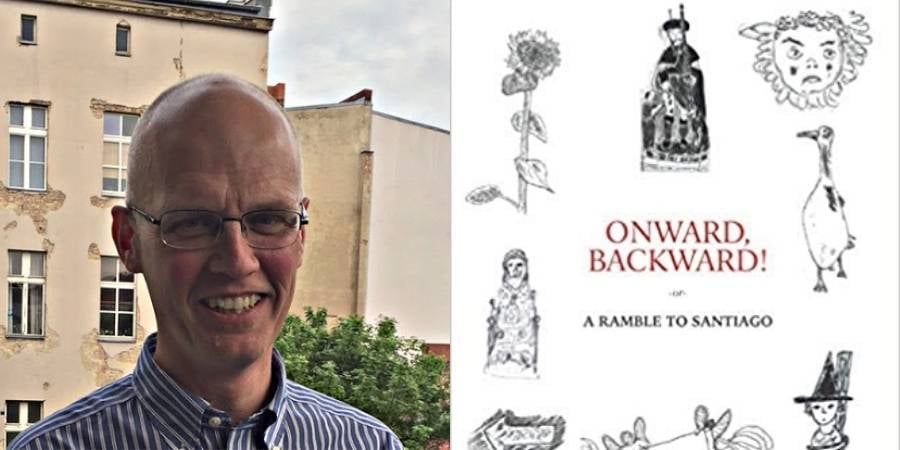 3. Family on the Camino: "Onward, Backward! A Ramble to Santiago" by Bennett Voyles
If you're curious to know what it's like to bring a not very athletic and not at all religious family with three teenage girls on the Camino, read on!
This is a genuinely hilarious and touching book that immediately lifts the spirits. The experience of walking the Camino with family is unforgettable:
"I think the experience also gave us more appreciation for very simple things. I know Masha, our oldest, likes to say that all she really needs to be happy is food, a book, and a bed."
Not only is this a heartwarming account of a family on the Camino, but there are also some really interesting historical Camino stories to boot.
Read a Q& A with the author here: "Onward, Backward! A Ramble to Santiago" by Bennett Voyles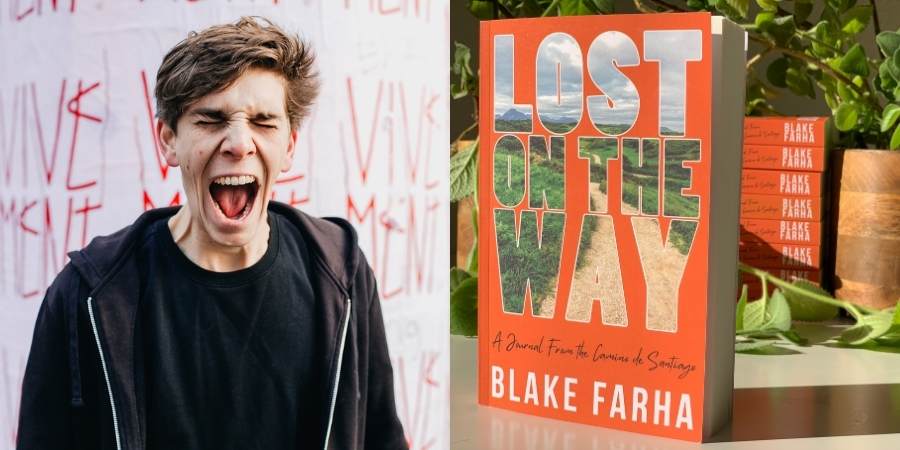 4. The Deeply Personal: "Lost on the Way" A Journal from the Camino de Santiago by Blake Farha
This is a deeply personal, unedited, and completely raw account of one man's journey to Santiago (and beyond to Finisterre) after being unexpectantly laid off in 2017.
In this book, you will find the author's thoughts, feelings, emotions, and hopes in his daily account of walking the Camino del Norte, Camino Primitivo, and Camino Portugues.
Undertaking the Camino and journalling his experience has been immensely healing for Blake:
"I wanted the chance to share these lessons and insights which the Camino bestowed upon me with anyone who might benefit from them, particularly people who suffer from depression, anxiety, and nagging feelings of low self-worth."
Read a Q&A with the Author here: "Lost on the Way" by Blake Fahra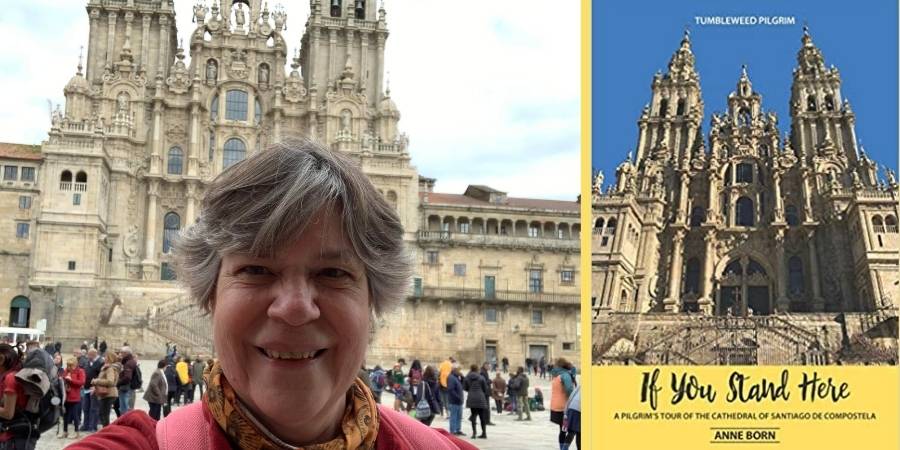 5. The Guidebook: "If You Stand Here: A Pilgrim's Tour of the Camino de Santiago" by Anne Born
American pilgrim Anne Born has been coming to the Camino de Santiago every year since 2009.
She has studied among other things, Romanesque sculpture, and has completed this beautiful guide full of history, maps, and stories about the Cathedral of Santiago de Compostela.
But don't get me wrong, this isn't any old guidebook! Well it is a guidebook but it's much, much more:
"If You Stand Here is a tour of the Cathedral of Santiago de Compostela expressly for pilgrims. Unlike all the dusty guidebooks that list dates, names with no back story, and an endless number of dry unrelated facts, this book will ask you to stand on a spot in the building where something wonderful happened."
A 2021 Independent Press Award Winner, this is an essential carry-on book for anyone visiting the Cathedral.
Read a Q&A with the author here: "If you stand here: A Pilgrim's tour of the Cathedral" by Anne Born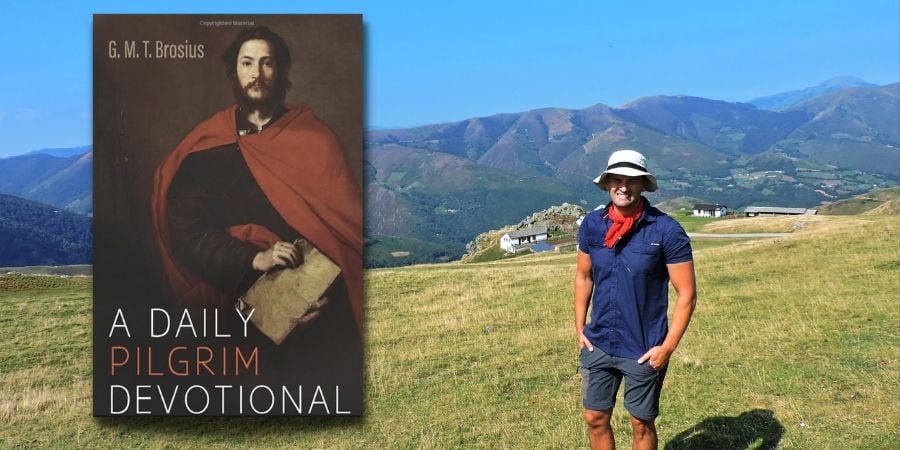 6. The Daily Devotional: "A Daily Pilgrim Devotional" by G.M.T. Brosius
This is another essential carry-on item for your journey – A Daily Devotional to help you on your pilgrimage along the Camino.
The book contains words of ancient wisdom, encouragement, and inspiration on every page along with a place for you to write your thoughts after the day of walking.
"A Daily Pilgrim Devotional was created as an aid, a tool of sorts to assist the pilgrim on a day to day basis as he or she walks. Each day, the pilgrim may reflect his or her day by inscribing on the back of each devotional their thoughts and experiences which then they may keep as a memento of their journey." – Gene Brosius
The book itself is small and very light and is designed to be fit neatly into the pilgrim's backpack, keeping them company on their journey.
"Brosius's daily devotional provides an important reminder of the purpose of pilgrimage and a legitimate addition to one's scallop shell of quiet. He draws on many of the world's great wisdom traditions, and that eclecticism goes to the heart of the Camino. From the stoicism of Seneca in the first century to the soulful introspection of poet Cees Nooteboom writing in the twenty-first to the fierce love for the beloved of Sufi mystic Rumi—and in-between we are fed tapas from the Psalms. A worthy treat for the soul."
—John Brierley, author of Camino Guides
Whatever book you choose (or if you choose all 6 new Camino books) we hope you enjoy the read and the insights they provide. Everyone has their own unique perspective on the Camino and that is what makes the experience so fascinating.
If you would like to talk to us about walking the Camino de Santiago, send us a message on the form below: