The Camino Inglés (the English Way)
Walking the Camino de Santiago is a transformative experience for many. The journey offers pilgrims a chance to reflect, discover new cultures, and meet fellow travelers from around the world. For those short on time or looking for a less physically demanding route, the Camino has an option that caters to those seeking a shorter pilgrimage. In this article, we'll explore the shortest Camino walk and what you can expect from it.
Introducing the Camino Inglés, the Shortest Camino Route
The Camino Inglés, or the English Way, is the shortest Camino walk. Its name stems from the medieval English pilgrims who would arrive by boat at the northern Spanish ports before making their way to Santiago de Compostela. This route, unlike some of the longer Caminos, is ideal for those who want to immerse themselves in the Camino experience but have limited time.
Journey Overview
Starting Point: Ferrol or A Coruña
End Point: Santiago de Compostela
Distance: Approximately 75km from Ferrol and 25km from A Coruña.
Duration: On average, it takes 3-5 days from Ferrol and 1-2 days from A Coruña.
Highlights of the Camino Inglés
Historical Sites: As with all Camino routes, the Camino Inglés is rich in history. Visit the Magdalena Church in Ferrol, a neo-Gothic wonder, or the Church of Santiago in A Coruña, an emblematic spot for pilgrims.
Natural Beauty: Despite its shorter distance, this route doesn't skimp on scenic views. From lush green hills to serene coastlines, every step brings with it a new breathtaking sight.
Cultural Experience: Embrace the local culture. Enjoy Galician hospitality, indulge in regional delicacies, and partake in traditional festivities that may coincide with your journey.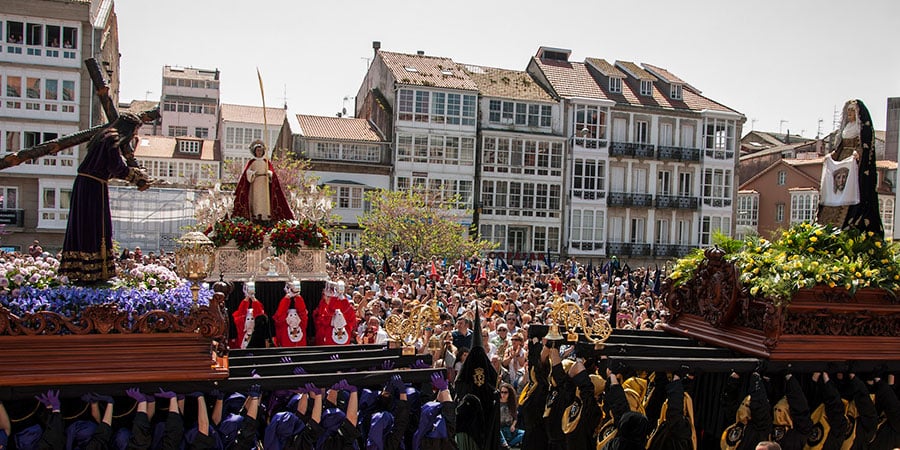 Preparing for the Camino Inglés
Even though the Camino Inglés is one of the shortest Camino walk, preparation is key.
Physical Prep: Even if it's shorter, there are still some challenges. Incorporate regular walks into your routine, and consider adding some hills to mimic the terrain you'll encounter.
Gear Up for the Camino: A comfortable pair of walking shoes is a must. Make sure they're broken in before you start your journey. Pack light, carrying only the essentials, and don't forget a small first aid kit.
Camino Accommodation: While the Camino is dotted with hostels and albergues, if you're seeking a more comfortable experience, there are lovely hotels along the route. They can provide a cosy bed, delicious food, and even spa services to soothe tired feet.
Extending your shortest Camino Walk: Continuing to Finisterre
The Camino de Santiago is not just about the destination; it's about the journey itself. The Camino Inglés offers a condensed experience, but for those who wish to continue their pilgrimage after reaching Santiago, the path towards the sea awaits with the Camino Finisterre, often considered the "true end" of the Camino, leading pilgrims to what was once believed to be the "end of the world." Whether you choose the shorter Camino Inglés or decide to extend your journey to Finisterre, each path promises its own unique and transformative experience. Here's to the journey ahead, and Buen Camino!
If you already know when you want to travel and what route you want to walk, you can customise your trip using our Camino Planner.