Useful French Phrases For Your Camino
Ready for your Camino? If your Camino is going to be taking you through France, it might be a good idea to add these useful French phrases to your repetoire.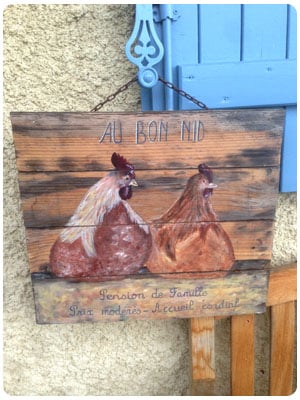 We have compiled a list of useful words and phrases to help you communicate on your walk along the Camino de Santiago routes in France.
Bon voyage!
English

Accommodation

French

Hébergement

I'm looking for…
Where is…?
How much is…?
Too expensive
Je suis à la recherche de…
Ou se trouve…?
Combien coute…?
Trop chère

Conversation & Essentials


Does anyone here speak English?
Hello, Good morning, Good afternoon
Good evening
Bye/See you
Please
Thank you
Sorry/Excuse me
What's your name?
My name is
Can I have a … beer please? a glass of wine
Yes/No

Conversation


Quelqu'un parle Anglais?
Bonjour
Bonsoir
Au revoir
S'il vous plait
Merci
Désolé/Excusez-moi
Quel est votre prénom?
Je m'appelle
Je voudrais….une biere s'il vous plait?un verre de vin
Oui/non

Directions


How do I get to…?
Is it far? 
Go straight ahead
Turn left, Turn right

Directions


Comment faire pour aller à…?
C'est loin?
Tout droit
Tourner a gauche, Tourner a droite

Signs


Open/Closed
Police Station
Entrance/Exit
Prohibited
Toilets
Men/Women

Panneaux


Ouvert/Fermé
Gendarmerie, police nationale
Entrée/Sortie
Interdit
Toilettes
Hommes/Femmes

Emergency


I need help
Fire
Call…!
I'm sick
An ambulance, A doctor
The police/the fireman
I am lost
It's an emergency

Food & beverages


I'm allergic to:

Milk products
Peanuts
Shellfish
Tree nuts
Eggs
Fish
Soy
Wheat

I'm vegetarian
Meat, Beef, Chicken
Pork, Ham, Fish
Potatoes, Salad, Onion
Ice cream,Strawberry
Sparkling water, Natural water
Coffee

Urgences


J'ai besoin d'aide
Feu
Appel le…!
Je suis malade
Une ambulance, Un medecin
La police/ Les pompiers
Je suis perdu
C'est une urgence

Nourritures


Je suis allergique à:

Produits laitiers
Cacahuete
Fruits de mer
Noix
Oeufs
Poisson
Soja
Blé

Je suis végétarien
Viande, Boeuf, Poulet
Porc, Jambon, Poisson
Pommes de terre, Salade, Onion
Glace, Fraise
Eau gazeuse, Eau plate
Café

Transport


What time does … leave/arrive?
The bus, The plane, The train, Airport
Time table

Transport


A qu'elle heure le….part/arrive?
Le bus, l'avion, le train, Aéroport
Horaires

Services & Times


ATM/bank
Post office/ Tourist Office
What time is it?
Today,Tomorrow,Yesterday
Morning, afternoon, evening, night

Services


Distributeur/Banque
La poste/ Office du tourisme
Qu'elle heure est-il?
Aujourd'hui, Demain, Hier
Matin, Après-midi, Soir, Nuit