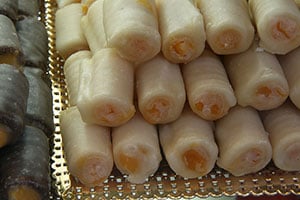 Saint's bones (huesos de santo) are a traditional All Saints dessert from the region of Castilla y León and our spooky Camino recipe. Traditionally, the 'bones' are marzipan rolls filled with custard cream. However, the filling can be adapted to your taste, adding different flavours like chocolate. Don't worry, no saints will be harmed in the making of this dessert!
Ingredients:
For the marzipan:
200g sugar
200g ground almonds
100ml water
icing sugar
For the custard filling:
100g sugar
4 egg yolks
50ml water
A wooden spoon with a handle of 1cm diameter roughly
Method:
For the almond paste, mix the water and sugar in a bowl. Then gradually add in the ground almonds. Let the paste cool.
Continue to mix the water and sugar and gradually add the egg yolks.
Gather the complete mix and cook it in a bain-marie. Be careful not to let it boil as you risk causing the filling to split. Once the filling is done, let it cool.
As an alternative, you could use custard powder to make the custard filling, however, you must be careful not to let the consistency get too runny.
Take the almond paste (marzipan) and roll it with a rolling pin.
Cut the paste in strips long enough to be able to create a tube. Roll the marzipan strips around the handle of the wooden spoon to create the finger-like marzipan tubes.
Sprinkle icing sugar inside and out so the strips won't stick to the spoon.
Remove them, let them cool and fill them with the pre-prepared custard.
As a final touch, sprinkle some icing sugar on top of the treats.
Plate up, call your friends and enjoy the Saint's bones!
Buen Spooky Camino!
Fancy yourself a foodie? You can find more Galician articles and recipes to inspire you here.
Planning to walk the Camino de Santiago? View our routes here.