Spectacular Horse Race: Palio di Siena Via Francigena

If you have the chance or the opportunity to walk on the Via Francigena in the beginning of July or middle of August, you might be able to go to the Palio di Siena. Palio di Siena, or Il Palio, is one of Italy's most spectacular horse events and has been taking place in this stunning town since 1656.
The Palio is a pretty complex event that has gained additional rules through the centuries, as well as traditions and customs. For this special occasion, the main square in Siena, the Piazza del Campo, is prepared for the race and the ring around the square is covered with tuff clay.
The Palio actually takes place over four days, the race taking place on the fourth day.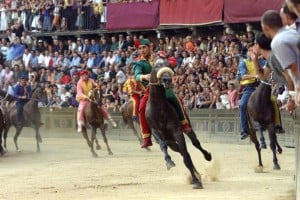 This unique horse race is held twice a year: 2nd July to honour the Madonna of Provenzano and 16th August to honour the Virgin Mary's Assumption.
Ten horses and bareback riders represent ten of the 17 city districts or 'Contradas', each one of them carry their own colours, emblems and flags. This colourful horse race has its origins in medieval times, when the town's central 'piazza' was the chosen location for public games. More than just a horse race, Il Palio is full of passion and excitement, capturing the rivalry between the city's districts.
Although the race itself is brief, the medieval streets of Siena are alive with the sound of music, singing, parades, and celebrations a week before the horses even make an appearance.
Siena is a UNESCO World Heritage Site and is situated on the Walking Section 14 of the Via Francigena from Lucca to Siena.
This section, walking or cycling takes travellers through the picture-perfect Tuscan country-side, stopping in beautiful villages along the way.