Sea of Arousa Camino: a spiritual journey
The Sea of Arousa Camino is a beautiful trail that has recently been approved by the Cathedral of Santiago as an official Camino de Santiago route. It is considered one of the most unique and special trails in Europe. It is the route that Theodore and Athanasius followed by boat when they transported Santiago's remains after he was beheaded by Herod. The tradition stated that they were guided by an angel and a star.
A very special route: pilgrimage by land and by sea
This route offers a diversity of fascinating landscapes that are worth exploring, such as the wonderful old town of Pontevedra, the coastal town of Combarro, the monastery of Armenteira and the impressive "Ruta da Pedra e da Auga", a real treat for the eye.
The pilgrimage also includes a boat trip through Ría de Arousa where it meets Iria Flavia (Padrón) on the classic Portuguese Way. We recommend you to start the Camino from Vigo or Baiona to walk at least 100 km to Santiago and get your Compostela Certificate.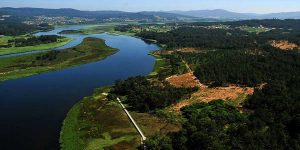 Every summer (between the end of July and the beginning of August) the transfer of the remains of the Apostle Santiago is commemorated, through a maritime procession with boat parades. The spectacle is attended by a growing number of visitors and locals.
There are 17 stone works of art marking the route. These stones depict the figure of Jesus crucified on one side and the Mary the virgin on the other.
The full Sea of Arousa route is 164km long. This means you will qualify to recieve your Compostela when you reach Santiago!
If you are interested in learning more about this spiritual path you can find full details here: Sea of Arousa Camino.
For more information on any of our walking or cycling tours please contact the travel specialists.