Must-See: medieval Viterbo
The city of Viterbo, in the region of Lazio in Italy, is a popular starting point for Via Francigena pilgrims as it marks the last 100kms of the 'Camino to Rome'. Viterbo is a small city of just over 60,000 inhabitants and home to one of the best preserved medieval centres in Italy.
You will find two clearly different parts in the city: the historic centre within the town walls and the modern part of the city, located outside the walls.
Step back in time wandering the cobbled streets of Viterbo's San Pellegrino medieval quarter, nestled inside the city walls. Tiny little lanes, quaint squares and picturesque stone buildings and arches give Viterbo's old centre its distinctive medieval character.
The 13th century Palazzo dei Papi or Popes Palace is the most iconic building within the historic centre and symbol of the religious importance of Viterbo back in the day. It was built, as its name indicates, as a Papal residence. Head up the steps to the Gothic balcony where you will enjoy a fantastic vantage point of the area.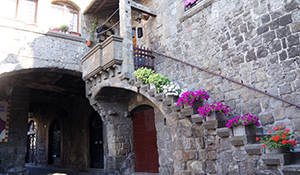 In the same square, Piazza San Lorenzo, you will find the city's Cathedral: the 12th century Cattedrale di San Lorenzo with its simple Romanesque style. The cathedral is dedicated to the city's second patron saint: Saint Lawrence (San Lorenzo).
Besides the Cathedral you will find numerous Romanesque churches and chapels across the medieval quarter of Viterbo, such as Chiesa de Santa Rosa, dedicated to the city's patron saint; Chiesa di San Sisto, Santa Maria Nuova. Many of these churches and temples used to have pilgrim hospitals attached.
The elegant Renaissance Palazzo dei Priori, in the Piazza del Plebiscito dating back to the 15th century is also worth a visit.
When to go:
If you can, try to arrive in Viterbo for its Santa Rosa festival, taking place each year on 3rd September. During the Macchina di Santa Rosa over 100 men carry  a tower dedicated to Santa Rosa and parade it around the old town. This tradition dates back to the 13th century and is also an event listed by UNESCO for its cultural heritage value.
Another important festival, the San Pellegrino Flower Festival takes place in May.
For more information about walking the Via Francigena from Viterbo, or to book your holiday, contact our travel specialists.